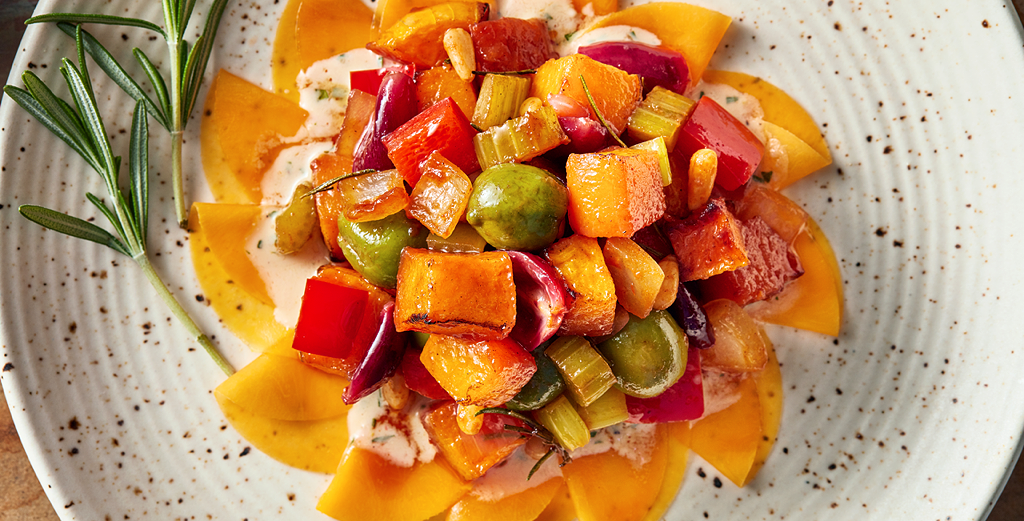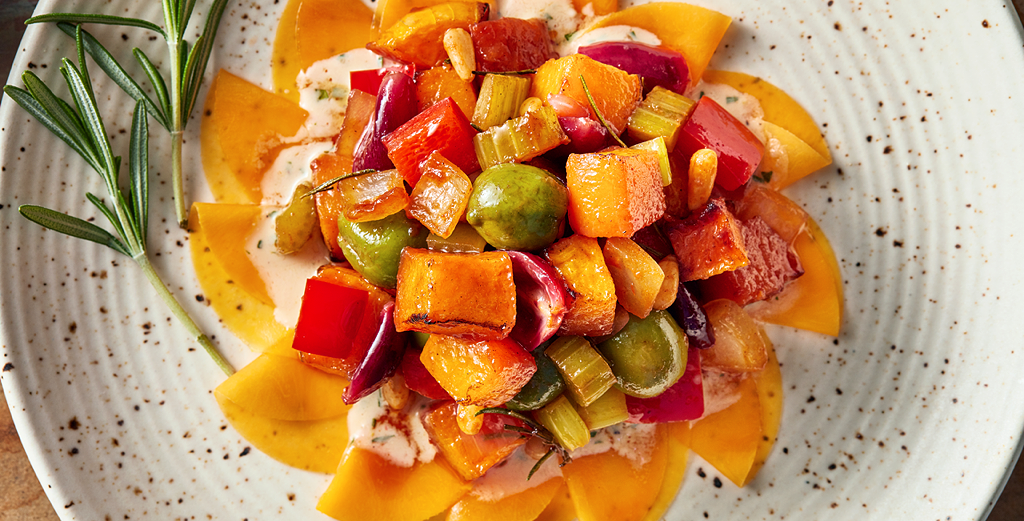 Soy-Glazed Red Grape Caponata and Butternut Squash
Recipe courtesy of Chef Christian Hallowell
Sponsor: Kikkoman®
Servings: 12
Ingredients
Caponata
2 c California Flame seedless grapes, sliced in half
2 2/3 c butternut squash, peeled, diced ¾ inch
2 Tbsp Styrian pumpkin seed oil
1 sprig fresh rosemary
3 1/2 Tbsp olive oil
¾ c sweet onion, diced ½ inch
¾ c celery, diced ½ inch
¾ c red bell pepper, diced ½ inch
½ c Castelvetrano olives, pitted
2 Tbsp pine nuts
2 Tbsp tomato paste
½ tsp Chinese five spice
2 Tbsp apple cider vinegar
6 Tbsp Kikkoman® Less Sodium Soy Sauce
1 Tbsp honey
1/3 tsp kosher salt, divided
1/3 tsp cracked black pepper
Curry-Miso Soy Dressing (Makes 6 oz):
3 Tbsp tahini
2 Tbsp Kikkoman® Rice Vinegar
1 Tbsp distilled white vinegar
2 Tbsp water
1 ½ Tbsp maple syrup
2 tsp Kikkoman® Less Sodium Soy Sauce
1 1/2 tsp miso
1 tsp La Boite® Bombay N.3
2 tsp finely chopped fresh cilantro
Directions
For the Caponata:
Toss the squash and grapes in a bowl with the rosemary and pumpkin seed oil. Place on a lined sheet pan and roast in a preheated 425 degree F oven for 30 minutes, stirring halfway. The grapes should begin to caramelize, and the squash should be nicely roasted and a bit firm. After cooking, allow everything to cool on the pan.
Heat the olive oil in a large skillet over medium heat until shimmering. Sauté the onions and celery until they are translucent. Add the red pepper, olives, pine nuts, tomato paste and Chinese five spice. Stir to incorporate.
Deglaze the pan with the vinegar, soy sauce and honey. Season with salt and pepper. Let cool.
Toss the roasted squash and grape mixture with the caponata.
For the Curry-Miso Soy Dressing:
Place all the ingredients into a small bowl and whisk until emulsified.
For the Squash Petals:
Cut butternut squash into 2-inch chunks. Using a mandoline or vegetable peeler, shave the chunks into thin slivers.
Quickly blanch in salted water for 3 minutes and then shock in an ice bath. Remove squash from the ice bath and drain.
To serve:
Arrange squash petals on a plate. Drizzle squash with curry dressing and top with a scoop of Soy-Glazed Red Grape Caponata and Butternut Squash.
Chef Notes
Serve at room temperature. Caponata tastes best the day after it is made.
Project Management: Summit F&B
Photography: Carlos Garcia // Food Styling: Peg Blackley & Bree Williams