By Flavor & The Menu
September 10, 2019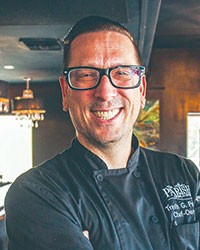 Travis G. Peters is the chef/owner of The Parish, a Southern fusion gastropub in Tucson, Ariz. The restaurant is known for its eclectic, flavorful mash-ups, such as The Mother Trucker, a brunch dish that features hash topped with grilled chorizo Spam, pimento cheese and two sunny-side-up eggs.
We asked Peters to share one of his favorite flavor combinations—one that is unique, but holds a number of menu-development possibilities. He shared a trio of ingredients that taps into the new curiosity around fermented flavors while still hitting all of the senses: coffee-cured and braised pork belly, sour corn, and fermented garlic honey.
"Everyone loves pork belly, and the coffee is rich, earthy and has just enough bitterness to be very interesting," says Peters. "I often like to crisp ours in the fryer."
He calls sour corn his "newest obsession." "It's just about as versatile as regular corn, but has an extra-special flavor profile. We make ours unique by adding aromatics, habanero and chile flakes to the brine."
The fermented garlic honey adds a funky flavor. "You can use the garlic cloves and the honey separately or together," he says.
The trifecta works, he says, because the rich pork belly and the natural sweetness of fresh corn, which has been slightly soured, pair naturally with the funkiness of the fermented garlic honey. "You have everything you need for success—salty, crunchy, sweet, sour, spicy, bitter and fatty richness," says Peters.
He's used the trifecta in a slider, featuring grilled and sliced belly with caramelized and fermented garlic honey, sour corn aïoli and Mizuna greens.
Another one of his applications features crispy coffee-cured pork belly over creamed sour corn purée, poached egg and fermented garlic honey, finished with pickled mustard seeds.