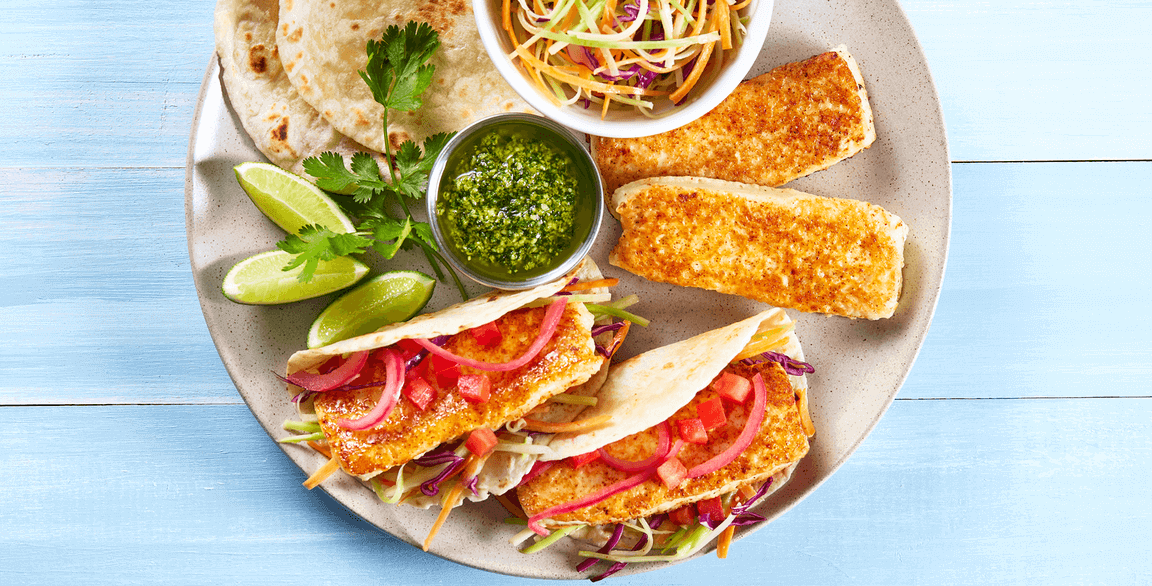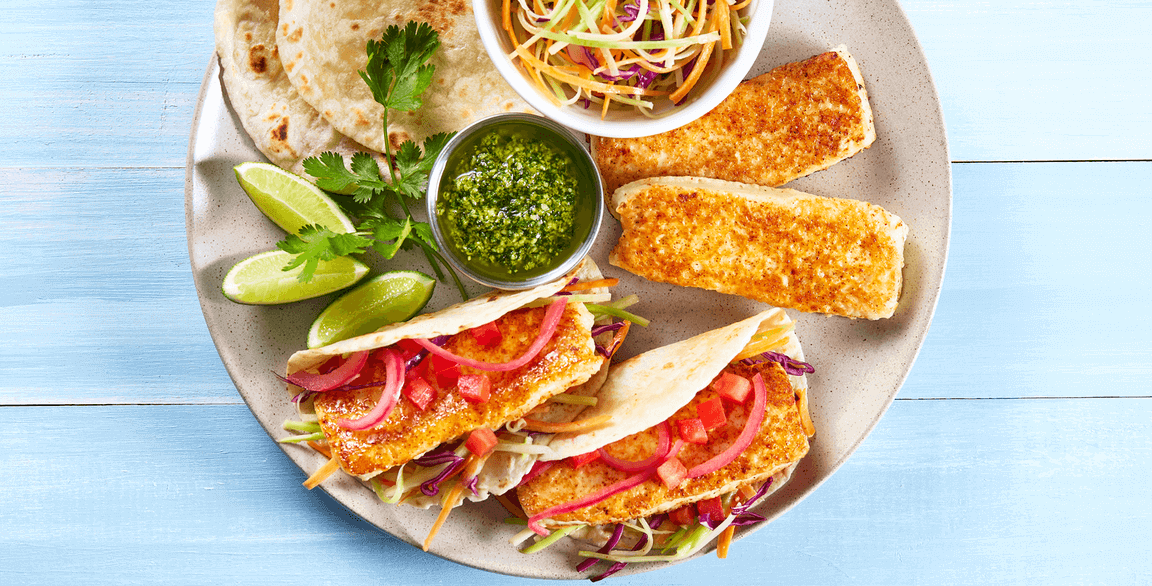 Seared Queso Panela Cal-Mex Style Tacos
Recipe courtesy of Chef Rick Petralia
Sponsor: California Milk Advisory Board
Servings: 24
Ingredients
Cilantro Pesto (24 servings):
2 bunches cilantro
5 ea garlic cloves
¼ c olive oil
¼ c Real California Cotija cheese
¼ tsp salt
Broccoli Slaw (30 servings):
¼ c mayonnaise
2 Tbsp fresh lime juice
1 Tbsp apple cider vinegar
1 tsp cayenne pepper
1 ts maple syrup
¼ tsp salt
¼ tsp pepper
1 ¼ lbs broccoli stalks, shredded
2 oz shredded carrots
2 oz shredded red cabbage
Final Build (per serving):
1 ea street taco tortilla (4 1/2 inches)
2 slices Real California Queso Panela cheese, ½-inch thick
As needed cayenne
1 oz Broccoli Slaw
1 Tbsp diced tomato
4 ea half rings of pickled red onion
As needed cilantro pesto
½ ea lime
Directions
For the cilantro pesto: Pulse cilantro in a food processor until chopped. Add garlic and pulse until finely chopped. Turn the food processer on high and slowly pour in the olive oil, with a stream no thicker than a pencil. Once the pesto is formed, add the cotija cheese and salt and pulse until evenly incorporated. Can be held refrigerated for 3 days.
For the broccoli slaw: Whisk together the mayonnaise, lime juice, vinegar, cayenne, syrup, salt, and pepper in a large bowl until evenly incorporated. Add the shredded broccoli, carrots, and cabbage. Use a rubber spatula to fold together until coleslaw is formed. May be held refrigerated for 3 days.
For each taco: Place the queso panela onto an oiled griddle, cast iron skillet, or nonstick pan. Sprinkle the cheese with cayenne pepper. Cook for approximately 2 minutes. Use a metal spatula to carefully flip the cheese over (a fish spatula may help here). Cook for 2 more minutes, until the cheese is golden brown. Place the seared cheese slices on the tortilla. Add the Broccoli Slaw. Garnish with the tomato and pickled red onion. Drizzle cilantro pesto on the taco. Serve with a lime half.
Chef Notes
This seared panela street taco provides vegetarians a craveable meat-free option. The pickled red onion provides just the right amount of acid and the cilantro pesto is a twist in a familiar item. Many customers may be unfamiliar with queso panela, but a taco filled with seared cheese would probably be an easy sell.
Project Management: Summit F&B
Photography: Carlos Garcia // Food Styling: Peg Blackley & Bree Williams