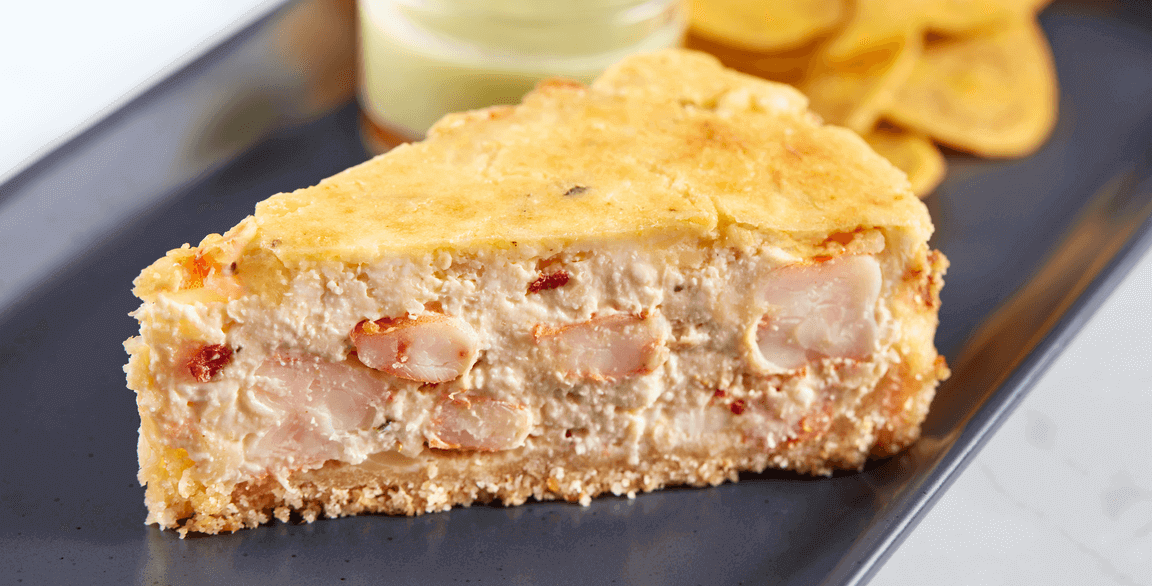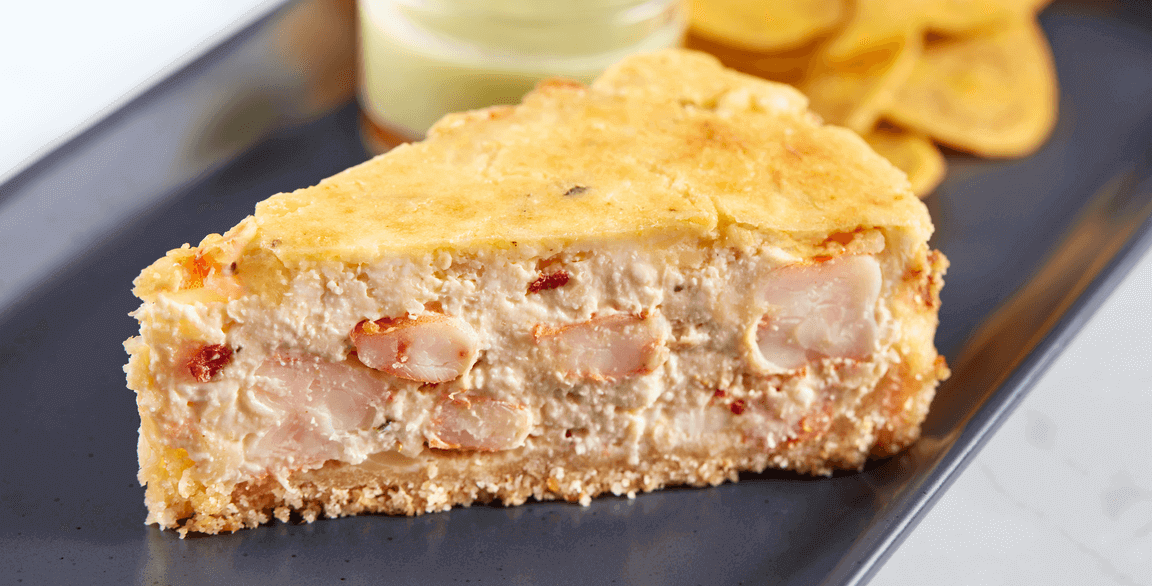 Rock Shrimp Cheesecake with Creamy Salsa Verde
Recipe courtesy of Chef Eric Stein
Sponsor: California Milk Advisory Board
Serves: 10 appetizer portions
Ingredients
Creamy Salsa Verde:
1 1/2 lbs fresh tomatillos, husked and rinsed
2 jalapeño peppers, roughly diced
2 poblano peppers, seeded and roughly diced
1 large white onion, diced
4 cloves garlic, peeled
1/2 c olive oil
Kosher salt, as needed
1/2 c cilantro leaves
2 Tbsp fresh lime juice
1/3 c crème fraiche
Crust:
1/2 c Real California butter, melted
1 c fine bread crumbs
2/3 c grated Real California Dry Jack cheese
Rock Shrimp Cheesecake:
1 c Real California requesón cheese
1/2 c Real California heavy cream
3 large eggs
1 c grated Real California Dry Jack cheese
1 lb Real California cream cheese, softened
2 Tbsp butter
2 Tbsp minced garlic
4 scallions, thinly sliced
1 lb rock shrimp tails, shelled and deveined
1/3 c diced sundried tomatoes, oil packed
1 Tbsp shrimp seasoning
Fried plantain chips, as needed
Directions
For the creamy salsa verde:
Preheat the oven to 350 degrees F.
In a large bowl, combine the tomatillos, peppers, onion, garlic, and olive oil. Season with salt.
Transfer the mixture to a large sheet pan and roast for 25 to 35 minutes, until the vegetables are very well caramelized, turning every 10 minutes.
Transfer vegetables and all liquids to a blender. Add in the cilantro, lime juice, and crème fraiche and pulse on medium speed until desired salsa consistency.
Season with salt as needed and transfer to a container until ready to serve warm, or refrigerate for later service.
For the crust:
Combine the butter, bread crumbs, and Dry Jack in a medium bowl and stir to combine. Press mixture tightly into the bottom and halfway up the sides of a buttered 9-inch springform pan.
For the cheesecake:
Preheat the oven to 350 degrees F.
In the bowl of a large mixer fitted with a paddle attachment, blend together the requesón cheese, cream, and eggs until smooth. Add in the Dry Jack and cream cheese and blend on medium-high speed until the cream cheese is fully incorporated and smooth. Change the paddle to the whip attachment and whip the mixture on high speed for 30 seconds to aerate the mixture. Refrigerate cheesecake base until ready to use.
Heat a large skillet over medium-high heat and add the butter, garlic, scallions, shrimp, tomatoes, and seasoning. Cook mixture, stirring frequently, until the shrimp tails are just cooked through. Remove mixture from the heat and set aside to cool slightly before adding to the cheese mixture.
Stir together the shrimp mixture and the cold cheesecake base until the ingredients are fully incorporated.
Pour the mixture into the prepared crust. Place the pan in a water bath coming halfway up the sides of the pan and place it in the oven.
Bake for 90 minutes, or until the cheesecake is set when jiggled.
Remove the cheesecake from the oven and allow it to cool slightly before unmolding the springform pan.
Once the cheesecake is free from the pan, portion it into 10 equal wedges and serve warm with fried plantain chips and 3 Tablespoons of creamy salsa verde.
Project Management: Summit F&B
Photography: Carlos Garcia // Food Styling: Peg Blackley & Bree Williams