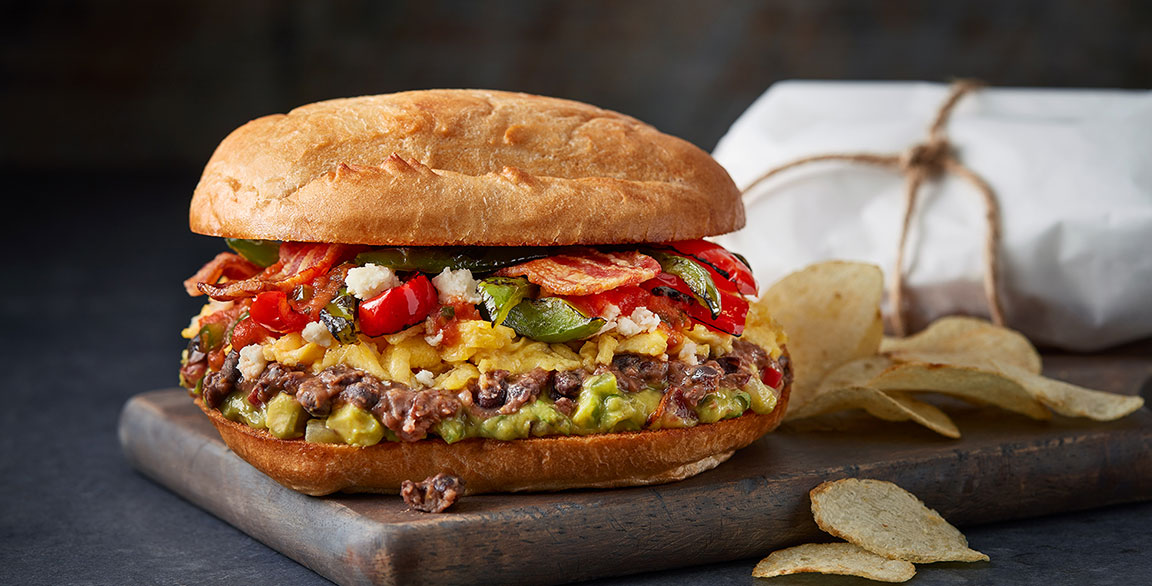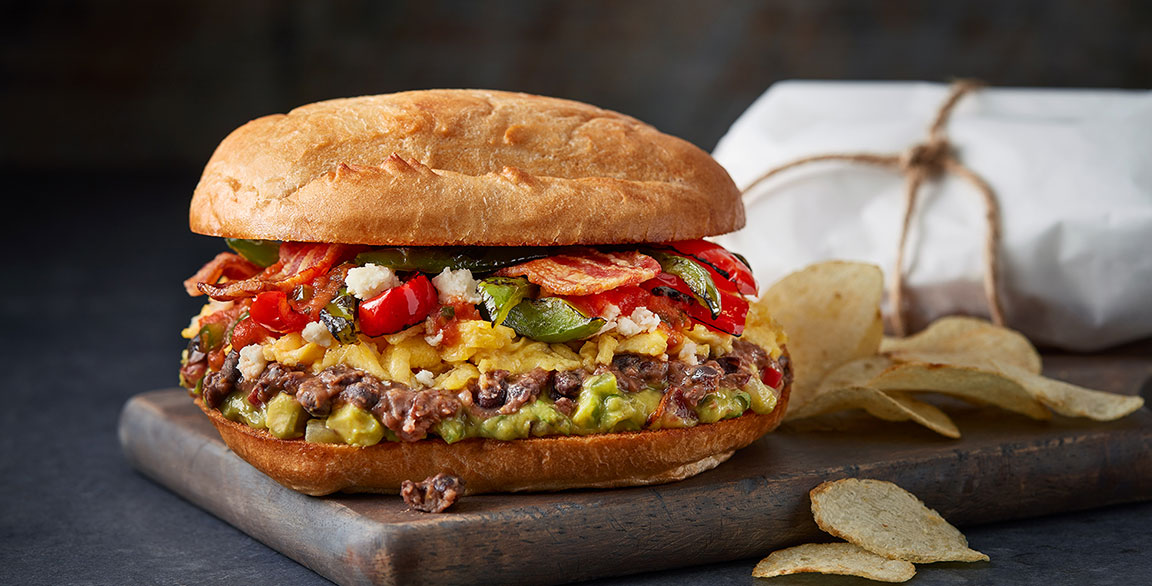 Taco Fiesta Black Bean Breakfast Torta
Recipe Courtesy of Chef Barb Colucci
Sponsor: Bush's Best
Serves: 10-12
Ingredients
Roasted Pepper Strips (Yield 2 ½+ lbs)
4 lbs red and green bell peppers, seeded, sliced ¼ in. thick
As needed olive oil
As needed salt and pepper
Guacamole (Yield 40 oz)
6 avocados, fully ripe, peeled, pitted
2 tomatoes, finely chopped
½ cup red onion, finely chopped
2 Tbsp chopped fresh cilantro
2 jalapeños, finely chopped (seeds removed if desired)
½ cup fresh lime juice
Salsa Roja (Yield approx 40 oz)
10 tomatoes, ripe, halved
2 yellow onions, quartered
3 serrano chiles, halved and seeded
4 cloves garlic, peeled whole
2 Tbsp vegetable oil
20 stalks cilantro, rough chopped
3 tsp salt
Fiesta Black Beans
½ #10 can Bush's Fiesta Black Beans (48 oz)
Breakfast Torta:
10 to 12 ea telera rolls, toasted
As needed olive oil
20 eggs, scrambled
1 lb cotija cheese
24 ea bacon strips, prepared (24 small or 12 large strips)
Directions
For the Roasted Pepper Strips: Heat the oven to 400 degrees F. Arrange the pepper slices on a baking sheet and drizzle with olive oil and sprinkle to cover with salt and pepper; toss to coat evenly. Bake for 25 to 35 minutes, until slightly soft.
For the Guacamole: Mash the avocados in a large bowl until slightly smooth or your desired texture. Add the tomatoes, onion, cilantro, jalapeños, and lime juice and mix well to combine. Cover with plastic wrap directly over the guacamole mixture to keep from browning. Refrigerate.
For the Salsa Roja: Place the tomatoes, onions, chiles, and garlic into a large pot. Add water to just cover the vegetables. Bring the water to boil and then simmer for 25 minutes uncovered, until the vegetables are soft. Let cool enough to blend. Add the vegetables to a blender with some cooking water and the cilantro and puree until thick and well blended. You will need to puree in several batches. Heat the oil in a large pan on medium high. Slowly pour the blended salsa into the hot oil, but do not splash. This procedure will develop more flavor for the salsa. Reduce the heat to a simmer for 30 minutes. The salsa will reduce and thicken again. Add salt and stir. Cover and refrigerate.
For the Fiesta Black Beans: Using a food processor, pulse 48 oz beans until slightly smooth with visible bean pieces. You may have to process in batches. Warm them in a pot on medium to low heat and add some water if it gets too thick (should be slightly pasty). Cover and refrigerate until service or hold warm for immediate use.
For each Breakfast Torta: Brush both sides of a roll with oil and toast the roll until golden brown, 1 to 2 minutes. Spread 3 Tbsp guacamole onto the bottom roll to completely cover. Spread 3 Tbsp warm Bush's Fiesta Black Beans onto the bottom roll on top of the guacamole. Place 2 scrambled eggs on top of the black beans. Drizzle 1 oz salsa roja over the eggs. Place 2 oz roasted pepper strips on top of the salsa. Sprinkle 1 oz cotija cheese on top of pepper strips. Place 2 small or 1 large bacon strip on top of the cheese. Top with the roll and cut in half to serve.
Chef's Notes
Approximate yields are based on the size of the vegetables
You can add more water to the salsa for the thickness desired.
Project Management: Summit F&B
Photography: Carlos Garcia // Food Styling: Peg Blackley & Bree Williams