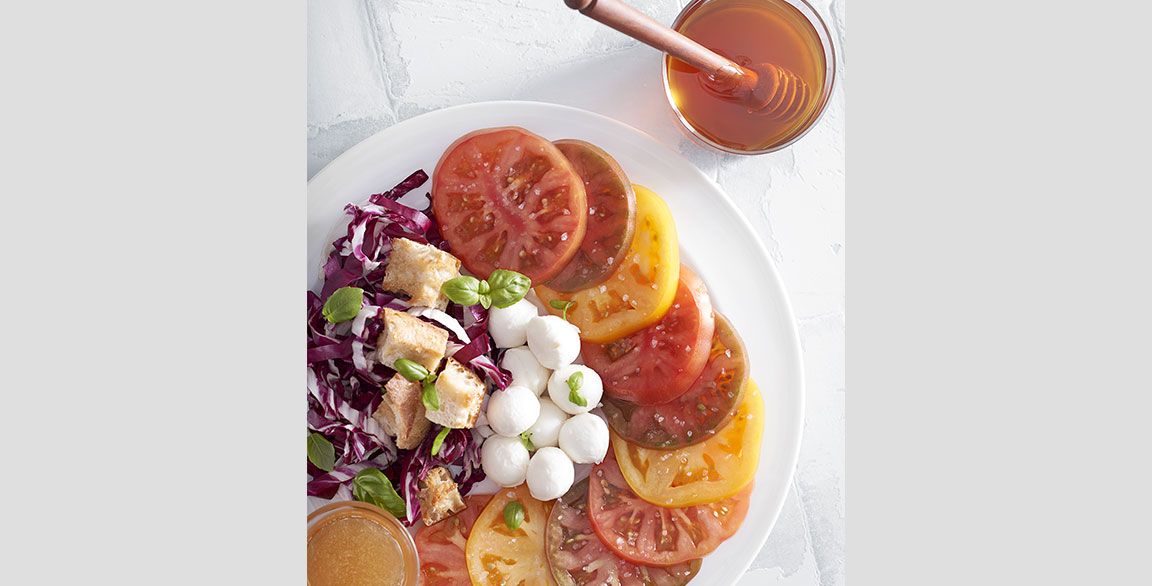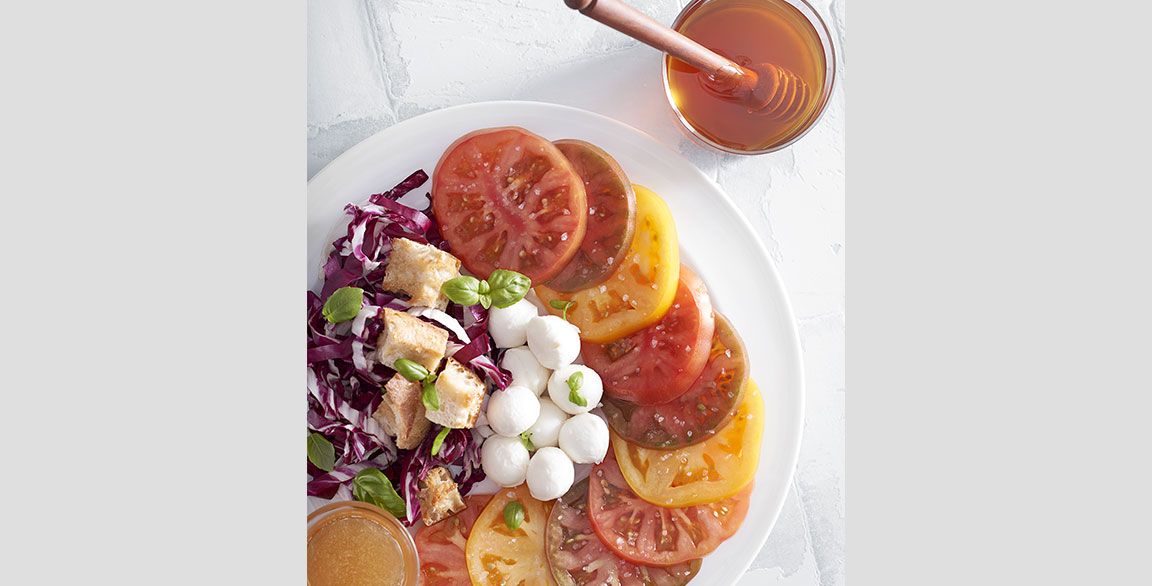 Honey-Lemon Heirloom Tomato & Mozzarella Panzanella-Style Salad
Recipe Courtesy of Chef Barb Colucci
Sponsor: National Honey Board
Servings: 1
Ingredients
For Honey-Coated Croutons: (Yield 50 1 in. pieces)
2 baguettes (or 6 ciabatta rolls)
1 ½ cups honey
To taste sea salt
Honey-Lemon Dressing: (Yield 1 ½ cups)
1 cup honey
½ cup Meyer lemon juice, warmed
For each Salad
5 each heirloom tomatoes, red, yellow, orange, sliced 1/8-in thin
2 radicchio leaves
4 fresh basil leaves
4 bocconcini mozzarella balls (or 8 smaller balls)
4 Honey-Coated Croutons
1 Tbsp Honey-Lemon Dressing
To taste sea salt
Directions
For the Honey-Coated Croutons: Cut the bread into 1-in cubes. Drizzle with the honey and sprinkle with salt, then toast them in a 350° F oven until browned. Set aside to cool.
For the Honey-Lemon Dressing: Combine the ingredients in a bowl and whisk to emulsify. You might need a little more lemon juice for stronger lemon flavor but keep the honey a drizzling consistency. Hold at room temperature until ready to use (you will need to mix or shake up before drizzling as there will be some separation).
For each Salad: Place 8 to 10 slices of tomatoes on a plate slightly overlapping each other around in a circle. Place the radicchio leaves as garnish on the top middle of the plate. You may also julienne the radicchio leaves and place on the top middle of the plate. Add the basil leaves onto each radicchio leaf. Place the mozzarella balls at the bottom of the radicchio leaves in 2 rows side by side. Place 4 honey croutons on top of the mozzarella. Drizzle 1 tablespoon of the Honey-Lemon dressing liberally over the entire salad. Sprinkle with sea salt to finish.
Project Management: Summit F&B
Photography: Carlos Garcia // Food Styling: Peg Blackley & Bree Williams