Ramen's popularity today comes as no surprise. It's the perfect expression of a modern dish. Global? Check. Snackable? Craveable? Loaded with umami? Check. Check. Check. At its core, ramen boasts a deep, savory broth, well-placed toppings and chewy, delicate noodles. Authentic replication used to be the order of the day, but now creative interpretations of ramen are taking hold—as long as the promise of flavor complexity, comfort and a touch of adventure remain intact.
That opens up the playing field, inviting all kinds of restaurant concepts to the ramen party. As we're seeing with global mash-ups across more menus, a strict adherence to Japanese cuisine needn't be a prerequisite to ramen play.
Familiarity with the packaged ramen as a microwavable snack for budget-constrained college students has certainly helped soften the ground here, but it's the fascination with global comfort foods and the proliferation of global flavors that has helped position ramen as a broader menu opportunity. Chefs are going both ways, either riffing on ramen in entirely unexpected ways, or doubling down on its heritage, executing beautiful renditions of the original.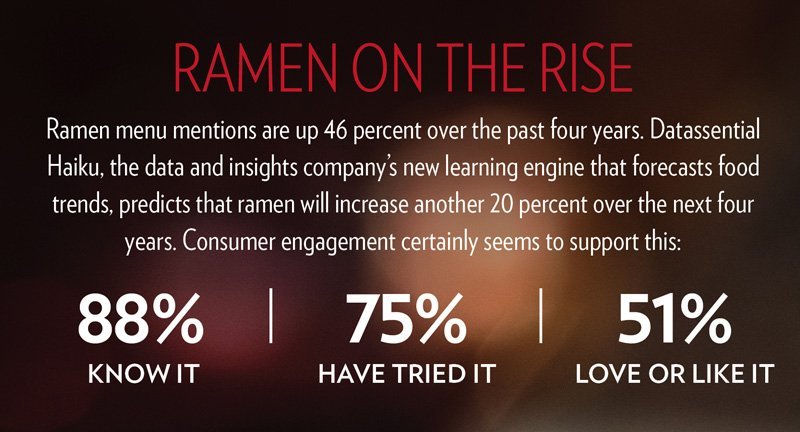 At Shinya Maru Ramen & Izakaya, part of the El Cortez Hotel & Casino complex in Las Vegas, the Shinya Way to Heaven showcases the classic tonkotsu ramen, with great attention to flavor detail. "Rich and creamy, this ramen is modern yet traditional," says Nathan Asamoto, chef/general manager. "Each element in this bowl is made in-house with fresh ingredients. The broth is simmered with care for 15 hours. The noodles are cooked al dente, achieving a soft and chewy texture. The pork chashu is cut thick and long, roasted tender, and torched to give it a crisp char. What makes all the difference is a drizzle of black garlic oil. Its smoky and garlicky punch amplifies the rich flavor of the soup."
Attention to flavor detail marks Shinya Maru's ramen—and sets the tone for today's ramen opportunity. Creative, playful, irreverent versions are welcome—as long as they keep flavor in focus.
Noodling Texture
Finding new ways to create big textural impact is crucial in modern menu building. Leveraging the hip factor of ramen, some chefs are dragooning the noodle component, crisping them and turning them into lovely little crunchy bits on salads, snacks and more.
Grilled Asian Chicken Salad: Fresh cabbage and romaine lettuce tossed with almonds, red peppers and red onions, topped with mesquite chicken and pineapple, then drizzled with Asian dressing and finished with crunchy ramen noodles
—Town & Country, Wichita, Kan.
Lucky Snacks: Popcorn, crispy ramen noodles, wasabi peas, nori seasoned nuts
—Ace Eat Serve, Denver
Tofu Salad: Baby kale, napa cabbage, romaine with sesame-ginger dressing, sweet corn and crispy ramen noodles, topped with panko-crusted chicken breast
—Fukuryu Ramen, three locations in Ohio
Ramen Quarter Pounder: Quarter-pound beef patty, crispy ramen bun, lettuce, tomato, onion and cheddar cheese
—Ramen Soul, Mooresville, N.C.
Cocktail Play
When a flavor system finds its way into cocktails, it signals both familiarity and a cool factor. At The Alley Cat Amateur Theatre, a modern speakeasy at The Beekman in New York, the Tonkotsu Old Fashioned plays up that element of ramen in this drink, which stars pork-fat washed rum, Mount Gay Black Barrel rum, wasabi syrup, plum wine and lemon.
"The cocktail is inspired by ramen because the rum is washed in pork fat. The wasabi syrup and plum wine adds to the complexity of flavor that mirrors the sweet/spicy balance in ramen," says Charlotte Mirzoeff, bar manager.
Introducing Ramyun
Korea doesn't have a tradition of ramen shops all over the country, like in Japan. Instead, Korea's ramen, called ramyun, is most often found in packages. Perhaps motivated by the success of ramen, along with the growing interest in Korean flavors in this country, some chefs are now menuing Korean ramyun.
At Jeju Noodle Bar in New York, the focus is on this savory noodle bowl in a number of craveable iterations that star Korean flavors. "Ramyun is Korean-style wheat noodles in broth, which took off in Korea in the 1960s," says Douglas Kim, owner chef. "It initially became famous in the form of mass-produced instant noodles.
At Jeju Noodle Bar, we create a more customary sense of a handcrafted dish with high-quality ingredients. We skim all fat so that our broth is lighter and healthier, while still rich in body and flavor." The Fish Coop Ramyun stars bonito and chicken broth, confit chicken, pork belly, jalapeño and Jeju herb oil, for a fresh, vegetal finish.
"It was inspired by a Korean dish called chogyetang, a cold chicken-broth dish," says Kim. That's one of the beauties of ramen, or ramyun: It's open to so many flavor combinations and toppings.
Spinning Flavor
Global mash-ups are the foundation of modern American cooking, encouraging chefs to dip into any pantry they like—as long as the result is memorable flavor. At the recently opened O-Ku DC, a modern Japanese restaurant in Washington, D.C., Bryan Emperor, executive chef, features a menu of innovative dishes using traditional Japanese techniques. His Curry Ramen, a customer favorite, melds Japanese and Thai wonderfully. "The Thai coconut curry is meant to be a hot vegetarian option," he says. "I chose the curry to balance and contrast the delicate tastes of the mostly Japanese flavor profiles."
Other restaurants are taking a similar, somewhat subtle tack when adding ramen to the repertoire. Jinya Ramen Bar, based in Los Angeles, serves a Vegetable Soup Ramen, made with a cauliflower-based vegan broth, mushroom, baby leaf spinach, asparagus, broccoli, cauliflower, black pepper and thin noodles.
At Bassanova Ramen NYC in New York, the Tondaku Wadashi Green Curry Ramen is a build of Berkshire pork tonkotsu and green curry soup, topped with grilled pork loin chashu, mixed greens, shrimp, okra and red pepper.
Then there's Oiistar, a modern ramen joint in Chicago that menus a wide range of on-trend flavor systems. Offerings include the "Tikkamen," dipping into the Indian mash-up trend with chicken, masala, bean sprouts, nori and roasted sesame, along with the "Pozolmen," mashing pozole and ramen together with pork loin, jalapeño, red onion and tomato.
Jeff Chancaleune, executive chef at Goro Ramen in Oklahoma City, gives turkey a turn in his Turkey Taipan, featuring turkey broth, turkey meatballs, ajitama (marinated soft-boiled egg), corn, mustard greens, fried shallots and Chinese broccoli.