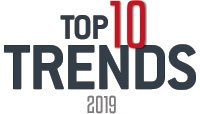 Look at existing menu items that could use an update or increased "Wow!" factor, and then see if it makes sense to add a textural component via pearls, dusts, crystals or powders. Create a menu item that lets your guest apply a selected powder (or similar application) to their food—something that they can dunk or roll in as they eat. Seasonal limited-time offers are a prime way to incorporate an exciting texture play.
Consider these textural enhancements:
Beet powder mixed with carrot juice, orange juice and ginger for a refreshing and healthful beverage
A michelada glass rimmed with fresh lime juice and then ghost-pepper sea salt for a blast of salty heat with every sip
Sugar pearls with Liège waffles for signature caramelized pops of bursting flavor
Cheese powder tossed on Buffalo-glazed chicken wings to add extra indulgence and an actual finger-licking-good experience
---
Snap, Crackle and Pop – modern pearls, dusts, powders and crystals introduce captivating texture, making texture one of our top 10 flavor trends for 2019.

---