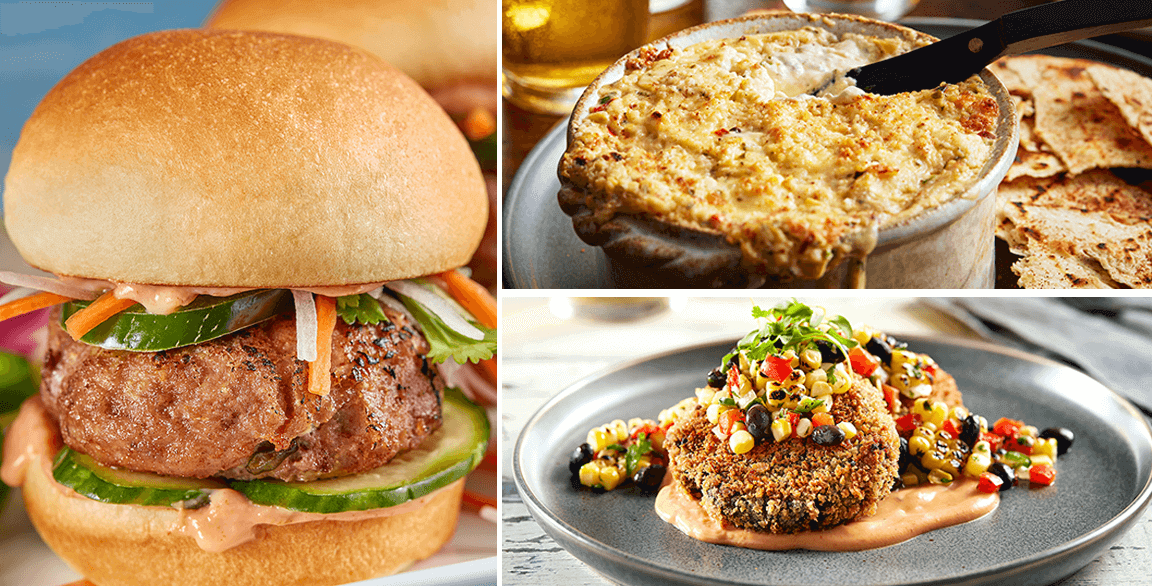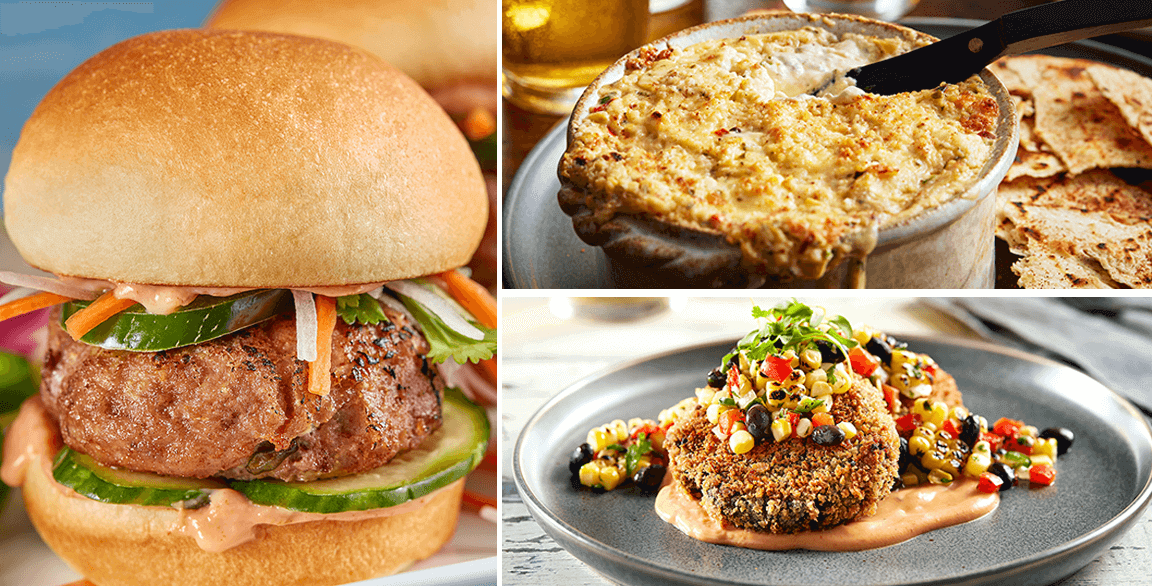 Kitchen Collaborative is a recipe-development initiative formed by Summit F&B and Flavor & The Menu. To fuel flavor innovation, a group of talented chefs partnered with sponsor brands and commodity boards to create recipes that showcase the passion and potential of our industry.
CHEF SPOTLIGHT: DAVID COX
David Cox, VP of Food & Beverage and Corporate Executive Chef for Norms Restaurants, is continually on the hunt for ideas that can offer competitive advantages without compromising the character and familiarity of the diner-style chain's menu. "I draw inspiration from all over: past, present and future. From Flavor & The Menu and other magazines, conferences, continued education, the internet, other restaurants and chefs, our team at Norms and our customers," he says. "What is important is recognizing a good idea, not necessarily having to come up with it yourself."
Today's back-of-house challenges with the supply chain, the labor pool and rising costs place a premium on good ideas that emphasize versatility, adaptability and labor-saving prep. For example, "Black beans and salsa verde have become a post-pandemic workhorse at Norms," says Cox. "They lend themselves to all dayparts," making them a natural as the central ingredient of the Spicy Black Bean Cakes the chef created for Kitchen Collaborative. It's one of three "good ideas," along with Ground Pork Banh Mi Sliders and Baked Boursin® Artichoke Dip, that Cox offers as inspiration to other chefs in the industry.
Spicy Black Bean Cakes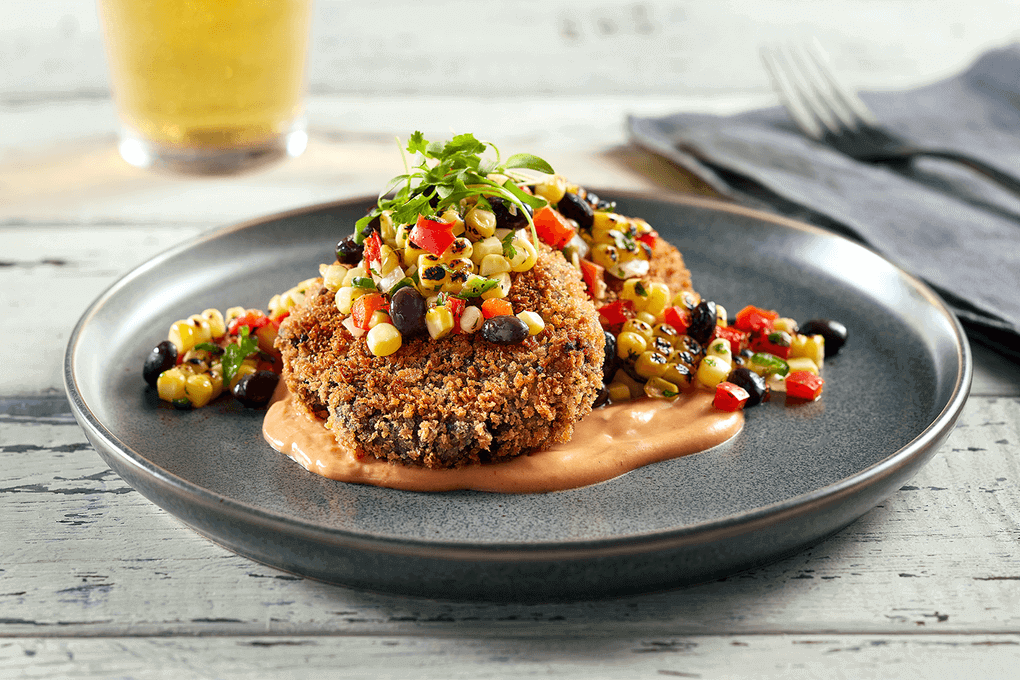 Photo: Carlos Garcia // Food Styling: Peg Blackley & Bree Williams
"I think adding heat is a must in today's menus. The younger demographics definitely skew toward spicy items, but even older folks crave heat or chiles and menu items with bold flavor profiles," says Cox. He makes good on meeting this customer need state with his recipe for Spicy Black Bean Cakes featuring Bush's Best® Sidekicks™ Taco Fiesta™ Black Beans.
Given today's shallow talent pool for staffing restaurant kitchens, Cox is gratified to turn to labor-saving products, like these from Bush's Best, that perform up to quality standards. "They are convenient, well-seasoned and always cooked perfectly. It's just one less thing to worry about," he notes.
For this recipe, Cox dials up the heat and flavor by adding serrano chiles in the bean cakes, plus chipotles for an accompanying sauce. "I like using a variety of chiles—fresh, dried and smoked—to layer flavors," he says. "The serrano provides consistent heat and a sharp, grassy bite that contrasts well with the smoky, earthy chipotle chile used in the sauce."
The dish also features a roasted corn salsa, and together with the pan-fried bean cakes and chipotle sauce, customers can expect "the holy trinity of Latin cuisine: beans, corn and chiles," says Cox. The build is a sophisticated balance of flavors and textures. "There's the crispy outside texture and deep umami flavor of the black bean cakes, with the spicy, naturally sweet corn salsa, balanced with lime, plus the smoky heat and richness of the chipotle sauce. They all come together to make it a complete dish."
Ground Pork Banh Mi Sliders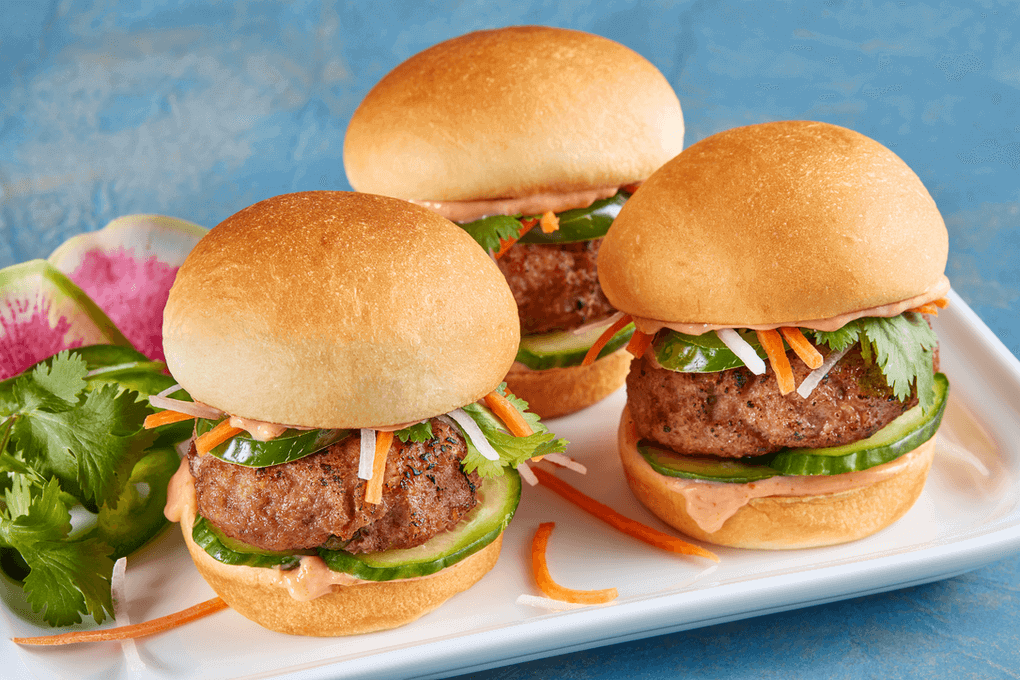 Photo: Carlos Garcia // Food Styling: Peg Blackley & Bree Williams
Back in 2013, Norms Restaurants offered an LTO banh mi burger, a trend-forward dish then that continued to inspire Cox eight years later with his development of these Ground Pork Banh Mi Sliders, featuring King's Hawaiian® Original Hawaiian Sweet Slider Buns. "I have seen and used banh mi in different concepts, from a burger to a slider and the traditional baguette, using varied proteins, pickled vegetables and sauces," says Cox. "It's about striking the right balance of flavor and texture."
On the flavor side, he says, "The meat is usually highly seasoned with the likes of basil, garlic, fish sauce, Thai chiles, sugar and Sriracha. The pickled vegetables offer a simple contrast of seasoned rice vinegar, daikon and carrot, offering textural crunch to boot." Cilantro and jalapeño provide fresh notes, he adds.
Although a traditional banh mi uses pork tenderloin, Cox grinds pork butt, mixing in the flavorful herbs and sauces. "I am really fond of the Vietnamese meatball flavor profile," he says, pointing out that the ground meat is also more forgiving than lean pork loin and can be cooked to order for an all-day or 24/7 menu.
"The bread is more than a mere carrier of this jam-packed flavor party, playing a vital role in adding texture and satisfaction," says Cox. If the build uses the more traditional baguette, "freshness and a thin, crusty exterior with a soft, pillowy crumb is critical. There is nothing worse than getting a banh mi on a stale baguette or bad bread," Cox warns. For these sliders, the King's Hawaiian bun eliminates the pressure for ensuring fresh baguettes, consistently delivering "a sweet, soft contrast in texture and flavor," he says.
Baked Boursin® Artichoke Dip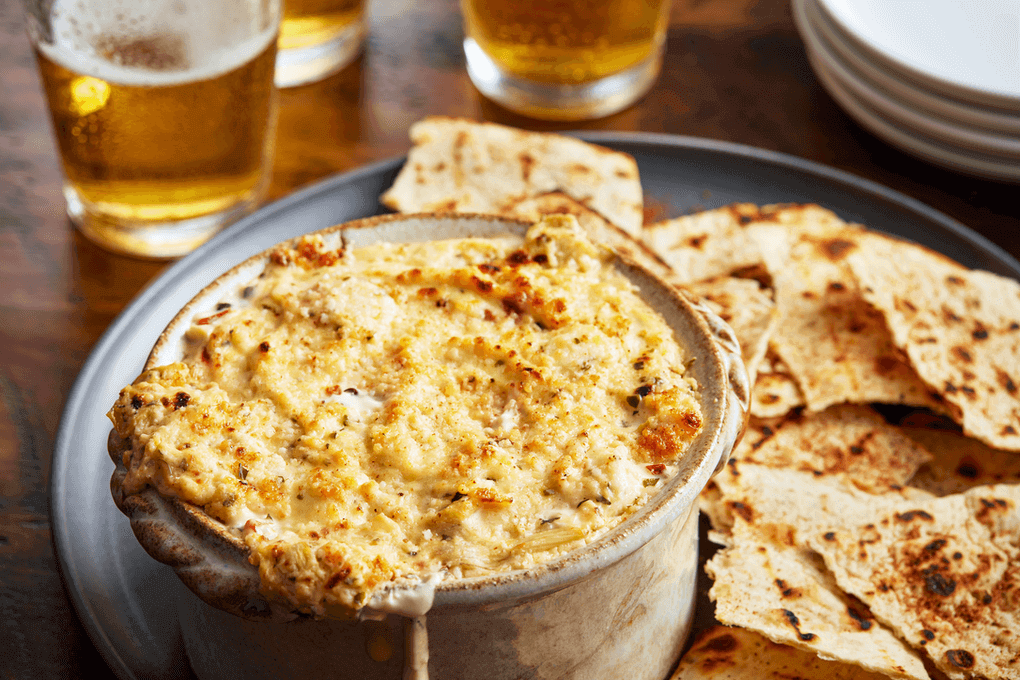 Photo: Carlos Garcia // Food Styling: Peg Blackley & Bree Williams
Cox turns to an enduring classic, Artichoke Dip, to showcase Boursin® Professional Frozen Gournay Cheese Cubes, Garlic & Fine Herbs. The dip is a reliable favorite with diners "because it is warm, rich and gooey!" says Cox. "The artichokes are a perfect partner to all that cheesy goodness. Plus, you get to scoop it up with great bread, croutons or chips."
Meanwhile, back of house, Cox applauds the labor advantages of using the convenient Boursin Cubes for this and other dishes. "Chefs can pull and thaw them literally in minutes. They are easy to portion for recipes or last minute applications, as well as to mix and distribute in batch recipes."
He opts to spike this Artichoke Dip with greater layers of flavor, adding asiago "for a sharp, aged cheese contrast to the rich creamy Boursin," as well as chopped chipotles in adobo sauce and diced roasted red bell peppers. "It's rich with the creaminess of the Boursin, the nuttiness of the artichoke, the sweet red peppers, sharp asiago and a slight, smoky heat on the back end," Cox says of the flavor build. He recommends serving the dish "warm, bubbly brown, right out of the oven with that au gratin effect" and pairing it with the tang of sourdough croutons for dipping.
Project Management: Summit F&B
Photography: Carlos Garcia // Food Styling: Peg Blackley & Bree Williams