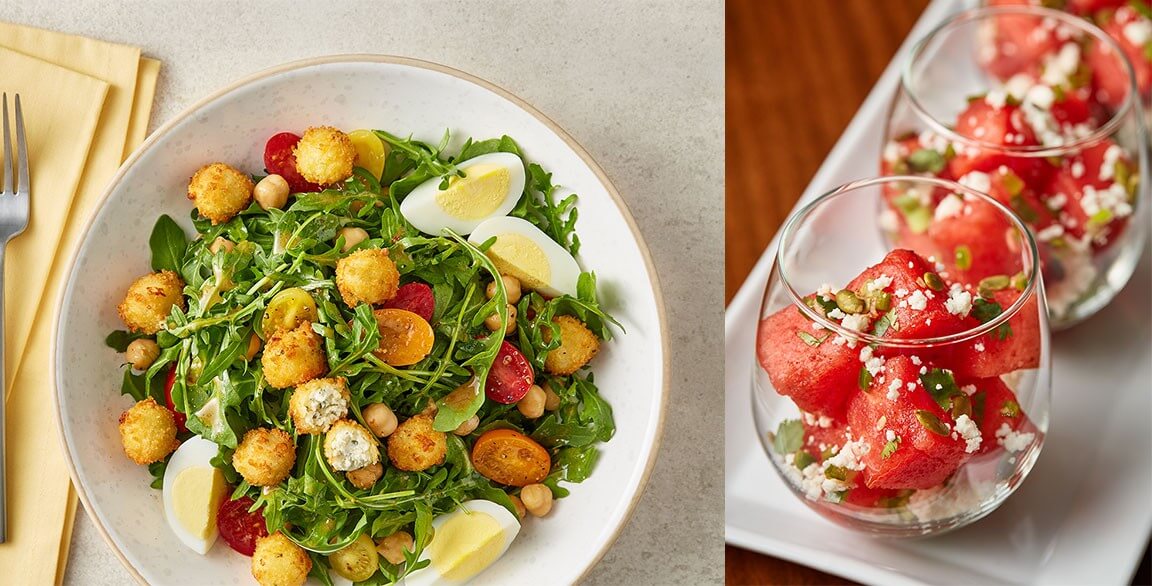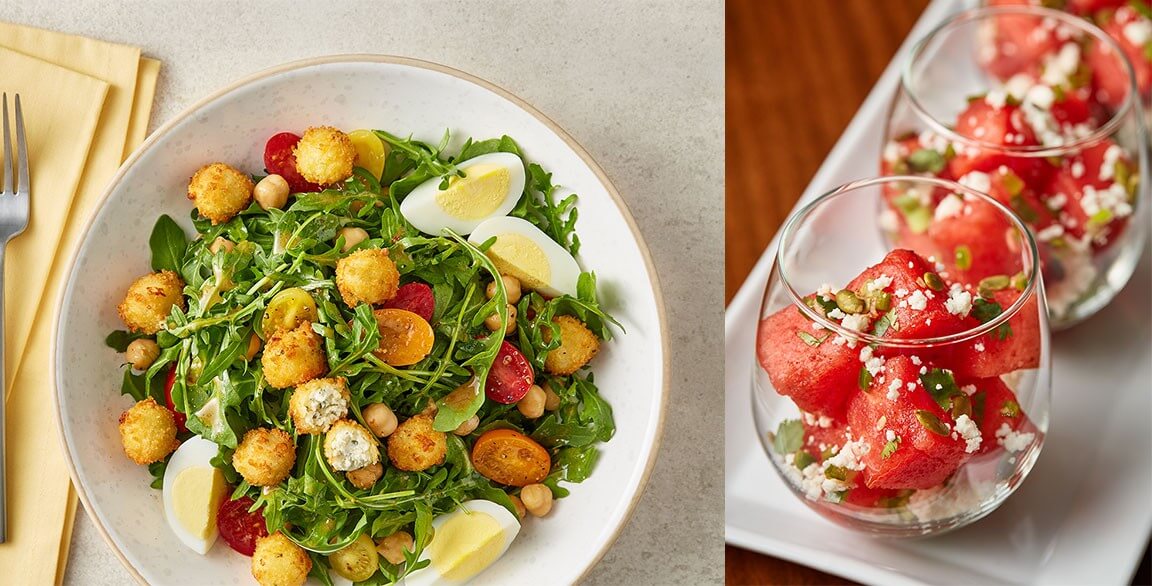 By Flavor & The Menu
May 24, 2021
Kitchen Collaborative is a recipe-development initiative formed by Summit F&B and Flavor & The Menu. To fuel flavor innovation, a group of talented chefs partnered with sponsor brands and commodity boards to create recipes that showcase the passion and potential of our industry.
CHEF SPOTLIGHT: AMY SMITH
Amy Smith is Senior Director of Culinary & Operations Innovation, Miller's Ale House, based in Orlando, Fla. Her creative recipe development for Kitchen Collaborative yields salads that stand out with freshness and originality. Each holds the allure of recognizable, favorite flavors, but promises something new and delicious with unexpected elements.
Her Chile-Lime Watermelon Salad with Queso Fresco is a clever interpretation of a craveable Mexican street food and her Arugula Salad with Crispy Boursin® Bites upgrades the crouton into a unique garnish that delivers big impact.
Chile-Lime Watermelon Salad with Queso Fresco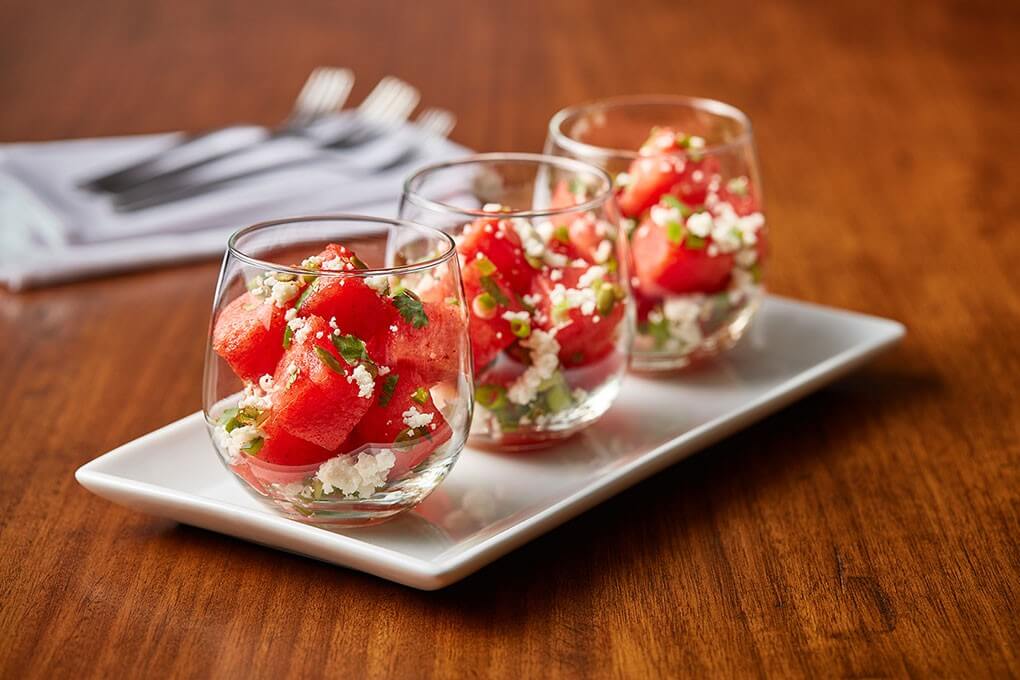 Photo credit: Carlos Garcia // Food Styling: Peg Blackley & Bree Williams
Smith first makes the dressing. To counter the water content in the fruit, she uses assertive ingredients here: jalapeño, lime juice, white parts of the scallion and cilantro. She adds a touch of sugar, if needed, depending on the watermelon's natural sugar content. "Because watermelons vary in sweetness, I included in the recipe the optional sugar to balance out the overall flavor," says Smith. She adds diced watermelon, queso fresco, green scallion pieces and roasted/salted pepitas. "The queso fresco adds creamy, salty layers. The pepitas give the dish a richness and help the dressing to adhere to the surface of the watermelon," says Smith. "The result is an explosion of sweet, salty, spicy and tangy flavors."
The way the watermelon is cut is important to the integrity of the salad. "It's cut into chunks to avoid watering down the dressing," she says. "It frees less juice and accentuates the contrast between the well-seasoned exterior and the sweet, juicy interior."
Arugula Salad with Crispy Boursin® Bites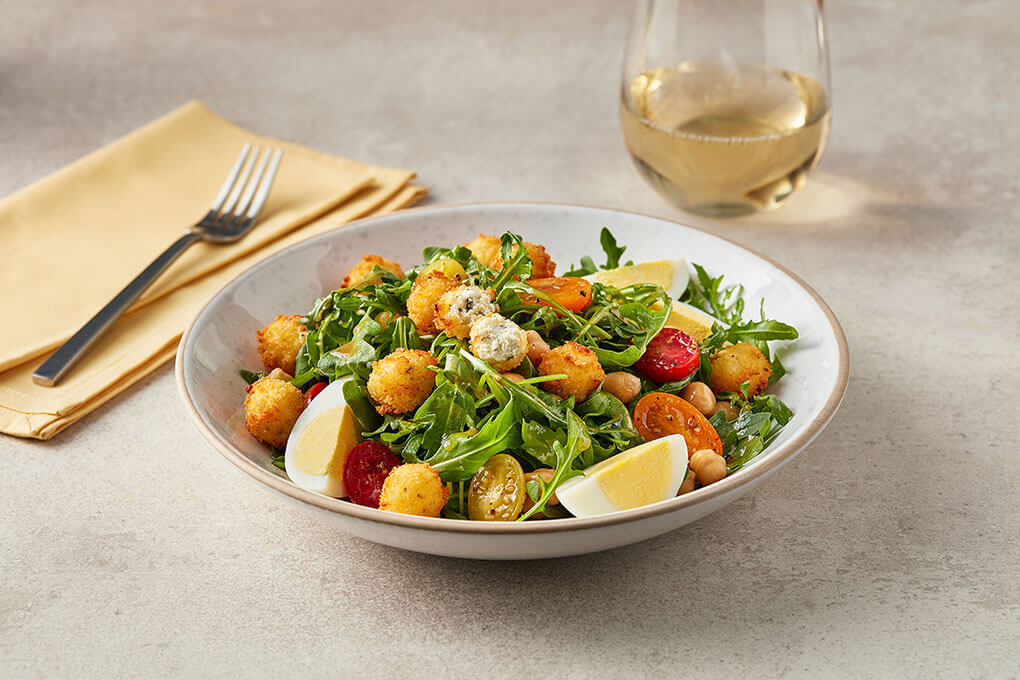 Photo credit: Carlos Garcia // Food Styling: Peg Blackley & Bree Williams
Smith's Arugula Salad with Crispy Boursin Bites was inspired by the shape of the new Boursin® Professional Frozen Gournay Cheese Cubes. "They instantly reminded me of croutons, and I started to think about how I might be able to maintain the Boursin flavor," she says. "Breading the IQF cubes allowed me to deliver differing textures—smooth, creamy cheese, crunchy breading, along with contrasting temperatures—the warm bites against the cool salad."
To make the "croutons," Smith dredges the IQF cubes in flour, coats them in egg wash, then coats them in breadcrumbs. She places the breaded cubes on a sheet tray, covers and freezes them for 30 minutes, then deep fries them until golden brown. These Boursin Bites are tumbled over the arugula salad, which is dressed in a glossy, thick vinaigrette made with mayonnaise, Dijon, molasses, red wine vinegar, salt, vegetable oil and extra-virgin olive oil. "In addition to oil and vinegar, this vinaigrette is made with a combination of emulsifiers (mustard and mayonnaise) and a stabilizer (molasses), which help the emulsion form and hold for several days. I used a 2:1 ratio of extra-virgin olive oil to vegetable oil, which prevents the oil molecules from bonding together and solidifying in the refrigerator while still allowing the distinct flavor of the olive oil to come through. The dressing template is adaptable to a variety of oils and acids, as well as aromatics and fresh herbs," says Smith. "This salad recipe results in a dish with flavors and textures that play off each other to a scintillating effect."
She offers a few other ideas on how to use the crispy Boursin bites in other menu applications. "They make a great garnish across a variety of platforms: Placing a few on top of roasted tomato soup would be a fun play on the traditional grilled cheese and tomato soup, or a Roman pizza topped like an open-faced sandwich with a little marinara, a little extra-virgin olive oil and a handful of the Boursin bites," says Smith. "Finally, a lemon chicken with wilted spinach and the crispy bites would give you a great combination of tart, bitter and herby."
Project Management: Summit F&B
Photography: Carlos Garcia // Food Styling: Peg Blackley & Bree Williams