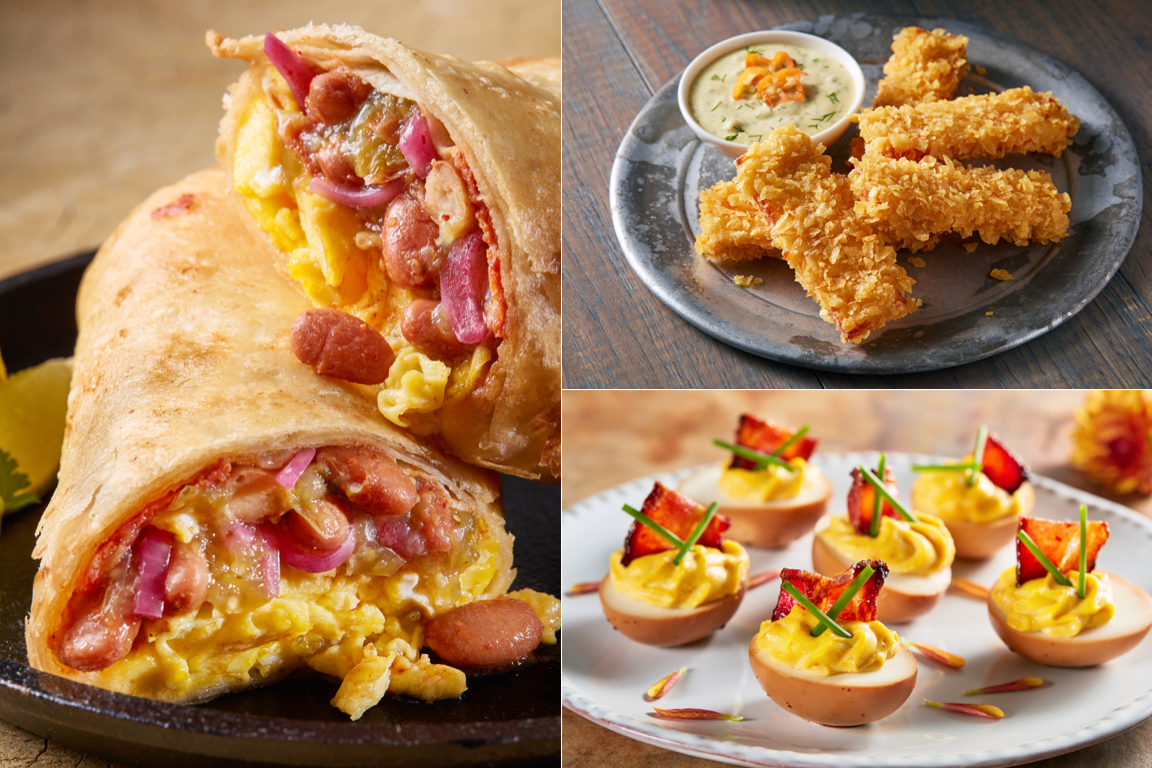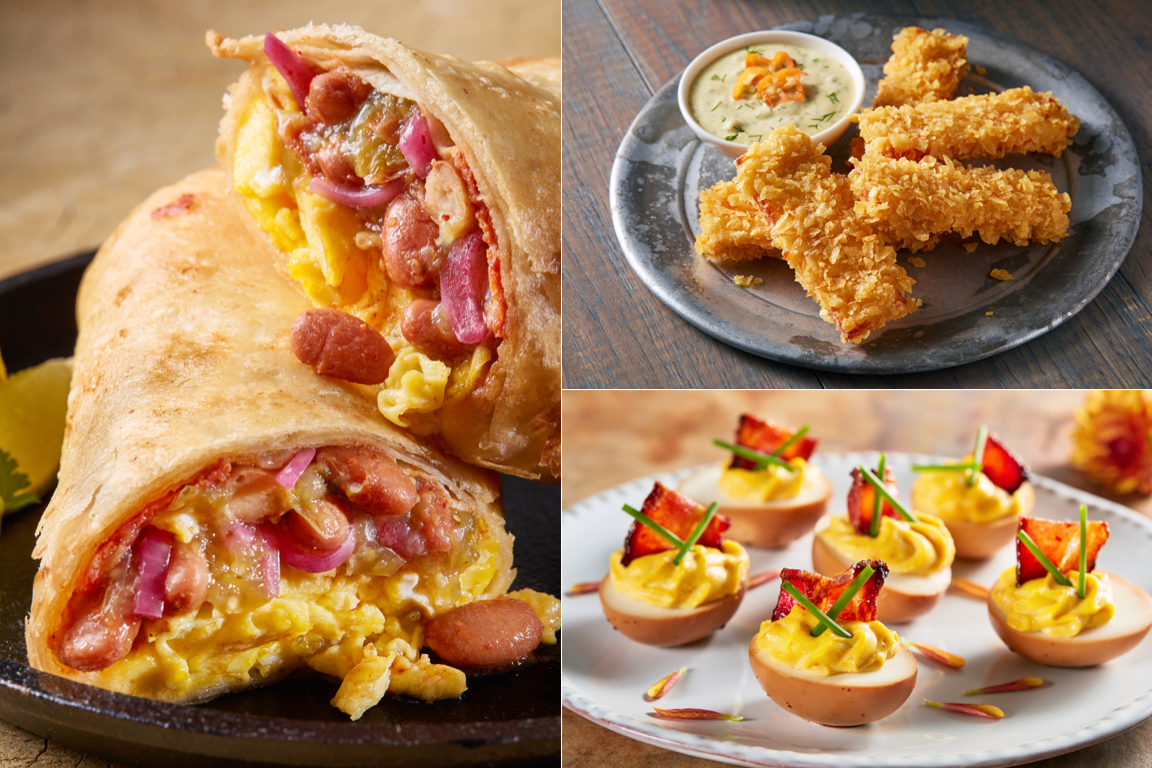 Kitchen Collaborative is a recipe-development initiative formed by Summit F&B and Flavor & The Menu. To fuel flavor innovation, a group of talented chefs partnered with sponsor brands and commodity boards to create recipes that showcase the passion and potential of our industry.
CHEF SPOTLIGHT: Brad Bergaus
Chef Brad Bergaus understands that there's nothing "simplistic" when it comes to appreciating the values of "simple" ingredients and preparations that produce depths of flavor complexity. "Being from Minnesota, simple comfort food really resonates with me. But my passion for food comes from knowing how far we can innovate with shapes and textures, while driving flavor in the simplest of ways." Bergaus, Corporate Chef and Director of Innovation at Taco John's, routinely embraces the challenge of adding unconventional global ingredients to traditional favorites. "You think, 'This shouldn't be in this dish,' but it works so well!"
For Kitchen Collaborative, Bergaus takes on three iconic dishes, bending flavor expectations in exciting new directions. His Fried Breakfast Burrito, Habanero Pickle Dip with Spicy Paneer Chips and Black Pepper Deviled Eggs feature simple, but wildly effective, twists.
Fried Breakfast Burrito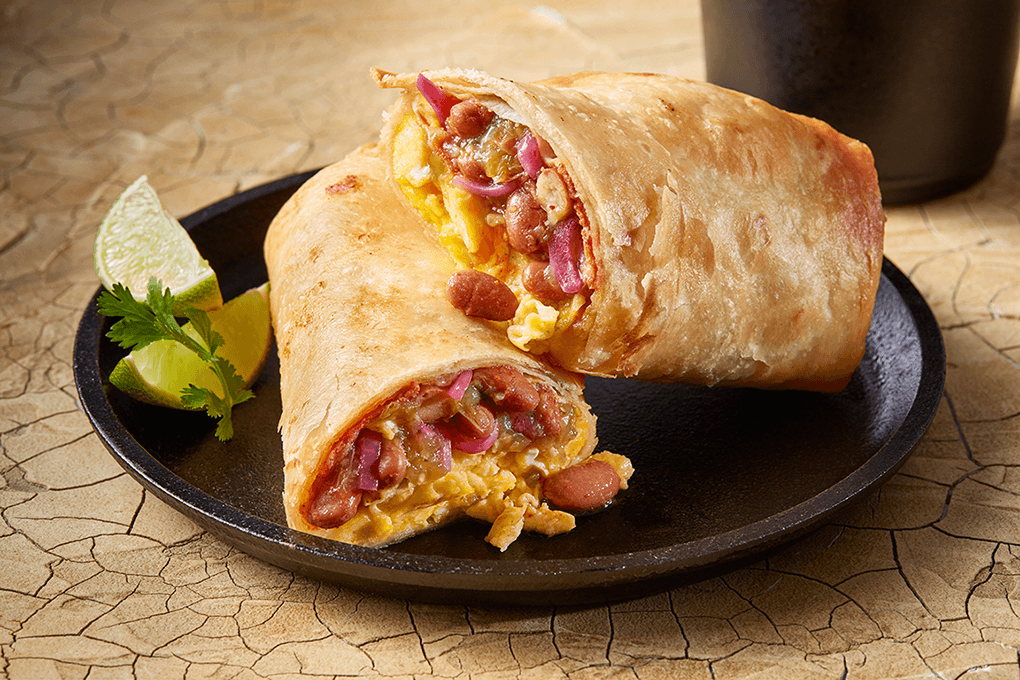 Photo: Carlos Garcia // Food Styling: Peg Blackley
"How can I elevate an already beautiful eating experience, but deliver an additional layer of crunch?" Bergaus turned to the fryer for this fun spin on the popular breakfast handheld. Beyond crisping up a soft tortilla, "Frying adds a deep layer of flavor that is evenly distributed throughout the burrito in a short period of time," he says.
His Fried Breakfast Burrito features Bush's Best® Easy Entrees® Texas Ranchero® Pinto Beans paired with Spanish picante chorizo, scrambled eggs and a blend of three cheeses (Monterey Jack, cheddar and asadero), pickled red onions and Hatch chile salsa verde. "The beans are well balanced in flavor with hints of oregano, garlic and a nice touch of heat from jalapeño powder. The consistency is nice and thick with a large bean particulate that helps to reduce any waste with the product," says Bergaus.
Bergaus slices the chorizo into chips and bakes them until they are curling and slightly crispy. "The beans have a nice creamy texture, so when considering the right protein to add, chorizo was top of mind, specifically a cured link," he explains. "Creating chorizo chips gives a nice crispy texture to the overall bean profile."
Habanero Pickle Dip with Spicy Paneer Chips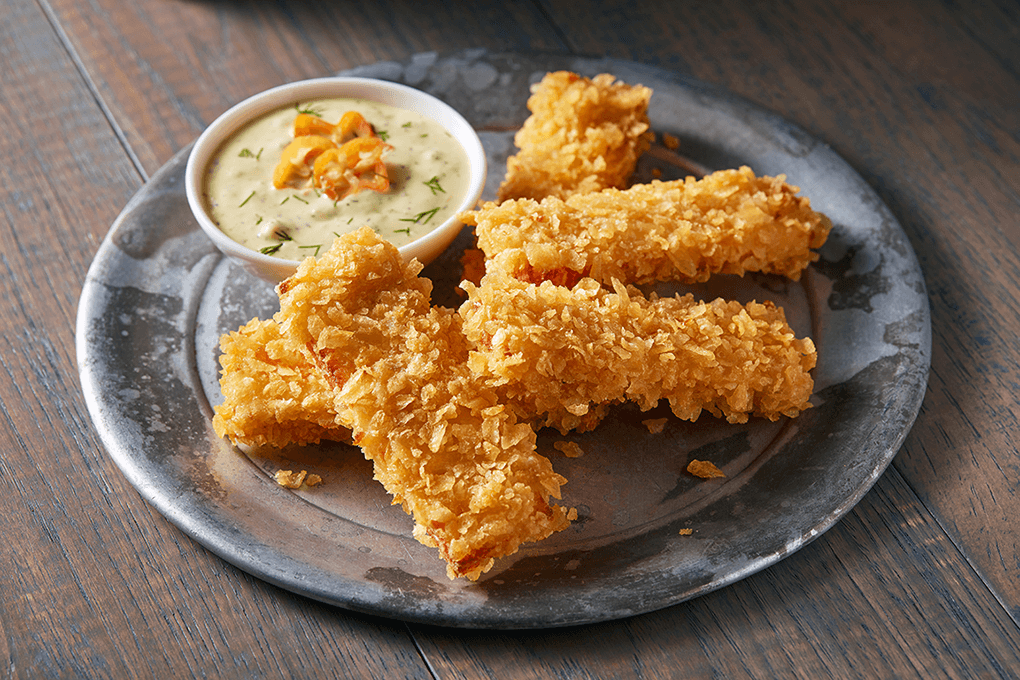 Photo: Carlos Garcia // Food Styling: Peg Blackley
Inside-out is oh-so-right when it comes to this Habanero Pickle Dip with Spicy Paneer Chips, a dish that is an inventive riff on a traditional Midwestern favorite. It begins with cherished childhood memories: "My grandfather would make large batches of pickles with fresh produce and herbs from the Minneapolis farmers' market, and he would name all the varieties after each of his grandchildren. Mine was Bradley's Bread and Butter Chips," Bergaus recounts. "We always went to the Minnesota State Fair to see them win ribbons—and we would always get the fried pickles while we were there. In this dish, those pickles have been turned into a dip, and the creamy notes are now in a crispy chip."
As if that reinvention wasn't enough, Bergaus also opts to pull in elements from the Indian, Middle Eastern, Mexican and classic American pantries. The dish boasts a diverse ingredient lineup that includes spicy habanero paneer and labne kefir cheese (both from California dairies), habanero hot sauce, habanero rings, ranch dressing, ridge-style potato chips and, of course, dill pickles and their juice.
The dip features the labne kefir cheese, along with cream cheese, ranch dressing, pickle juice, hot sauce, dill, garlic, salt, pepper and dill pickles. "The habanero hot sauce really gives great flavor, and the labne balances the heat," he notes. To prep the chips, the spicy paneer cheese is coated with a coarse crumble of potato chips before frying. "What pairs better with pickle dip than a ruffled potato chip," Bergaus insists. "It is a salty addition that delivers an impeccable crunch."
Black Pepper Pickled Deviled Eggs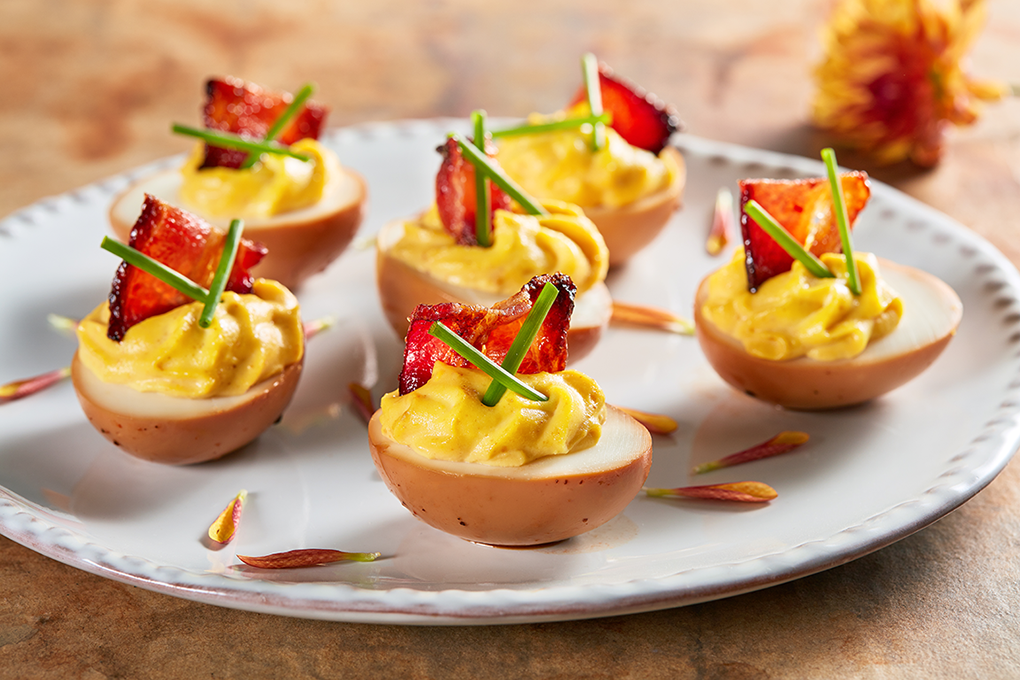 Photo: Carlos Garcia // Food Styling: Peg Blackley
Deviled eggs may be a party platter mainstay, but they needn't be relegated to that application. Inventive chefs welcome the blank canvas this egg preparation offers in developing flavor-forward shareables that also present easy explorations for diners. Bergaus is a self-proclaimed fan of deviled eggs, and "pickling is in my blood," he says of his decision to create these Black Pepper Pickled Deviled Eggs.
He starts by adding water to Lee Kum Kee® Black Pepper Sauce and using it to pickle peeled, hardboiled eggs for at least 24 hours. "The sauce delivered so much flavor, and being able to dilute it to act more as a pickling liquid was the perfect touch," Bergaus says. The yolks are removed, mixed with mayonnaise, Lee Kum Kee® Roasted Sesame Dressing and sea salt, then piped back into the egg-white halves. For the final flavor touches, Bergaus adds a few pieces of chives and candied bacon coated with Lee Kum Kee® Sauce for Orange Chicken.
"Together, it's a nice savory and creamy eating experience, with a bit of bite from the black pepper and a sweet crunch from the bacon," Bergaus explains. "It doesn't necessarily steer toward Asian. I can see this served at a sports bar for happy hour or even a steakhouse or fine-dining establishment."
Project Management: Summit F&B
Photography: Carlos Garcia // Food Styling: Peg Blackley