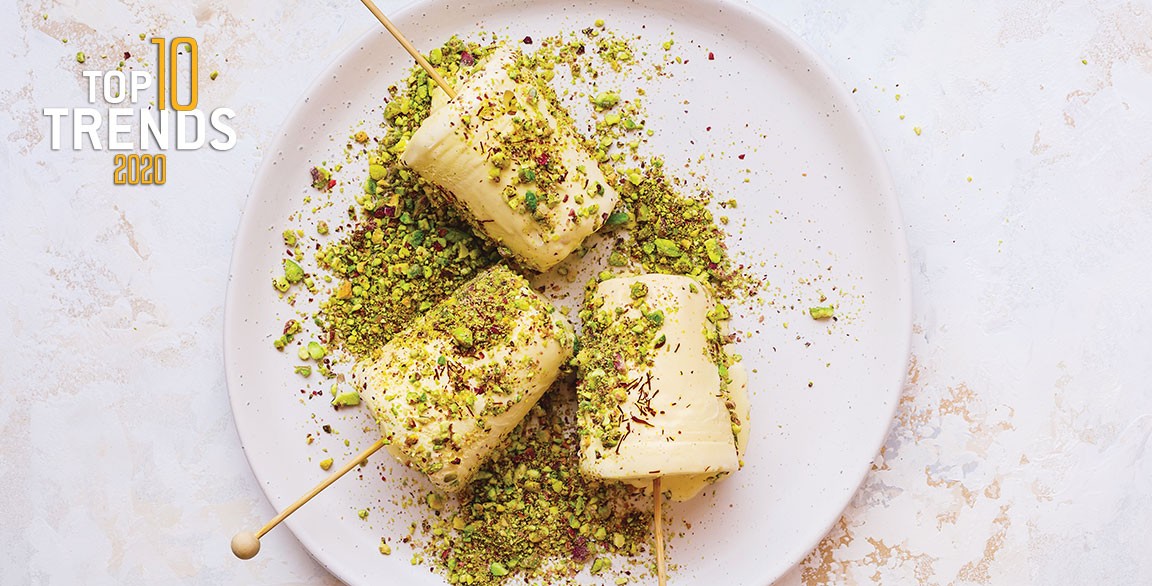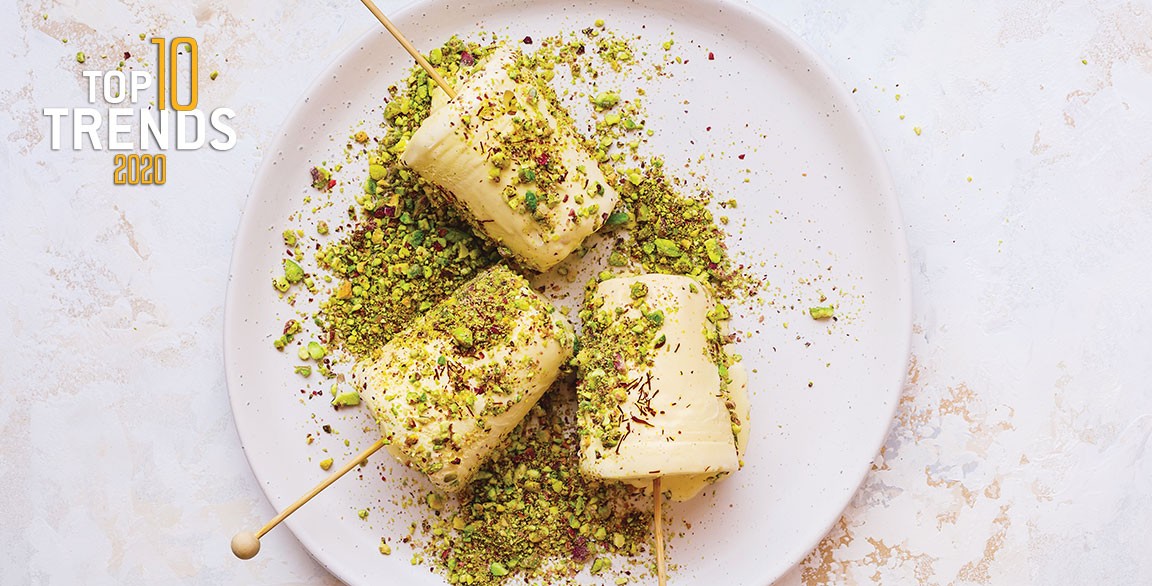 Chefs are starting to pull cardamom out of its traditional boundaries of Eastern Med, Indian and North African cuisines, calling on its distinct flavor in unexpected, wonderful ways. A few factors are driving innovation around this heady, aromatic powerhouse spice.
First, those global cuisines that regularly feature cardamom are becoming more familiar to American consumers, making it a more recognizable—and enjoyable—flavor.
Second, cardamom is a primary ingredient in chai seasoning, a now-staple spice blend in the beverage world. Its popularity is helping familiarize palates here with cardamom's profile, which not only adds flavor, but helps balance other spices, like cinnamon and ginger.
Another interesting phenomenon that's bringing attention to this spice is the cardamom bun, a Nordic version of the cinnamon bun that's less sweet, wooing Americans with the lingering, fragrant quality that only cardamom can offer.
A Warm Welcome
By Chris Koetke
Cardamom's rising popularity is due in part to a cross between the rise of Indian and Nordic cuisines. In authentic Indian food, it plays a role in a range of garam masalas that Americans crave. In Nordic cuisine, cardamom adds a warm, spiced note to pastries and breads—some of which are enjoyed in the U.S. around the holidays. Yet in all of these preparations, cardamom has been adding its flavor behind the scenes so that it may not be immediately recognizable to Americans, but it is vaguely familiar.
There is big opportunity to introduce cardamom in the breakfast space, for instance, in cardamom buckwheat pancakes, whole-wheat cardamom waffles, cardamom steel-cut oats with a breakfast chutney, or crêpes with a warm cardamom-apple compote. There is also potential in various sauces like a cardamom piloncillo duck sauce, or in dry rubs for meats like lamb or venison.
Cardamom is a powerful spice, so a little goes a long way. The opportunity here is to employ it in unexpected places so as to highlight its qualities and use it as a differentiating factor.
Innovation seems to be striking first in coffee, cocktail and dessert offerings. Chive Kitchen in Farmington, Mich., demonstrates the affinity between blueberry and cardamom with its Blueberry Cardamom Cake, a cardamom sponge with layered blueberries, blueberry-cashew cream, cardamom syrup, pistachios and candied orange.
In Northern California, Mortar & Pestle, a craft cocktail bar, uses cardamom to add nuance to a bell pepper-heavy drink. The Bell Ringer features gin, Ancho Reyes Verde, pepper tincture, lime, green bell pepper juice spiked with cardamom and Bittercube's Jamaican #1 and Corazón bitters.
As evidence that cardamom is moving into coffee culture, look to the growth of cardamom lattes, popping up at coffeeshops across the country, and in specialties like the Turkish Affogato at Flow State CoffeeBar in Philadelphia, which gets a scoop of cardamom gelato.
It's now poised for growth elsewhere on the menu. "Consumers are already familiar with this spice, but many of them have no idea that they are," says Maeve Webster, president of Menu Matters. "If someone doesn't recognize a flavor in a baked good, but they love it—chances are it's cardamom. The challenge for operators is to pull it out from the wings and make it a star ingredient."
FLAVOR STRATEGIES
Menu developers can borrow from the champion playbook of cultures that have long seen the star potential of cardamom. They can also follow the New American rules and take it into any direction they choose. Either way, exploring cardamom's reach helps transform it into a high-impact flavor on U.S. menus.
"Cardamom is getting attention today because it comes down to flavor," says Matthew Harding, senior VP of menu innovation with Piada Italian Street Food. "As fast casuals and other segments strive to become healthier, we always are looking for the next spice hit. A good approach is through a flirtation with the flavor, but bringing it into items that are familiar. The goal with cardamom is to create a flavor profile that's a little sultry, a little different."
Breakfast and brunch offer a soft place to land. "As we're seeing with desserts already, cardamom plays really well with sweet forms, so adding it in some way to French toast or pancake batters, or infusing syrups with it—those are easy wins," says Michael Parlapiano, strategy director with The Culinary Edge.
Sunny Point Café in West Asheville, N.C., takes inspiration from the Indian tradition of pairing carrots with cardamom in its Organic Carrot Hotcakes topped with cardamom cream cheese and maple syrup. "Cardamom is aromatic, and its earthiness and citrus notes add depth to the dish," says April Moon Harper, co-owner. "Even though it's a complex spice, it's very approachable and serves as a gateway spice for those who want to try something a little different."
Bar Marco in Pittsburgh uses bacon as the gateway: the House Bacon with cardamom and brown sugar promises a new experience with an old friend.
Cardamom, 9 Ways
By Suzi Gerber Easy menu concepts with cardamom:
Pho- or Asian-inspired broth soups
Coconut-cardamom rice pudding or congee
Sweet potato Hasselback with cardamom-infused gravy
Bao with pickled radish and cardamom-marinated mushrooms
Peach-cardamom smoothie
Horchata latte
Tiki cocktails
Gin cocktails
Blueberry-cardamom pie or tart
Of course, chai and brunch are fast friends, so developing that partnership beyond beverage is another smart way to bring cardamom further forward. Ian Ramirez, director of culinary innovation & operations with Creative Dining Services, suggests making a French toast or pancake batter by steeping chai spices in soy or oat milk. "For a crunchy topping on desserts, pancakes or over yogurt parfaits, use a heavy hand and season granola with cardamom. It's amazing."
First Watch, a breakfast and lunch restaurant concept, has been exploring how to add chai onto its food side of the menu. "We like the natural balance between savory and sweet," says Shane Schaibly, VP of culinary strategy and corporate chef. "We have been playing around with putting chai in almost everything." The team landed on Vanilla Chai Latte Pancakes, rolling out as a limited-time offering. Vanilla, chai and fresh banana are incorporated in a multigrain pancake batter. Once griddled, the pancakes are topped with bananas, raspberries and a housemade maple-chai almond butter. "The dish is well balanced and approachable, while featuring some fun and interesting ingredients," he says.
Going Deeper
Cardamom's complex, aromatic profile is already leveraged in a number of deeply flavorful global spice blends: Vietnamese pho, Chinese five-spice and Indian garam masala are among the most well-known here. These blends access one of cardamom's superpowers: the ability to bring balance to both heat and sweet, while awakening the olfactory through an enduring, pleasing aroma.
"When balancing a condiment that's raw and fresh, cardamom can support those flavors in a unique, appealing way," says Parlapiano. "S'chug, in some versions, includes cardamom, and it does add depth to that bright, hot sauce."
At Bäco Mercat in Los Angeles, Josef Centeno, chef/owner, uses cardamom to temper heat in his Cardamom Jerk Lamb Riblets. "I think of cardamom as a cooling spice that goes well with the heat of the chiles in the jerk rub," he says. "It's also slightly floral, sweet, woody and aromatic like fennel or anise."
Jamie Simpson, executive chef liaison at the Culinary Vegetable Institute, keeps four varieties of cardamom in his pantry: two kinds of black cardamom, a white variety and the more common green one. "The black cardamom has this medicinal, aromatic quality—it's like Vicks VapoRub mixed with dark cola, sassafras and root beer," he says. He likes to incorporate black cardamom into chocolate, grind the seeds and add them to a finishing salt, or steep the pods in savory sauces. "I prepared a dish of caramelized turnips with white chocolate and white soy. That was a nice place for cardamom, balancing the sweet and the savory."
Veg-centric dishes marry well with cardamom, appreciating a high-impact ingredient to help up the crave factor. Jonathan Kallini, executive chef at Bacchanalia, a New American restaurant in Atlanta, infuses his Parmesan brodo with black cardamom, then adds sweet potato tortellini. Eight Row in Seattle adds intrigue to a pork chop entrée with cardamom-braised cabbage, smoked Honeycrisp mole and cider gastrique.
The Coffee & Cardamom Cured Salmon Plate at Ember in Miami demonstrates the allure of this spice—it just sounds sexy. Bradley Kilgore, culinary director, pairs it with pickled red onion, fried almond butter, roasted beets and whipped cream cheese. "I wanted to feature the elements of a classic smoked salmon plate but present them in a new way," he says. "Cardamom brings a sweetness that balances the coffee's depth."
Bringing It Home
The sweet and savory, the warmth and aroma all build a bridge to American menus. "Cardamom is earthy and bittersweet. More and more, wherever I used smoked paprika, I'm now using black cardamom," says Pam Smith, RDN, a nutritionist and culinary consultant. "The aromatics are what give it that essence of craveability." She suggests adding it to a chipotle barbecue sauce for burgers or pulled pork. "Black cardamom introduces a warmth and a sweet, pungent flavor that is hard to identify, but makes it special." She also uses its pod to add aroma to rice pilaf. "Anywhere you might use cinnamon, consider using cardamom instead," says Smith.
In playing around with the spice, Gabriel Caliendo, VP of R&D at Lazy Dog Restaurants, looks to the traditional ways cardamom has been used. "I lean into that and move forward by using it in a traditional format," he says. Caliendo was inspired by the Indian ice cream called malai kulfi that's flavored with cardamom. Featuring flavors common in Indian desserts, he made an ice cream sandwich with rosewater and saffron ice cream housed between pistachio-cardamom cookies. "They were familiar because everyone knows what an ice cream sandwich is, but they used cardamom in a traditional way," he says.
When talking through beverage play with cardamom, he suggested that a cold-brew coffee infused with a cardamom pod and topped with chai whipped cream would work well. "There's room for both traditional and nontraditional here," he says. "It's exciting to think about."