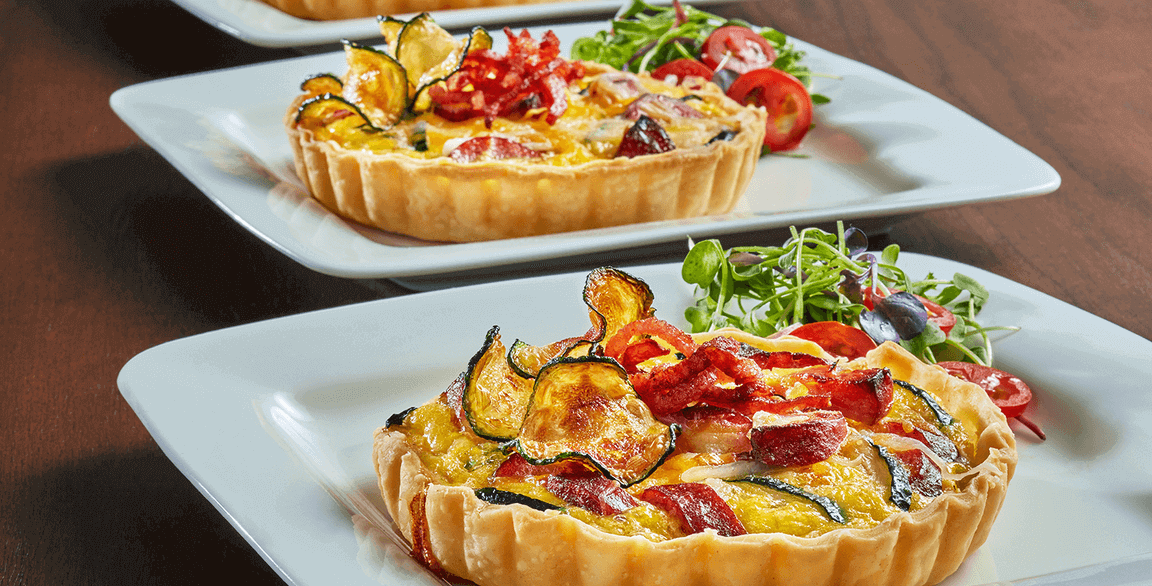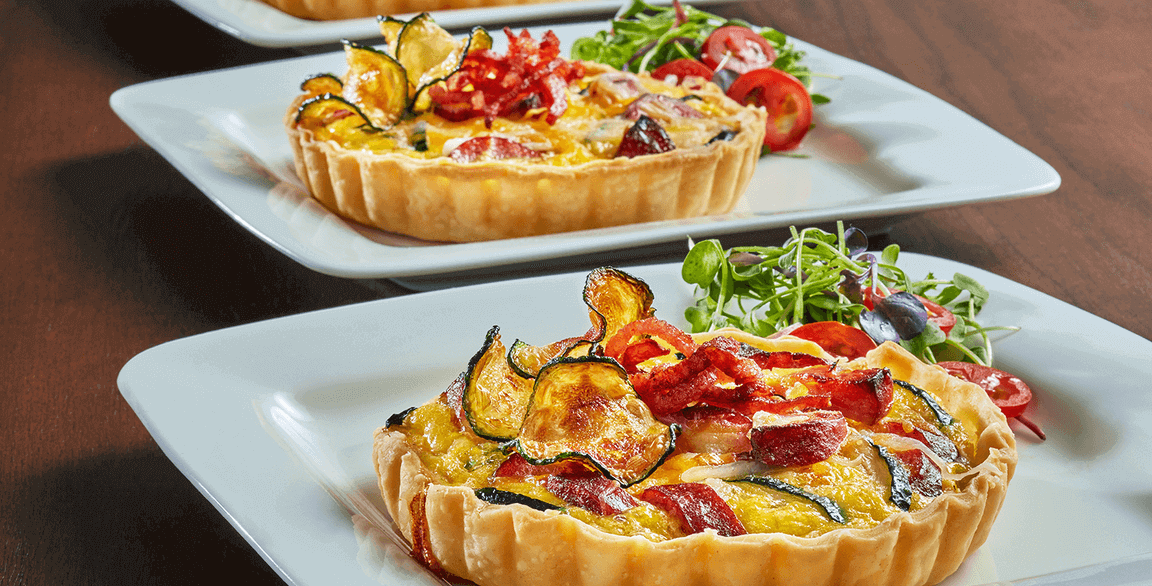 Hillshire Farm® Fully Cooked Split Smoked Sausage Frittata
Recipe courtesy of Daniel Van Etten
Sponsor: Tyson Foodservice
Servings: 24
INGREDIENTS
3 lbs Hillshire Farm® Smoked Sausage, 1/3-inch slices
2 oz extra-virgin olive oil
1 lb zucchini, ¼-inch slices
1 ½ tsp ground pepper
3 qts whole eggs
2/3 tsp kosher salt
2 2/3 c shredded mozzarella
1 1/3 c shredded sharp cheddar
Nonstick pan spray, as needed
12 grape tomatoes, 1/8-inch slices
½ bunch fresh parsley or micro greens
DIRECTIONS
Julienne ½ pound of the sausage. Sauté it on medium heat until the fat is rendered out and sausage is caramelized. Reserve.
Sauté the zucchini and remaining sliced sausage with the oil and ½ teaspoon pepper until lightly golden brown, 3-5 minutes. Reserve.
Whisk together the eggs with salt and remaining pepper. Reserve.
Mix the cheeses together and divide equally into two separate containers. Coat a 2-inch full-size hotel pan or individual serving dishes with nonstick spray.
Add half the cheese, sliced sausage and zucchini into the egg mixture. Gently mix everything and pour into the prepared pan.
Bake in a combi oven at 325 degrees F with 50% moisture for 15 minutes on low fan. Switch to 100% steam for the remaining 10-12 minutes, until frittata is set. If using an internal oven probe, set it to 180 degrees F and cook until temperature is reached.
Remove from oven and immediately add the remaining mixed cheese on the top of the frittata. The cheese will melt naturally from the heat.
Garnish with the caramelized julienned smoked sausage, sliced tomatoes and/or parsley.
Chef Notes
2 ½ pounds of sausage will require a 1/3-inch slice
½ pound of sausage will require a 1/8-inch julienne for garnish
This dish can be served as a full hotel pan for buffet or individual as seen in the picture. Individual pastry shells can be used if desired.
Brought to you by Tyson Foods®
Project Management: Summit F&B
Photography: Carlos Garcia // Food Styling: Peg Blackley & Bree Williams