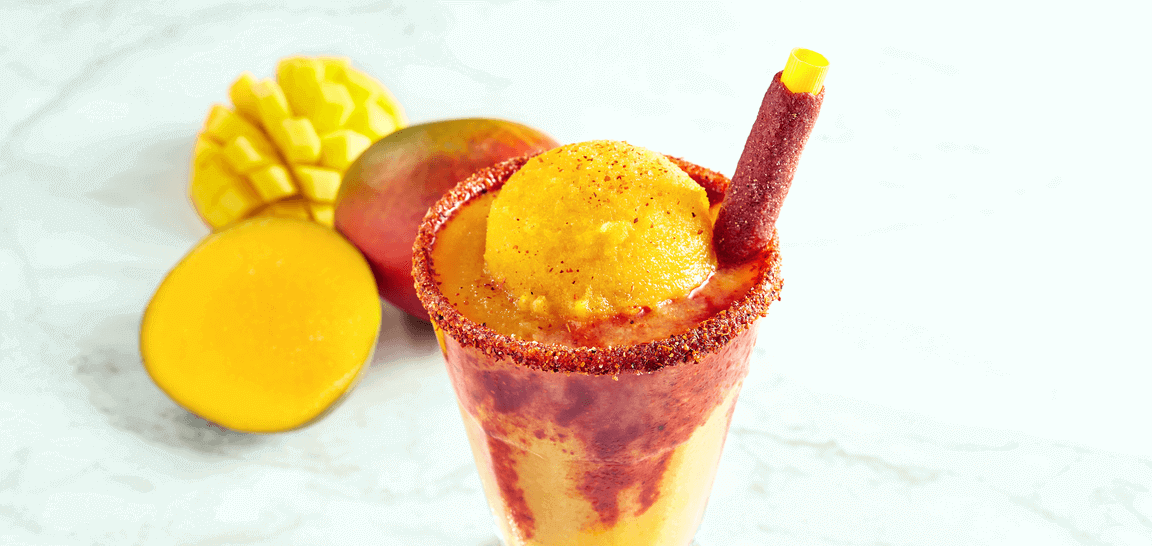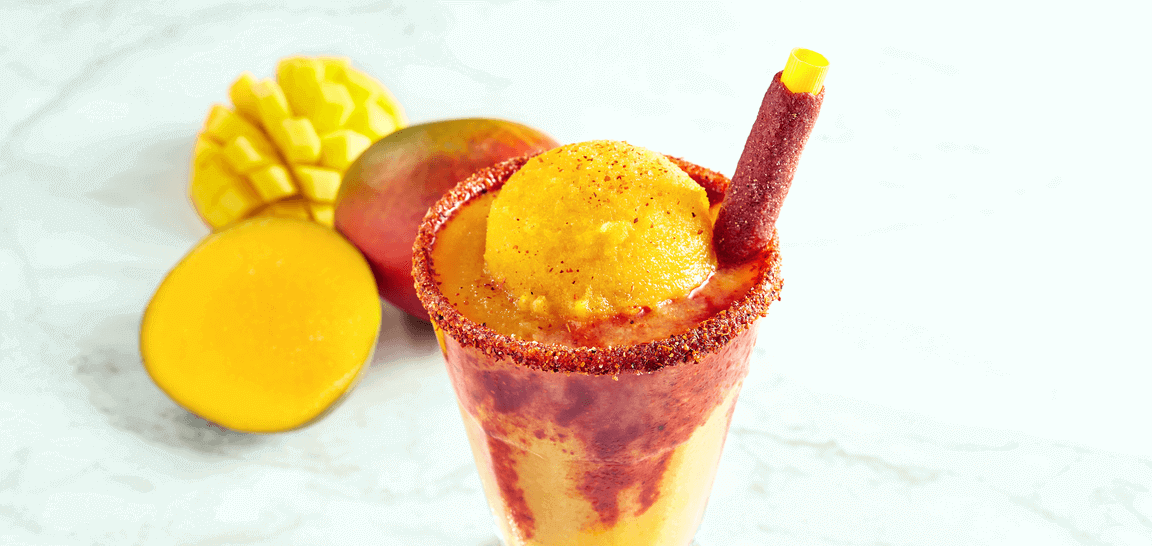 Ginger Mangonada
Recipe courtesy of Chef Eric Stein
Sponsor: National Mango Board
Serves: 16
Ingredients
Mango-Turmeric Sorbet
7 lbs diced fresh mango (21 cups)
2 Tbsp ground turmeric
2 c orange blossom honey
2 c mango nectar
Mango-Ginger Smoothie
12 lbs diced fresh mango, frozen (32 cups)
8 c mango nectar
½ c fresh lime juice
½ c finely grated ginger
Garnish
8 c crushed ice
1 ½ c chamoy sauce
1 c Tajín seasoning
16 candied ginger slices
16 banderillas (tamarind candy straws)
2 c immunity booster beverage syrup
Directions
For the mango-turmeric sorbet: Combine the mango, turmeric, honey and mango nectar in a blender and blend until smooth. Pour the liquid into a 4-inch-deep half hotel pan and freeze until solid.
For the mango-ginger smoothie: Working in batches, combine the frozen mango, mango nectar, lime juice and ginger in a blender and blend until smooth. Divide mixture into pitchers and hold in the refrigerator until ready to serve.
For the mangonada and garnish:Immediately before serving, blend each 1½-cup serving of smoothie with ½ cup of crushed ice.
Place the Tajín seasoning and chamoy in containers appropriate for rimming the glasses you are using to serve your mangonada. Press the rim of the glass firmly first into the chamoy and then into the Tajín. Press and twist to completely coat the rim of your glassware.
Pour the prepared mango-ginger smoothie into the glass and top with a #8 scoop (1/2 cup serving) of mango-turmeric sorbet.
Garnish each glass with a slice of candied ginger and a tamarind candy straw.
Pour 1 ounce of immunity boost beverage syrup over the sorbet to float on top of the smoothie.
Serve immediately.
Project Management: Summit F&B
Photography: Carlos Garcia // Food Styling: Peg Blackley & Bree Williams