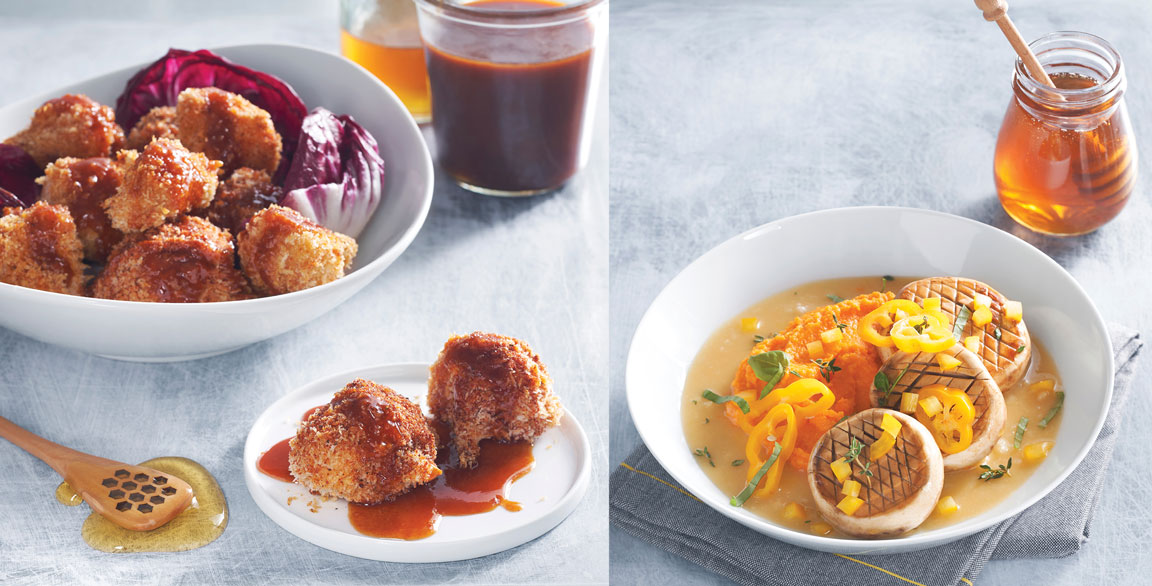 By Flavor & The Menu
September 22, 2020
While most consumers know that bees make honey, many don't understand the vast impact these tiny creatures have on our food ecosystem overall. Some 90 fruits, vegetables and herbs on the menu are made possible by these prolific pollinators. With more diners embracing plant-forward eating, drawing this close connection between honey bees and plant-based foods enriches the flavor narrative and builds the story that connects consumers to menu items in meaningful ways.
To highlight honey's affinity with the plant-forward movement, the National Honey Board (NHB) partnered with Joshua Ingraham, executive chef of Go Buddha Meals, a plant-based meal company based in Rocky River, Ohio. Ingraham started the company during his off-season as the executive chef of Progressive Field, home to Major League Baseball's Cleveland Indians.
Honey is a natural for Go Buddha's health-focused, sustainable meal program, built on the principles of functional medicine and foods. The burgeoning operation delivers throughout Northeast Ohio, ships to 16 states and recently opened its first walk-in "Buddha Rocky River Eatery" in a suburb of Cleveland.
Ingraham was inspired to create Go Budda's "Beegan" line after attending the NHB's 2019 Honey Summit at the Culinary Vegetable Institute in Milan, Ohio. The new recipes are designed to help promote and support the work of honey bees.
Honey bees help make so many ingredients on his menu possible through pollination, including almonds, coconut, peppers and carrots. By combining these ingredients with honey, Ingraham developed an array of better-for-you dishes that are flavor forward and "beegan," which means they are plant-based and made with honey. "Without bees, we wouldn't be able to enjoy all of the plant-based meals," he says.
WHY HONEY?
"Honey is transformative," says Ingraham. "When you infuse it with other strong ingredients, it's radiant with flavor. Honey preserves, it reduces, whips and transports our flavor concepts in a way that complements both savory and sweet dishes." For his beegan collection, Ingraham provided a plant-forward spin on a few classics, highlighting both honey as an all-natural sweetener and the fruits and vegetables that honey bees pollinate. "The diversity of this menu truly proves how honey can capture some of our favorite memories in food," he says.
Hot Honey Cauliflower "Wings"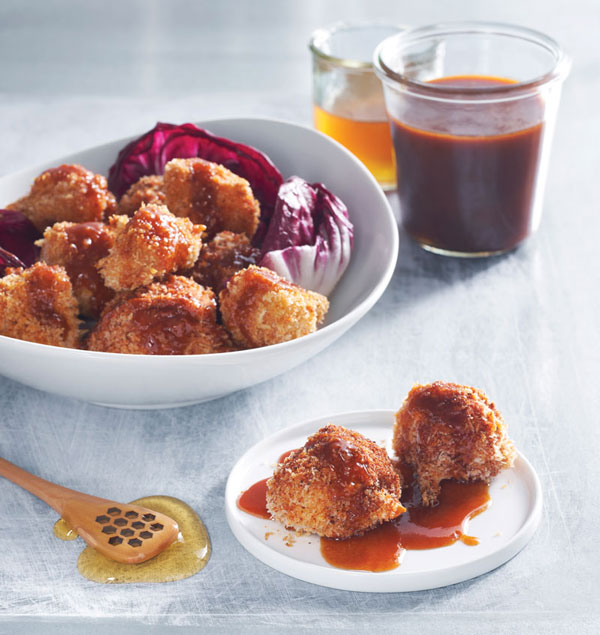 While game time can often be a meat-centric occasion, this new take on "wings" offers a refined, remarkably flavorful, plant-based twist. Ingraham makes a batter with almond milk and garbanzo bean flour, and separately combines garlic powder, smoked paprika and ground black pepper with panko bread crumbs. Each cauliflower floret is dipped in batter, coated in the seasoned panko, then placed on a sheet pan and roasted. To add that traditional zip of wing sauce with a nuanced layer of natural sweetness, Ingraham makes a Honey Hot Sauce by combining coconut oil, hot sauce and a dark avocado honey. He coats the golden florets with the sauce before serving. Honey bees have an impact on every step of this recipe, from the luscious honey to the almonds, cauliflower and even the spices, made possible through pollination.
Hearts of Palm "Crab Cakes"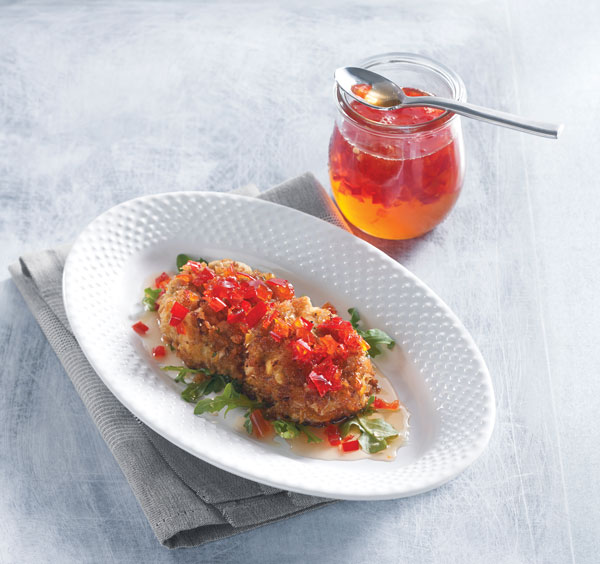 Despite its "sweet" reputation, we can thank the honey bee for pollination work that makes boldly flavored herbs like dill, parsley and chives, along with spice-packed peppers, possible. For this beegan take on a classic upscale seafood dish, Ingraham combines a range of other pollinator-dependent vegetables such as onions and yellow pepper, with hearts of palm, artichoke hearts, herbs, mustard, and other flavorful ingredients. The cakes are dredged in gluten-free panko, sautéed in olive oil and finished in the oven. To add even more flavor, Ingraham introduces the sweet heat of a Jalapeño Honey Jam as a finish, made by simmering red bell pepper, rice wine vinegar, sugar, salt and wildflower honey.
Chocolate Zucchini Bread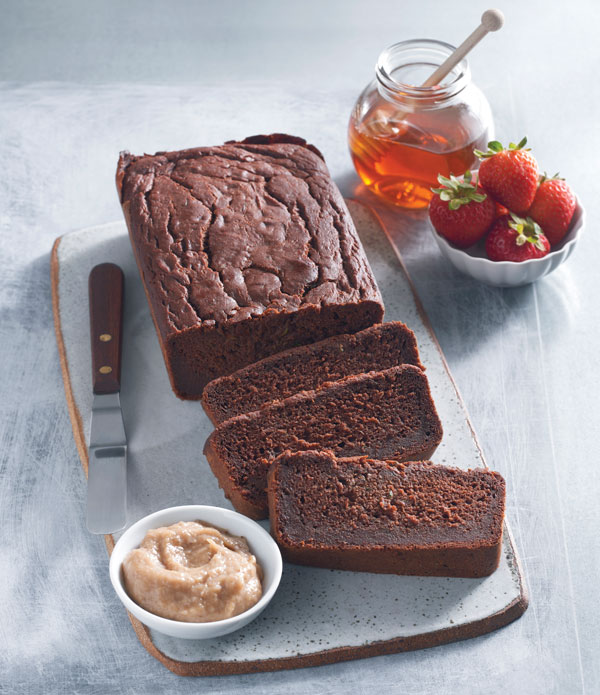 Ingraham offers a plant-forward take on what he calls, "the Sunday morning Chocolate Zucchini Bread that permeates the kitchen." He creates a flax "egg" with ground flaxseed and water. In place of granulated sweetener, Ingraham turns to bananas and clover honey for unprocessed sweetness. These ingredients are blended with gluten-free flour, coconut oil, almond milk, cocoa powder, cinnamon, baking soda and salt. Once combined, he adds in fresh grated zucchini—another vegetable reliant on honey bees for growth—pulses once more, pours into a nonstick loaf pan and bakes. He serves it with Banana Honey "Butter," made with a light, bright orange blossom honey, roasted bananas, coconut milk, vanilla, salt and cinnamon.
Mushroom "Scallops" with Honey Miso Nuoc Cham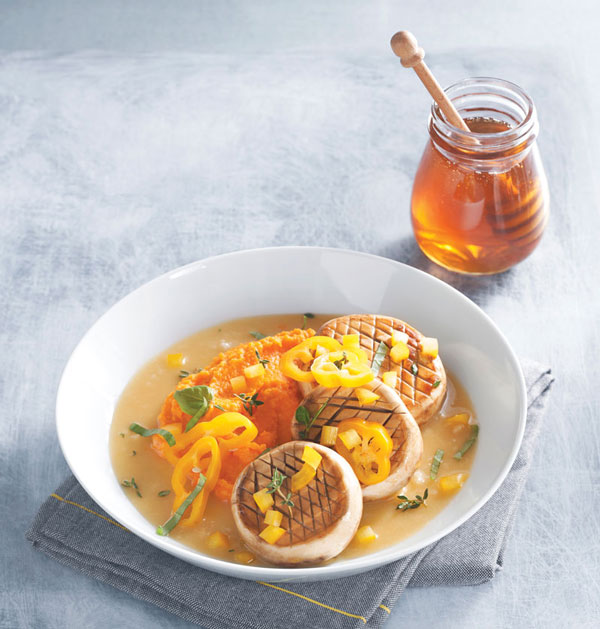 While honey is what bees are best known for, it's their pollination work that helps produce the carrots, coconut, thyme, garlic, lime and chile peppers in this innovative plant-based recipe. For the protein-like base, Ingraham uses large button mushrooms, pan-seared in coconut oil with thyme. The mushrooms are served atop a carrot-ginger purée enriched with coconut milk. Ingraham finishes the dish with an umami-rich Honey Nuoc Cham, featuring chile pepper, garlic, ginger, orange blossom honey, lime juice and white miso paste. It's the perfect union of diverse flavors and ingredients made possible by the honey bee, and the golden by-product of their labor—honey.
For more information about bees and honey, visit honey.com, or contact Andrea Schepke, on the National Honey Board's foodservice team, at [email protected].