The beverage category is a hot one today, with a number of mini trends keeping consumer interest piqued and the innovation pipeline humming. Cocktail culture. Craft sodas, coffees, lemonades and teas. Functional ingredients. Boozy brunch drinks. Instagrammability. Frosé.
When we look at smoothies and shakes, it makes sense that those trends are influencing successful development here, with operators bending the opportunity to fit their brands.
Harvest Eatery & Gourmet Pantry, a fast casual in Petaluma, Calif., serves health-conscious fare. The smoothie menu is a way for Harvest to further its brand promise and stand out with creative offerings, like the Green Gaucho, with kale, spinach, celery, cucumber, parsley, chile de árbol and cold-pressed apple juice. "Staying true to our health-conscious menu, our smoothies are refreshing, vegan, gluten-free choices with a cold-pressed apple juice base," says Henry Moreno, general manager and executive chef.
Harvest also taps into the smoothie bowl trend, serving an Açai Smoothie Bowl with strawberry, banana, blueberry, blackberry, hemp seeds, coconut, honey granola and cold-pressed apple juice. In all, smoothies and shakes embody flavor-forward innovation in cool form, whether appealing to divergent health-conscious or indulgent appetites.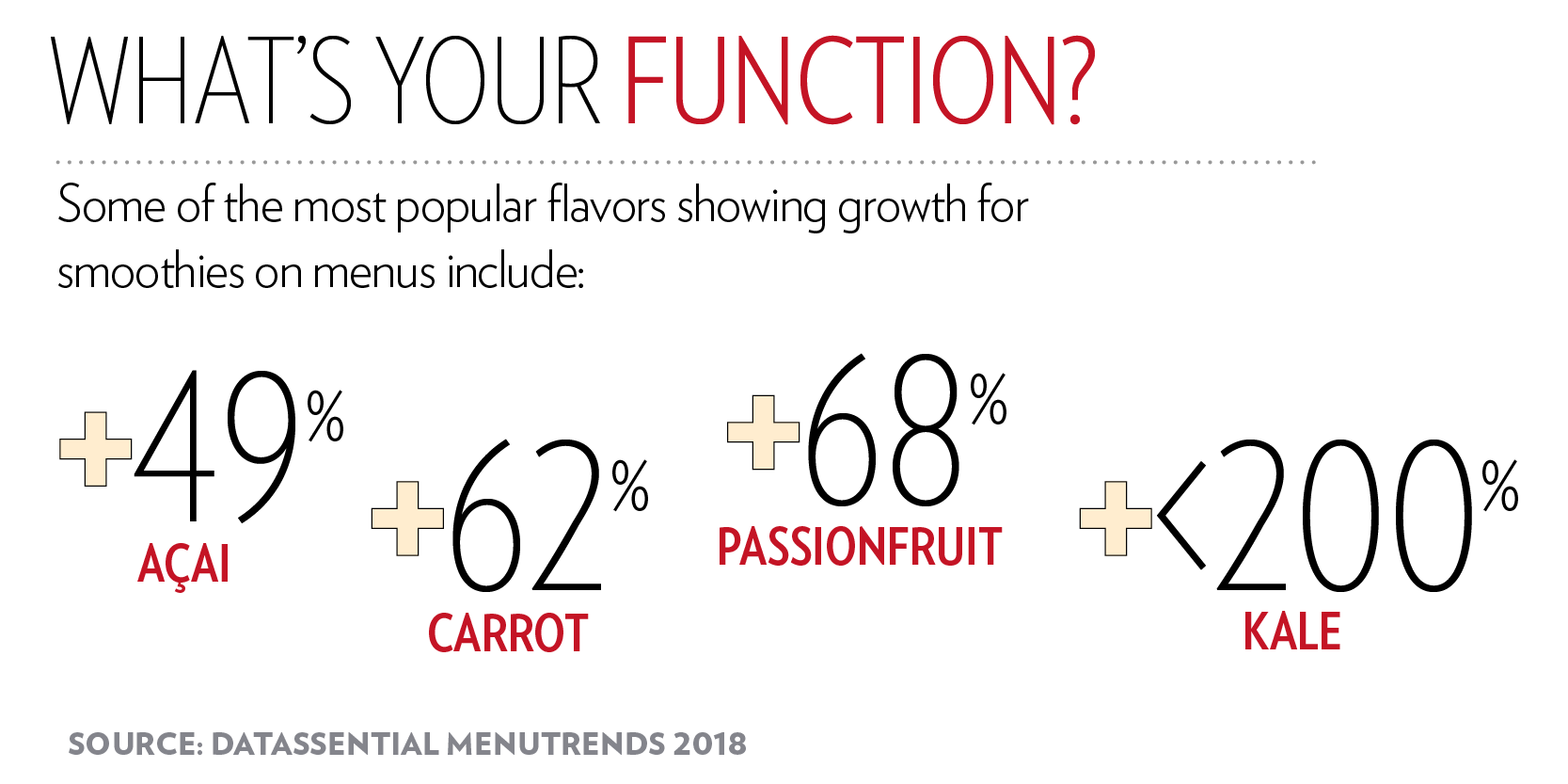 Get Your Freak On
Black Tap, a burger and beer joint with locations in Las Vegas and New York, lit the fire under the "freakshake" trend, where outlandish, spectacular milkshakes burn bright in the pop culture firmament. The milkshake craze is a perfect fit with today's trendy scene—ridiculously fun and always ready for Instagram. These show-stopping milkshakes almost guarantee social media buzz. And the possibilities are endless.
At Sugar Factory American Brasserie in Miami, a casual concept themed around sweets, the Bacon Cheeseburger Insane Milkshake is a sight to see. "Our mindset here is: the bolder, the better! From smoking cocktails to over-the-top milkshakes, we've designed our venues to be a decadent wonderland for all ages," says David Rodriguez, corporate executive pastry chef. "Those who can't decide between their sweet and savory cravings can enjoy the best of both worlds with this shake."
The shake starts with strawberry ice cream and strawberry sauce, and is then topped with whipped cream, a candied bacon strip, pretzels, M&Ms and a mini cheeseburger. It's served in a chocolate-covered mug with even more pretzels and M&Ms.
"We aim to create menu items that can visually communicate the Sugar Factory brand," he says. "We're very proud to have been named one of the most Instagrammed restaurants in America."
Kings Dining & Entertainment, an American restaurant in Doral, Fla., goes with a more classic dessert profile, but still takes things to the extreme with its Chocolate Chip Cookie Dough Mega Shake. It stars cookie dough ice cream and chocolate fudge, rolled in whipped cream and crushed chocolate chip cookies, and topped with an entire ice cream cookie sandwich.
"This nostalgic treat will take anyone back to the good old days when freshly baked cookies paired with milk was everyone's favorite combo," says Corey Simpson, assistant general manager. "We love seeing the faces of both children and their parents when this dessert comes to the table."
Buzzing With Flavor
Coffee culture continues to expand, with today's consumers embracing origin stories, the cold-brew process, and creative ways to infuse coffee into beverages. Juice It Up!, a smoothie and raw-juice chain headquartered in Irvine, Calif., recently added the PB Cold Brew Mocha Smoothie to its offerings. Featuring soy milk, cold brew, non-fat yogurt, chocolate, peanut butter, protein powder and banana, the coffee-based smoothie easily taps into the cold-brew phenomenon.
On The Menu
Coffee Shake: Hand-blended coffee shake topped with whipped cream
—The Habit Burger Grill, based in Irvine, Calif.
Coffee Fair Shake: Vanilla shake spun with organic arabica fairly traded coffee
—Shake Shack, based in New York
Mocha Java MilkShake
—Eat'n Park, based in Pittsburgh
Lotta Horchata Smoothie: Mexican-inspired blend of cold-brew coffee with cinnamon and vanilla flavors—Jamba Juice, based in Frisco, Texas
Making Lemonade
Lemonade, a fast casual based in Culver City, Calif., is offering a creative beverage blend line-up called Lemonade Infusions that fits its brand nicely. The three blends are: Fruity Yogurt Smoothies, Skinny T's and Frozade, all infused with cold-pressed lemonade. The Fruity Yogurt Smoothies come in Strawberry Banana and Mango Pineapple. "Our customers are loving the Fruity Yogurt Smoothies, which offer innovative and health-conscious offerings," says Larry Kurzweil, president and CEO of Lemonade Restaurant Group.
Make It Grain
We've seen how modern smoothies have embraced super fruits, from açai to goji berries, promising energy, immunity-boosting and more. It makes sense that the next wave of nutrient-dense smoothies gets a jolt of fiber and protein from whole grains. But it's not enough just to add quinoa or farro—attention to flavor detail makes these appealing.
Ahhh, Nuts
Vital Root, the vegetarian fast casual from Edible Beats, a restaurant group based in Denver, serves up an Almond Butter and Spinach Smoothie, boasting almond butter, banana, hemp seeds, spinach, basil and bee pollen. "The smoothie is savory and sweet, but is rich with healthy fats from the almond butter," says Justin Cucci, chef/owner.
"It's also herbaceous, with the bee pollen adding an unexpected floral sweetness. It tastes like a smoothie made of whole foods, instead of a sugary dessert type of smoothie."