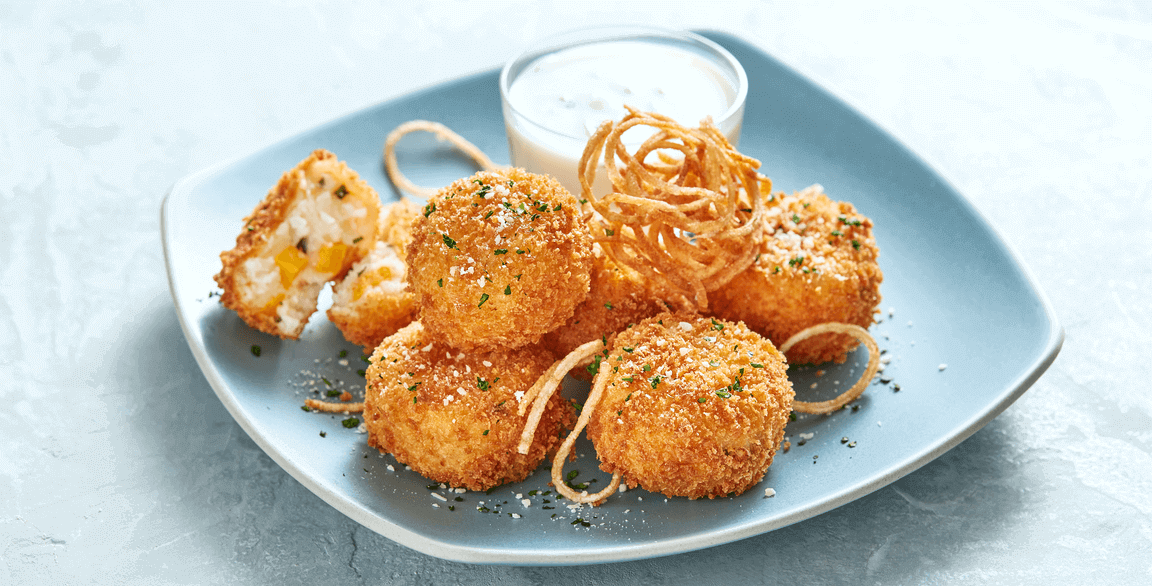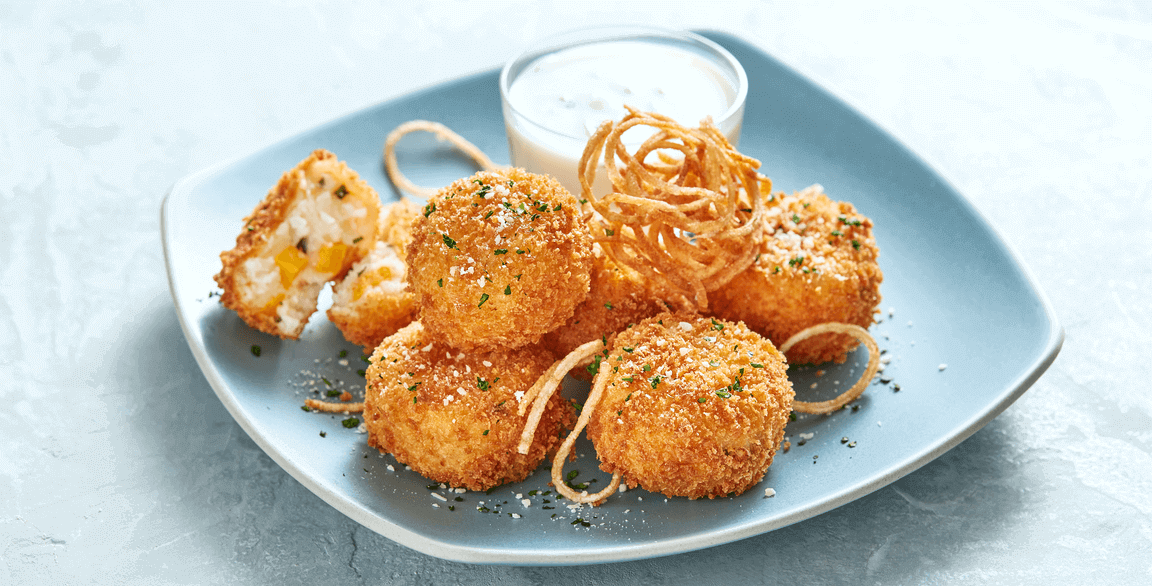 Autumn Idaho® Potato Croquettes
Recipe courtesy of Daniel Van Etten
Sponsor: Idaho Potato Commission
Servings: 24; 2 each per serving
INGREDIENTS
Croquettes:
3 lbs large Idaho® Russet Potatoes, peeled, large dice
5 oz unsalted butter
½ c whole milk
Salt and pepper, as needed
½ lb butternut squash, peeled, ¼ inch dice
2 Tbsp chopped fresh sage
1 c all-purpose flour
6 eggs, whisked
3 c panko breadcrumbs
2 qts canola oil
Maple Cream Sauce:
½ c unsalted butter
½ lb shallots, peeled, minced
3 qts heavy cream
¾ c maple syrup
1/3 c chopped fresh thyme
1 tsp kosher salt
½ tsp ground white pepper
Garnish:
1 lb large Idaho® Potatoes, peeled and spiralized
½ c grated Parmesan
Micro greens, as needed
DIRECTIONS
For the croquettes: Place potatoes in a pot on the stove submerged in cold water and cook until soft and fork tender, 15 to 17 minutes. Drain water and place potatoes in a bowl.
Add 4 ounces of the butter, along with the milk, salt and pepper. Mash the potatoes until lumps are gone by passing them through a ricer or using a whisk attachment on a Hobart or KitchenAid.
Blanch the diced squash in boiling water for 3 minutes. Remove from water and sauté with the remaining butter, salt, pepper and fresh sage; until tender but not soft. Add the squash to the mashed potatoes and mix by folding them in with a rubber spatula until combined.
Use a 1-ounce disher scoop to make 48 croquettes and place them in a single layer on a parchment-lined pan; cover and refrigerate.
Prepare a standard breading procedure by placing the flour, whisked eggs and panko breadcrumbs in three separate bowls, in that order. Season each with salt and pepper.
Remove chilled croquettes and bread each one by dredging in flour and rounding the croquettes, then pass through the egg wash and finish with the panko breadcrumbs.
Heat the oil to 350 degrees F.
For the maple cream sauce: Sauté the shallots with the butter for 3 to 5 minutes, until fragrant and translucent.
Add the cream, maple syrup, thyme, salt and pepper. Bring to a boil and quickly reduce to a simmer to avoid it from boiling over. Simmer for 25 to 30 minutes, until the sauce has reduced and thickens to a sauce consistency. The sauce should be thick enough to be able to coat the back of a spoon and not drip, and will reduce by a quarter.
For each serving to order: Fry 2 croquettes for 3 to 5 minutes, until golden brown. Pour 2 to 3 ounces of sauce on a plate or coat the bottom of a hotel pan and add all the fried croquettes.
Fry the spiralized potatoes as needed. Top the croquettes with the fried potatoes, grated Parmesan cheese and micro greens.
Chef Notes:
Large Idaho Russet potatoes are almost 1 pound each.
Rinse and soak the spiralized potatoes and peeled potatoes overnight.
You can fry the garnish ahead of time if preferred.
Croquettes can be formed in different shapes if preferred.
Use chicken stock or vegetable stock to cook the potatoes for enhanced flavor.
Project Management: Summit F&B
Photography: Carlos Garcia // Food Styling: Peg Blackley & Bree Williams