For nearly 20 years, Flavor & The Menu has looked at the industry through the lens of flavor. It has been the trusted source for flavor trends and innovation for food & beverage menu developers in all market segments. Flavor & The Menu remains keenly relevant, providing readers with ideas and inspiration to elevate their menus for success among consumers of today and tomorrow.
FLAVOR & THE MENU is the best reference for the restaurant industry in regards to the future of food, flavors and what is truly possible to build a successful food and beverage program.
James Cassidy, The Ram Restaurant Group
In print as a magazine six times a year, Flavor & The Menu positions flavor as the strategic point of differentiation and growth for foodservice operators. Our audience represents the growth of the foodservice industry — those innovators having the most impact on the majority of menus nationwide.
We don't just cover the "what" in food and beverage trends — we dig deep to understand the "why," providing the tools and information to drive both culinary intellect and innovation in the foodservice market, all the while igniting the passion for flavor among our readership.
Cathy Nash Holley
Publisher & Editor In Chief

Katie Ayoub
Managing Editor
Julie Tobias
National Accounts Manager
Jillian Werb
Digital Content Manager
Megan McConagha
Advertising Design & Production
James Cradock
IT & Developer
get OUR magazine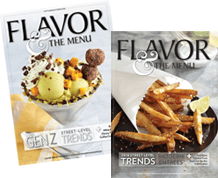 If you are a chef or foodservice provider, you may qualify to get our FREE magazine.
LEARN MORE