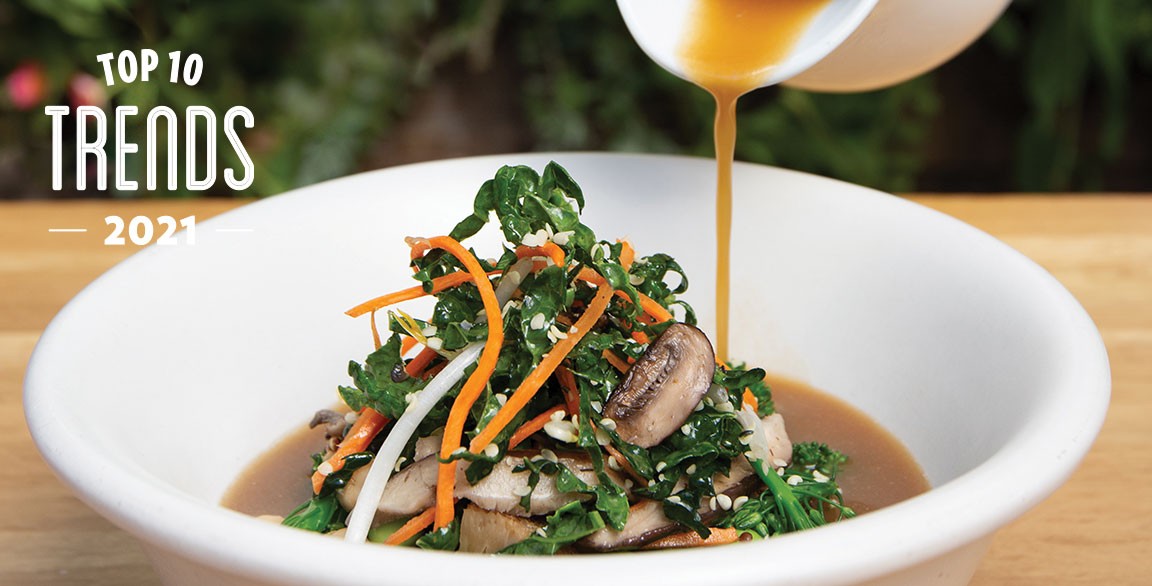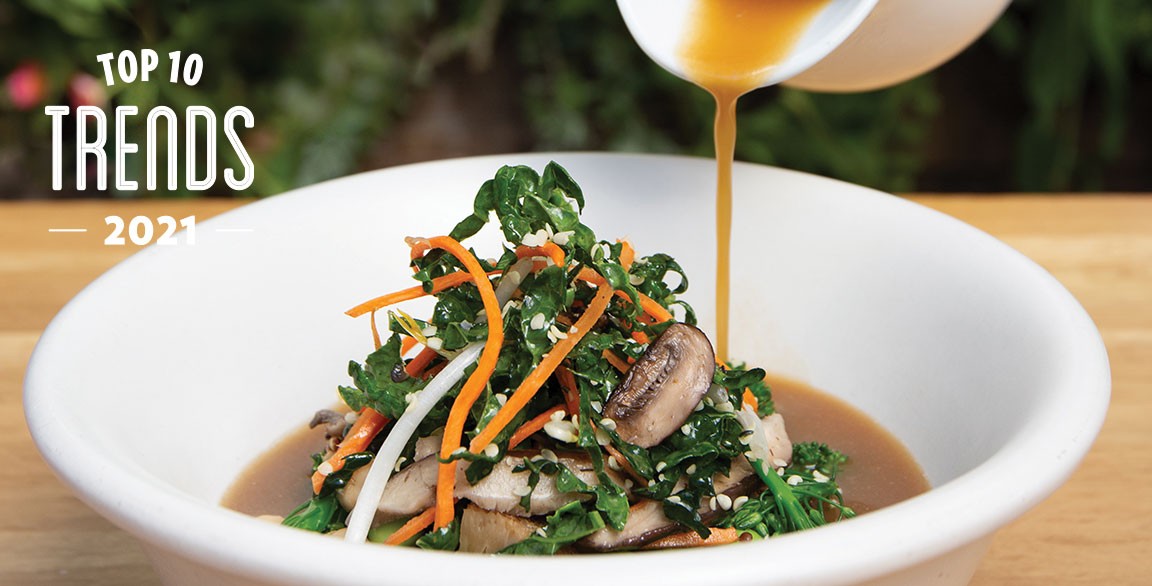 By Katie Ayoub
January 26, 2021
Immunity wasn't just a buzzword in 2020. It was the battle cry, the goalpost, the shining beacon on the hill. This year, it remains in the spotlight, intensely personal for consumers who have developed a literacy around ways to fortify their own.
From the earliest days of the pandemic, one of the largest battlefronts has been staged in personal health and wellness. Consumers have suited up, becoming more aware of the vitamins and nutrients that can reinforce their immune systems and help their bodies fight back if invaded. They have waged war through green smoothies, juice shots, vitamin supplements and power bowls.
Restaurants have been allies here, ensuring a steady supply of flavorful, immune-boosting options, especially in the beverage space.
For example, Smoothie King went all-in on a number of immune-boosting options in 2020 in response to COVID-19, launching an Immune Builder Smoothie lineup last April and twice running promotions that offered free immunity-support enhancers with ingredients that provide antioxidant support and key minerals like zinc and selenium and vitamins C and E.
Veggie Grill, a fast casual that offers a plant-based menu, rolled out nine new items last August, including the Immunity Bowl stacked with such immunity boosters as roasted yams, dark leafy greens, roasted Brussels sprouts, tempeh and quinoa-lentil mix, all in a miso-mushroom sauce.
"We were already seeing a demand for functional ingredients before 2020," says Mike Kostyo, trendologist with Datassential. "In fact, functional foods define what we call the Healthy 3.0 era of health and wellness, but last year upended that. Now, it's all about immunity. As consumers make decisions about what to eat in the middle of a global health crisis, they still want functional foods. But now the function they seek the most is in immunity boosters. And it's not just for themselves. Many household decision-makers also feel responsible for choosing healthy options for their families."
Datassential reports that 51 percent of consumers wish that immunity-boosting foods and ingredients were an option at all restaurants. That kind of demand signals huge opportunity in both menu development and ingredient messaging. Beverage developers certainly have an easier pathway here, but a competitive edge can also be forged through a menu of craveable food items powered by nutrients that consumers recognize as immune boosting.
Foods with New Function
Restaurant brands that want to take advantage of the driving interest in fortifying foods should use a holistic strategy and build a meaningful connection between their kitchens and their guests. "Let restaurant customers know that you are concerned about well-being in the same way that they are concerned. Make it personal. Sincerity of messaging comes across well," says Kostyo.
He suggests brands use social media to highlight that they're purchasing more superfruits, for example, or give virtual tours of the kitchens while explaining their decision to incorporate certain immunity-boosting ingredients into the menu. Take this further by hosting virtual cooking classes using these ingredients, continues Kostyo. "Make your brand the authority on immunity."
The flavor experience must stay front and center while highlighting immunity boosters within the recipe build because, of course, today's consumer expects no less. Framing it through the lens of comfort food is a smart strategy.
"People still want comfort, but now they're seeking that immunity advantage," says Pam Smith, RDN, nutritionist and culinary consultant. "So that's how chefs are putting things together in this space, blending those two worlds to find the perfect balance."
She suggests looking to ingredients that work well in comfort-centric builds, are nutrient-rich and successfully telegraph immunity support. "Mushrooms are flying off the shelves at grocery stores because they're a natural source of vitamin D. Salmon is another. Awareness of the importance of vitamin D for immune support is up, so build a dish that sounds like comfort, but brings in power ingredients like these," she says. "Maybe it's a pasta dish with garlic kale and a beautiful piece of mushroom-crusted salmon. It's comforting, nourishing and says, 'We're taking care of you.'"
Paul Sletten, chef/owner of Abreo, a modern American small-plates concept in Rockford, Ill., created a dish that reads like a poster child for immunity building: a Fermented Grilled Dosa with turmeric-spiced soft-scrambled eggs, walnuts and arugula. "We use dosas a lot here. They're great vessels for loading up ingredients and have a lot of immune-boosting properties," he says.
His dosa features dal lentil, fenugreek and basmati rice that activate overnight. "We focus on the flavors rather than the health benefits, but I'm considering changing our messaging to hit on immunity more as we go through winter," says Sletten.
Brands now must determine how they will position immunity boosters on the menu and how they will message it to their guests. "That's what we're battling," says Smith. "Is it time for an 'Immunity Corner' category on the menu or an icon that draws attention to the dish?"
For broader reach, she suggests a social media campaign to broadcast the menu mindset. And, of course, limited-time offerings (LTOs) are always a sound place to test the waters. "Look at these dishes through the filter of what makes the difference from an immunity POV. Test to see what resonates with your diners," she says. "We don't have time to test classically with qualitative panels, so testing through LTOs and social media helps in a few ways, including finding the balance between comfort versus immunity positioning."
True Food Kitchen, a Phoenix-based restaurant brand known for its health-conscious fare, offers a roadmap to success. It's been achieving the balance between comforting and nutritious since 2008. Its Winter Immunity Bowl, an LTO first rolled out in January 2020 and returned to menus last fall, offers a great case study. It features farro, quinoa, carrots, broccolini, garbanzo beans, edamame, organic kale and lion's mane mushroom, served in a garlic broth.
"A common misconception is that there's one ingredient that's going to be the game changer," says Robert McCormick, True Food Kitchen's brand chef. "We've done the quinoa bowl. How do we elevate that? Lion's mane helps the nervous system and the digestive track, relieving stress and pressure in your body and freeing up energy to sleep better, but the other ingredients in the Immunity Bowl also do something good for different parts of the body."
Lion's mane delivers nutrients and intrigue factor, but such exotic ingredients require thoughtful messaging. "One of our biggest challenges is to keep ingredients or flavors from being intimidating," he says. True Food includes a beautiful photo of the dish with a list of its immune-boosting benefits.
"Looking at menu development for 2021 and beyond, we continue to look for the intersection of comfort food, immune health and function. For us, that means leaning toward plant-based innovation," says McCormick. "Within that, where do we find the bold flavors? Right now, I'm really enjoying exploring the Yucatán region of Mexico and Thai-style street food."
Beverages with Benefits
The drink category is ripe with possibility when it comes to offering diners the immunity lift they crave. "Consumers already expect to see it here," says Datassential's Kostyo. "No matter the type of concept, it's absolutely one area of the menu that you can look at to start offering immunity-boosting options. Differentiate your offerings—give them something they can only get from you."
Inspiration is everywhere. Curio, a modern American restaurant and bar in San Francisco, menus a full range of health- and brain-boosting hot drinks on its brunch menu, including the Adaptogen MCT Coffee with ashwagandha, Matcha Tea Latte with lion's mane mushroom and a Turmeric Golden Latte.
Farmer's Table, with locations in Boca Raton and North Palm Beach, Fla., added six health-forward, nonalcoholic drinks packed with fresh herbs and organic produce known for their healing properties. Each "elixir" is served in a glass beaker, with the option of a splash of booze for an upcharge. Each drink description highlights the health benefits.
Options include the Butterfly Effect, with passionfruit, butterfly tea, tangerine kombucha, grapefruit juice and organic agave, and The Essential, with blackberry, raspberry, fresh rosemary leaves, aloe vera, cold-pressed beet, carrot, apple, ginger and lemon juices.
Daisies in Chicago embraces that immunity darling, the mushroom, with its Mushroom Sour, a blend of shiitake mushroom, Demerara sugar, lemon and egg white.
Takeout and delivery beverages
The takeout/delivery space is prime real estate for immunity-boosting beverages. "Add little shots of fresh ginger or carrot juice with turmeric to your beverage menu with verbiage that says, 'Boost It!' This kind of thing is great for to-go menus," says Kathy Casey, owner of Kathy Casey Food Studios- Liquid Kitchen.
"With to-go, messaging and packaging are important. Focus on your themes. Run a program called 'Boost Your Daily Water' and charge for it. Gut health is really important in helping the immune system. Create a little package called 'Good for Your Gut' with apple cider vinegar, a digestive tea bag, fresh rosemary and mint. Call another one 'Happy' and bundle edible flowers, lemon slices and an energy-boosting tea bag. For 'Immunity,' include a turmeric tea, lemon and fresh ginger."
Thankfully, the pandemic will eventually fade and the fervor driving interest in immunity will settle down. But count on the knowledge gained about immune health and the habits formed that help support it to continue to inform consumer behavior and inspire menu innovation.