Tomatoes & Bacon with a Twist
Saint Marc USA | Huntington Beach, Calif.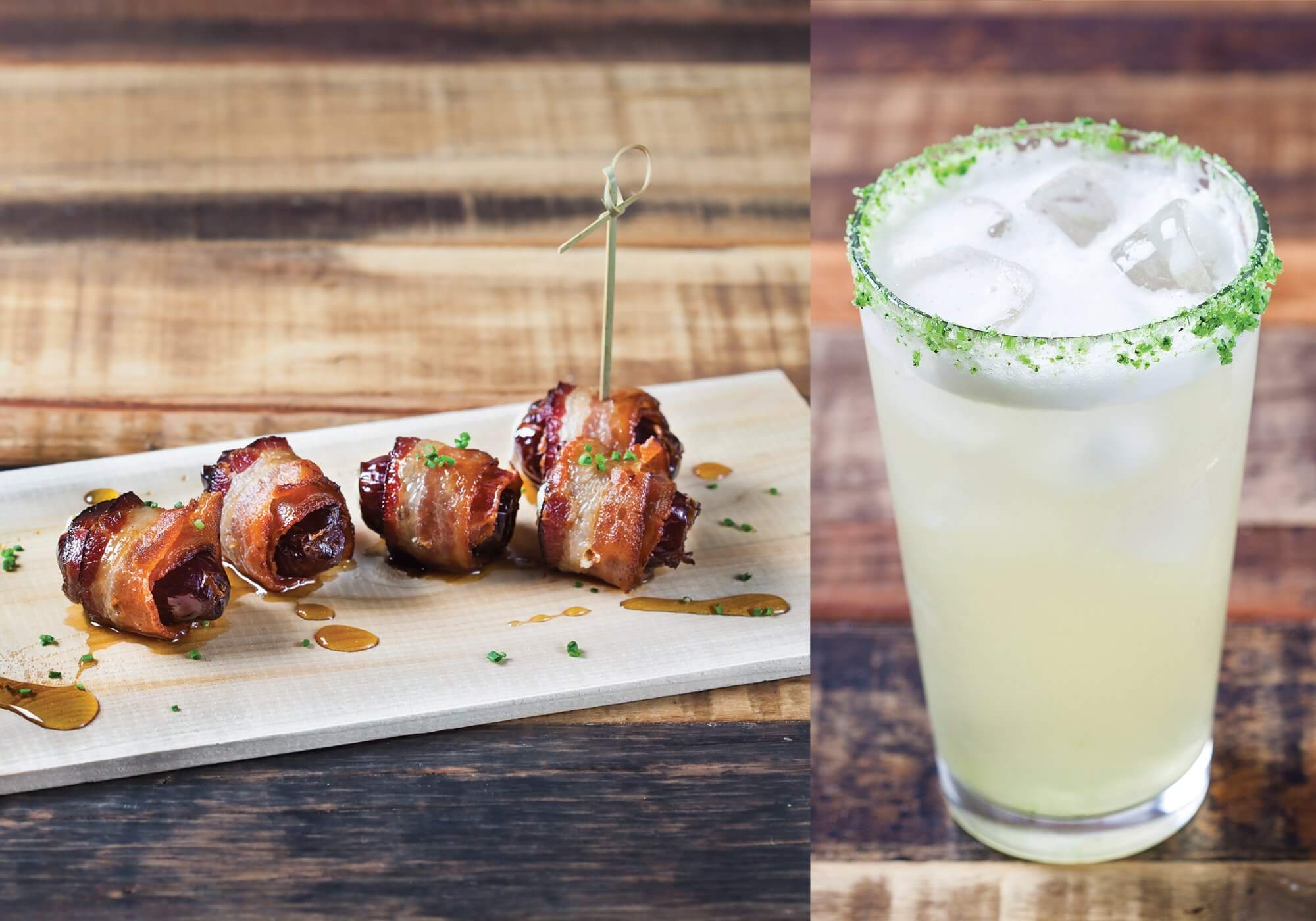 Ghost of Bloody Mary (left) with tomato consomme, Ballast Point Habanero Vodka and a sansho pepper-cilantro-lime rim and Bacon-Wrapped Artichokes (right) with Parmigiano-Reggiano and lemon-tarragon aïoli
Kent Beardens
With the Ghost of Bloody Mary, Kent Beardens, Saint Marc's Senior Director of Operations, and team have "delivered a radically different presentation." The tomato "juice" is a housemade consommé, made with Roma tomatoes, tomato paste and tomato juice, all puréed into a fine consistency. "We filter this purée through cheesecloth overnight to extract the juice and leave all of the color behind. We're left with a clean and somewhat clear tomato consommé." Simple syrup, sea salt, pepper, lemon juice and Ballast Point Habanero Vodka are added, and the drink is rimmed with sansho Japanese pepper, sea salt, cilantro and lime zest, then finished with a peel of lemon and lime, and a pinch of dehydrated white balsamic vinegar. "It's a fantastic contrast of unexpected visual presentation and familiar flavors with a twist," he says.
Jay Bogsinske
Jay Bogsinske, Senior Director of Culinary Operations, calls bacon "the greatest flavor builder in American culinary history." That love of bacon is evident at Saint Marc, which features flights of bacon, including English-style back bacon and coffee-rubbed bacon. One of his favorite dishes is the Bacon-Wrapped Artichokes, one of three Bacon Bites on the menu. Artichokes are wrapped in bacon and served with Parmigiano-Reggiano and a lemon-tarragon aïoli. "It's got the smoky, cheesy, salty, sweet, acidity with a luxurious anise finish," he says. Other bites are Bacon-Wrapped Dates of maple bacon wrapped around cream cheese-stuffed Medjool dates drizzled with Vermont maple syrup; and a Bacon-Wrapped Jalapeño, stuffed with cream cheese and agave. "These are incredible little poppers that drive a flavor-packed food and beverage experience in a fun and social way."