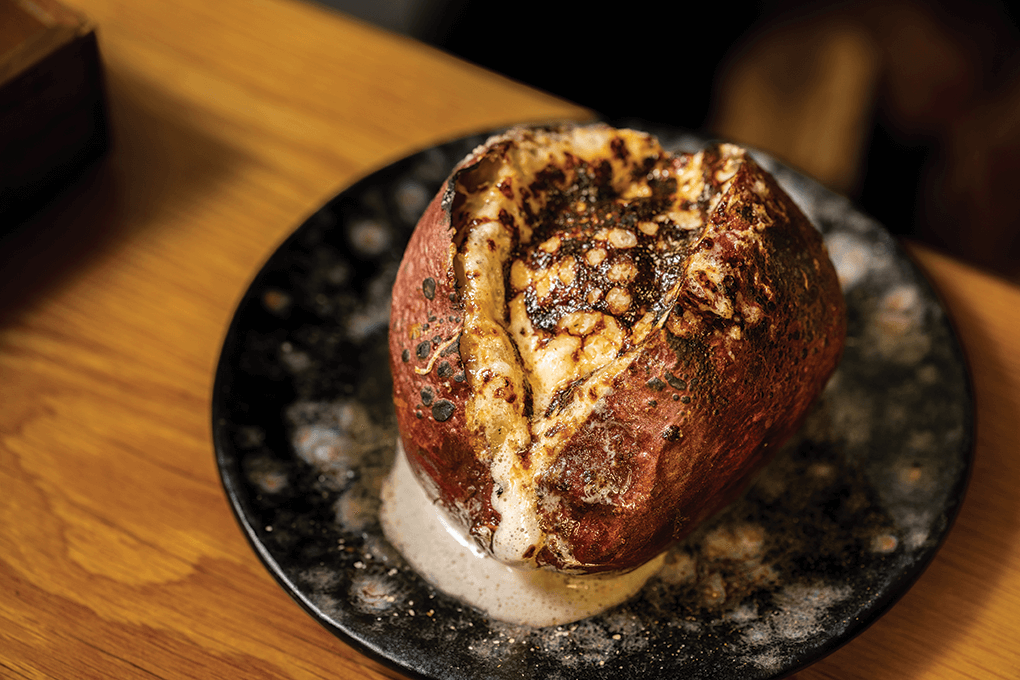 By Katie Ayoub
January 23, 2023
High-impact sweeteners are poised for serious growth in modern flavor development. The momentum behind the trend is significant, propelled by leading-edge restaurants and bars. Flavor-building capabilities, engaging origin stories from around the globe, and legitimate claims to wholesomeness mark the opportunity. Menu developers are choosing from a broad universe of natural sweeteners, such as piloncillo, Okinawan black sugar, jaggery, date sugar and, of course, the more familiar maple syrup, unrefined brown sugar and honey.
Creativity of application further broadens flavor play and can provide valuable menu differentiation. Hexenbelle, a globally themed café in Traverse City, Mich., features piloncillo as a sweetener in one of its specialty coffee drinks, imparting depth to the beverage, made with double espresso, coconut water, piloncillo simple and a touch of seltzer. At his eponymous bakery, with locations in New York and Las Vegas, chef/owner Dominique Ansel pairs Okinawan black sugar with another trending ingredient for an impactful flavor experience. The Earl Grey & Okinawan Black Sugar cronut is infused with Earl Grey tea and sports a Japanese Okinawan black sugar ganache.
"Sweeteners are traveling a path similar to premium salts, where engaging flavor narratives are capturing attention," says Rob Corliss, founder of ATE (All Things Epicurean). "This adoption highlights the importance of evolving flavor, demonstrating that new explorations will always be a prerequisite for contemporary menu development within the five taste categories: sweet, salty, sour, bitter and umami. Sweet is now having its culinary moment."
FLAVOR FIRST
Culturally, much is churning around these sweeteners, giving them buzz, moving them into the spotlight. But it's their flavor complexities that are the big driver behind continued innovation. Of course, no two sweeteners are the same; each carries its own story of provenance and each boasts subtle flavor differences. Here is a quick breakdown of the "newer" natural, unrefined sweeteners making the biggest moves on menus today:
Piloncillo is a Mexican sweetener made from sugarcane that's rich, earthy and slightly sweet.
Jaggery hails from India, Asia and Africa, made from sugarcane, and sometimes date palms, conveying a mild, caramel flavor.
Okinawan black sugar is made by boiling sugarcane juice until it turns into a dark syrup, then is left to harden as it cools, producing hints of caramel and salt.
Date sugar is made from dried dates and has a sweet, butterscotch-like flavor.
"From a chef's perspective, the depth of flavor that you can achieve with global sweeteners—everything from black sugar to jaggery—makes it more exciting than using white sugar, which just gives you sweetness. Global sweeteners open up different opportunities," says Mike Kostyo, trendologist and associate director, Datassential. Comedor, a modern Mexican restaurant in Austin, Texas, menus Piloncillo-Morita Chile-Glazed Salmon, using piloncillo to balance the smokiness in the dish while anchoring a sense of place. KYU, an Asian-inspired restaurant with locations in New York and Miami, serves a Japanese Sweet Potato with white miso and buttered black sugar. "Black sugar is rich and bold, yet velvety and clean," says Chris Arellanes, executive chef. "It's complex in flavor and has an almost creamy texture from the way it's extracted and processed. This increases the layers of flavor within the dish and provides another umami-like element to the potato." Imran Ali, chef/founder of Khan Saab in Fullerton, Calif., uses jaggery in multiple applications at his contemporary Indian restaurant, including in his riffs on Chinese favorites. "The General Khan's Cauliflower is our take on General Tso's, and we use jaggery as the sweetener, giving it a signature flavor, along with our house blend of Indian spices," he says.
While menu opportunities expand for lesser-known sweeteners, two of the most enduring options in this country—maple syrup and honey—still offer room for innovation. "We still see a lot of play within those categories," says Kostyo. "With honey, of course, it's calling out varietals, but also menuing fermented honey, and hot honey is still on fire. With maple syrup today, it's about spicy maple or smoked varieties."
BEVERAGE BONANZA
It isn't possible to overemphasize the opportunity for innovating with natural sweeteners in the beverage category, thanks in large part to younger demographics. "When you look at what skews toward younger consumers, the list is dominated by a ton of really sweet beverages," says Kostyo. As evidence, look no further than the wild success of brown sugar-boba tea and its offshoots. Brown sugar, when caramelized into a syrup, is nutty with roasted notes, delivering dramatic color and thick texture. Taiwanese chain Ding Tea combines brown and black sugars in its Brown Sugar-Boba Milk Tea, streaked with black sugar syrup.
Peet's Coffee moved its Iced Brown Sugar Cold-Brew Oat Latte from a summer LTO onto the permanent menu. The chain also ran a Citrus-Green Tea Shaker with brown sugar jelly, hand-shaken with yuzu purée, lemonade and citrus slices. These demonstrate potential avenues a brand can take using natural sweeteners to play with flavor and texture.
In the cocktail world, exploration of natural sweeteners gives beverage developers opportunities to be progressive. "The cocktail industry is an incredible space at the moment. The great bars are always pushing to work with new flavors and ingredients," says Aidan Bowie, beverage director of The Dead Rabbit, an award-wining bar in New York. "Every drink relies on sugar, whether it's part of the alcohol, sweetener or modifier, so using a variety of creative ingredients keeps things exciting for the guest. And it's always more interesting if you use ingredients with identity." Bowie has employed birch sap for riffs on a martini and a Manhattan. "It's quite rich, with a bit of earthiness and piney flavor and a viscosity similar to coconut water," he says. "I'm working on a twist on an Old Fashioned, making it feel Irish, so I'm replacing the simple syrup with Lyle's Golden Syrup from Ireland. It'll have blackstrap rum, whiskey and candied ginger," he says.
Natural sweeteners present a particularly sweet opportunity across the menu, bringing value through premium callouts, flavor development and good old-fashioned fun.