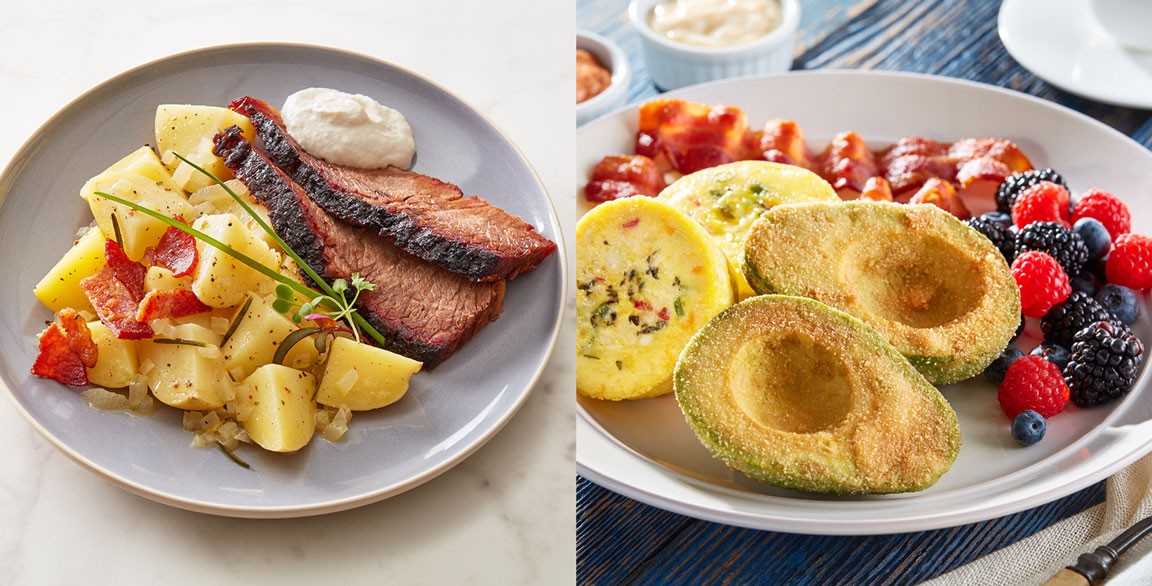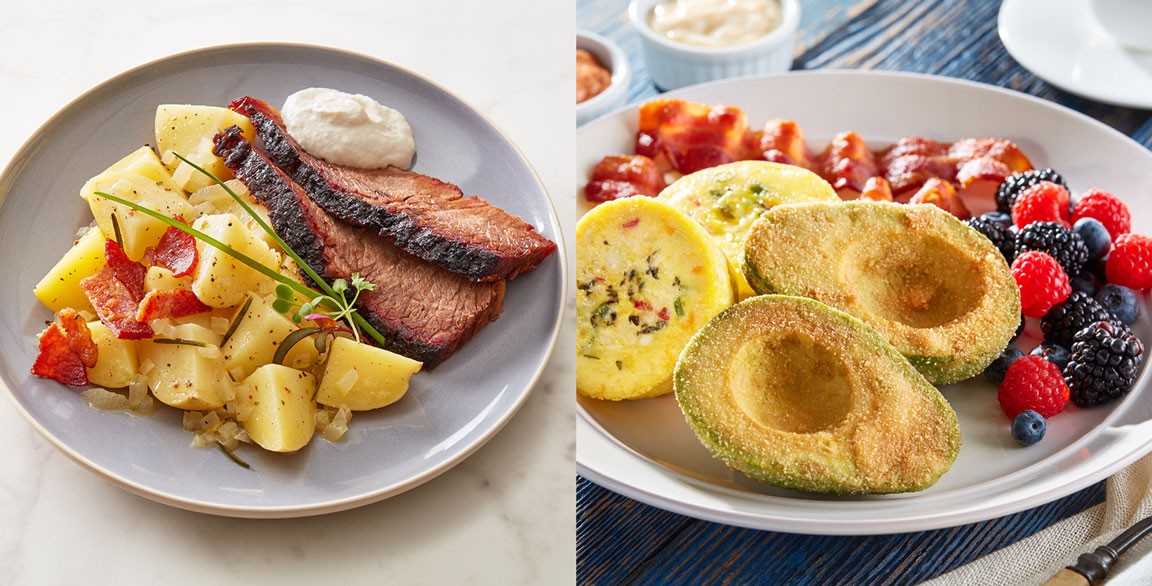 By Flavor & The Menu
June 5, 2020
Kitchen Collaborative is a recipe-development initiative formed by Summit F&B and Flavor & The Menu with support from sponsor brands and commodity boards looking to help chefs create, inspire and collaborate during these difficult times. To fuel flavor innovation, a group of talented chefs partnered with sponsors to create recipes that showcase the passion and potential of our industry.

CHEF SPOTLIGHT: PAUL MULLER
Family is a powerful source of recipe inspiration, easy to draw on for nostalgic, resonant flavor combinations. Chefs are also motivated to create dishes that members of their family love. Paul Muller, VP Culinary Operations, Lazy Dog Restaurant & Bar, based in Huntington Beach, Calif., applied those principles to his two crowd pleasers. His Flash-Fried California Avocados with Denver Poppers gave his wife a keto-friendly dish that also promised nutrient density and satisfaction. And the Warm German Idaho® Potato Salad with Smoked Brisket evokes memories of his grandfather's version. Both recipes carry broad appeal, reflecting a creative approach that delivers on craveability.
Flash-Fried California Avocados with Denver Poppers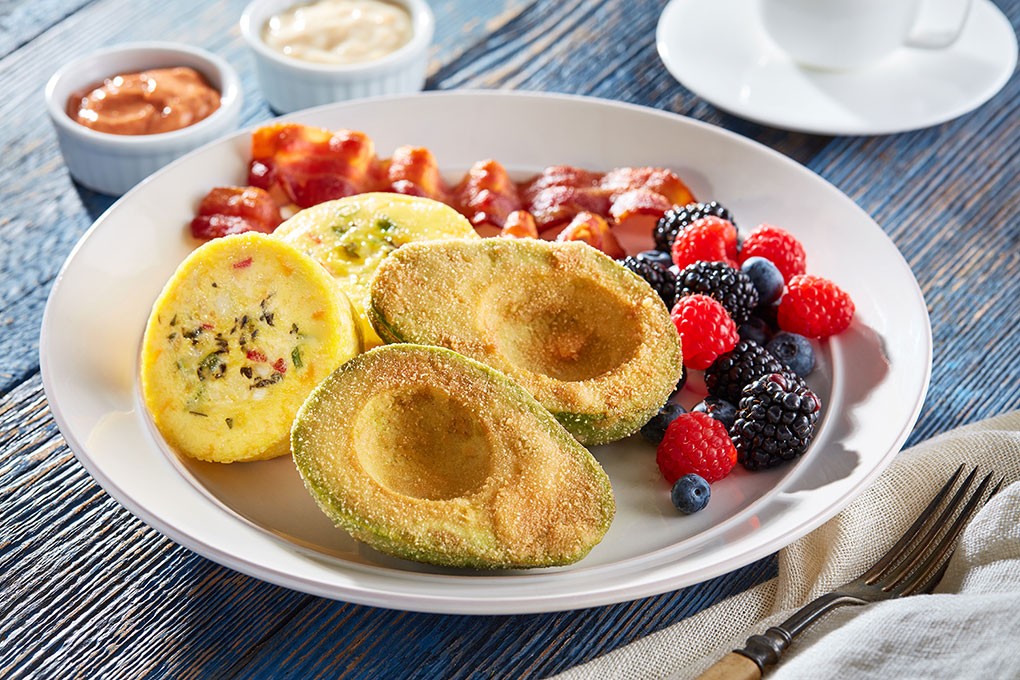 Photo: Carlos Garcia // Food Styling: Peg Blackley & Bree Williams
Paul Muller wanted to create a keto-friendly, craveable, nutrient-rich dish that his wife Lisa, a cancer survivor, would enjoy. "I have always loved tempura fried avocados, so I started there," he says. For his version, he egg-washed two avocado halves, then coated them in almond flour and flash fried them in avocado oil until the outsides were crispy. Muller served them with fresh berries and Denver poppers—mini cheesy egg souffles dotted with bell pepper and green onion. As accompaniment, he serves both a Meyer lemon aïoli and Louisiana Hot aïoli. "They're both avocado oil based, and the flavor profiles are vibrant in the lemon and spicy in the other," he says. "The berries provide a great palate cleanser and nice contrast to the great fats prevalent in the dish."
Warm German Idaho® Potato Salad with Smoked Brisket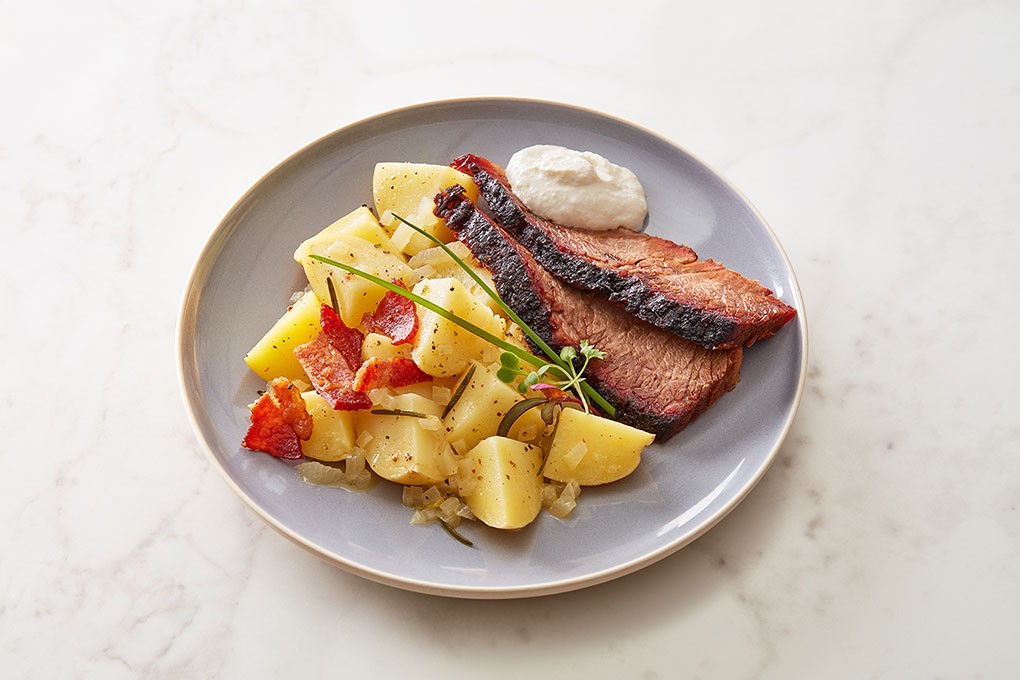 Photo: Carlos Garcia // Food Styling: Peg Blackley & Bree Williams
Classic, comforting flavors, Muller's version of German potato salad also carries a warm sense of tradition. He adds small Idaho® gold potatoes, extra-virgin olive oil, rosemary and garlic to a vacuum bag and seals it, then cooks it in a water bath with an immersion circulator. Muller prepares the potatoes with a warm bacon vinaigrette and serves them with smoked brisket and a dollop of horseradish sauce. "The small gold potatoes are so creamy and luxurious, they pair well with the warm bacon vinaigrette," he says. "This potato salad brings me back to my grandfather, who worked for the original Hellmann's Deli in New York City. The bacon vinaigrette with the gold potatoes in this recipe provides a real kick that is so surprising when eating. Simple ingredients layered together produce a great eating experience."
Project Management: Summit F&B
Photography: Carlos Garcia // Food Styling: Peg Blackley & Bree Williams