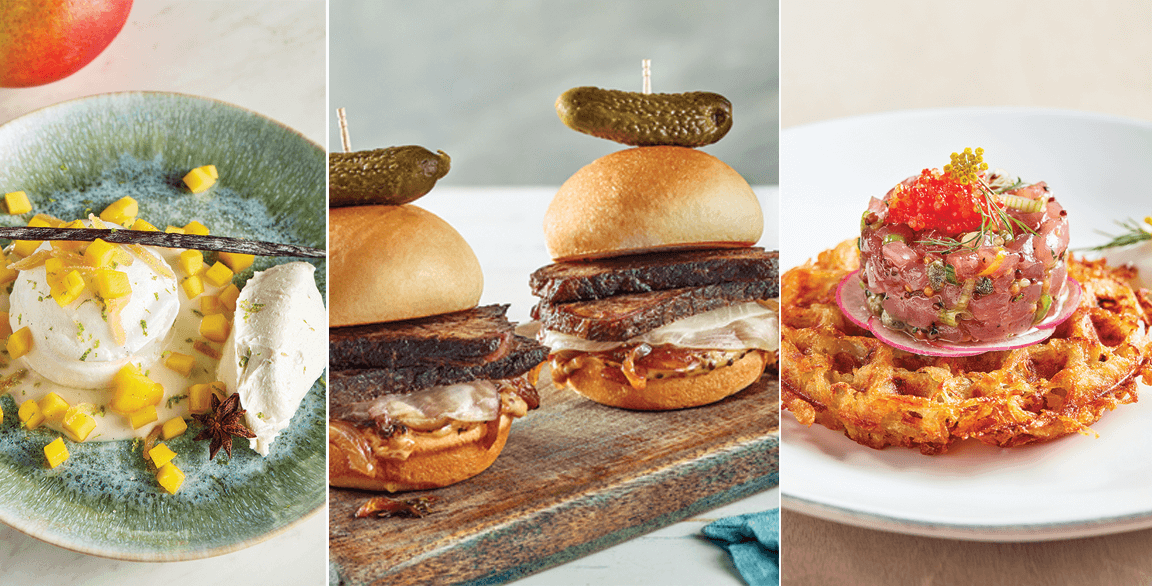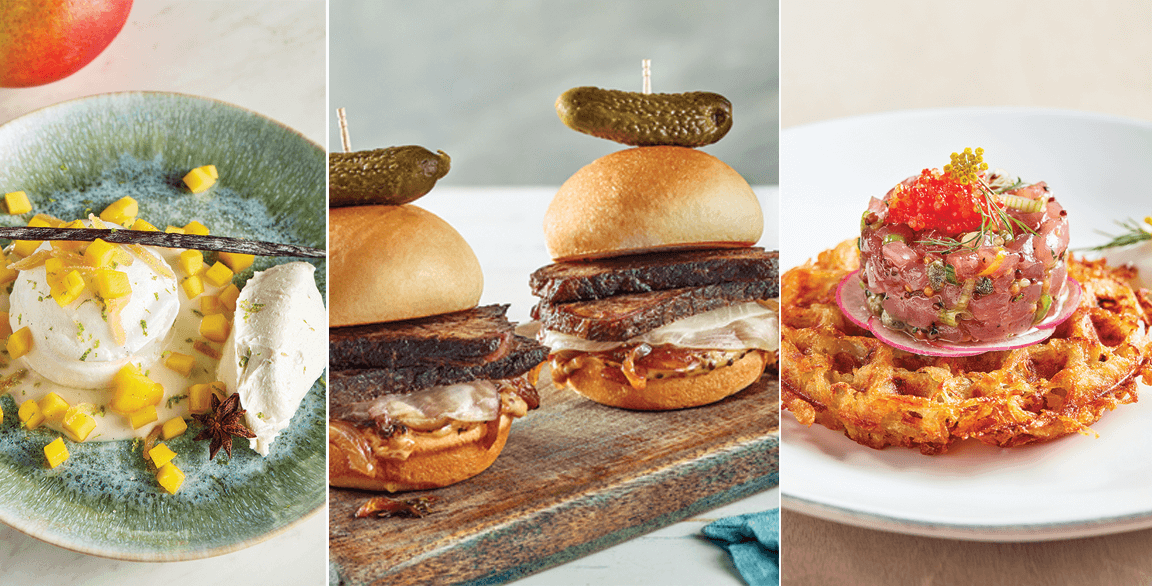 By Patricia Fitzgerald
December 6, 2022
Kitchen Collaborative is a recipe-development initiative formed by Summit F&B and Flavor & The Menu. To fuel flavor innovation, a group of talented chefs partnered with sponsor brands and commodity boards to create recipes that showcase the passion and potential of our industry.
CHEF SPOTLIGHT: Christophe Joignant
Dining expectations run high among the members of the 139-year-old Capital City Club in Atlanta. Executive Chef Christophe Joignant understands the challenges of recipe development and menu planning that continually raise the bar. His recipes for Kitchen Collaborative demonstrate an expert facility for inventive flavor pairings and stunning presentations. There's his elegant mango dessert that applies iconic Thai flavors to classic French preparations. Onion jam, beef short rib and cornichons elevate a slider built on King's Hawaiian buns, and an Idaho® potato waffle brings a whimsical touch to tuna tartare.
Poached Mango with Lemongrass Crème Anglaise and Coconut Sorbet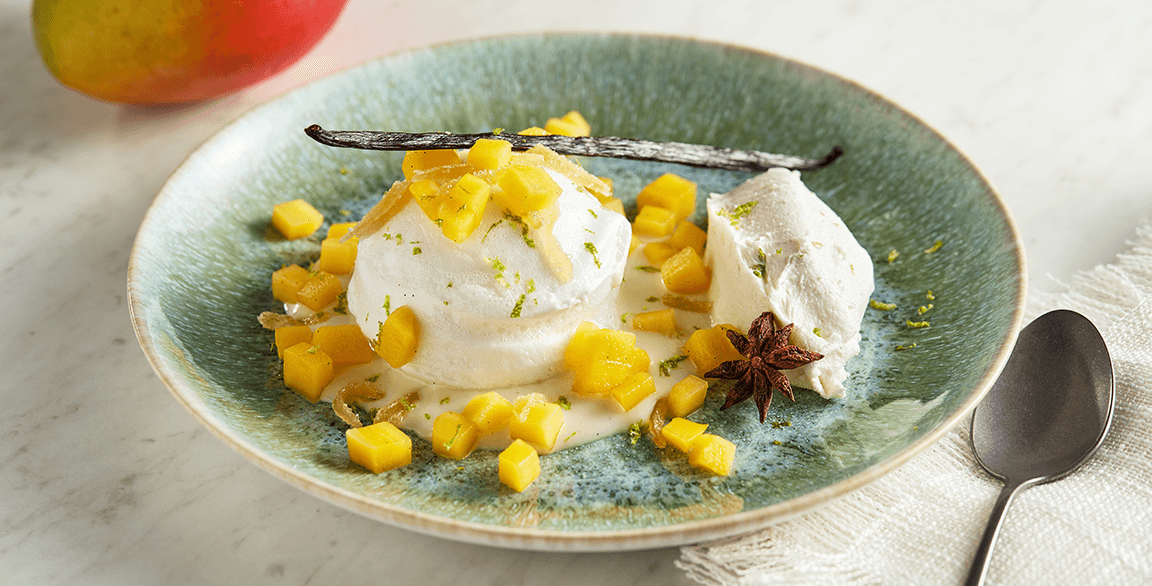 Photo: Carlos Garcia // Food Styling: Peg Blackley & Bree Williams
Observing that Thai cuisine has few traditional desserts, but a range of "amazing" flavors, Joignant set out to fill the void with this Poached Mango with Lemongrass Crème Anglaise and Coconut Sorbet. "In Thailand, the most common dessert you will find is coconut sticky rice with mango, so I felt those components needed to be at the forefront of this dish. Coconut gives the rich fatty flavor, and the mango contrasts that with its fruity, acidic bite."
The elegant dessert, which Joignant would recommend for a refined dining concept, boasts several impressive components. Diced mango is poached in a syrup of water, sugar, lemon juice, coriander, star anise and vanilla. A housemade pastry cream is combined with coconut cream, milk, coconut milk, powdered sugar, vanilla bean and chopped lemongrass sticks for a distinctive crème anglaise. A scoop of housemade coconut sorbet is topped with a floating island of poached meringue and a garnish of more vanilla bean and star anise completes the impressive presentation.
"I have a personal affinity for vanilla and star anise," says Joignant of the signature spices that lift the dish. "And I find they pair very well with these tropical flavors. Lemongrass and coriander also play well together in sweet dishes. I'm honestly surprised more people don't take advantage of that combination." The flavor journey that diners can expect, he says, is "a range of very subtle to very intense flavors."
Beef Short Rib with Onion Jam and Provolone on a King's Hawaiian® Sweet Slider Bun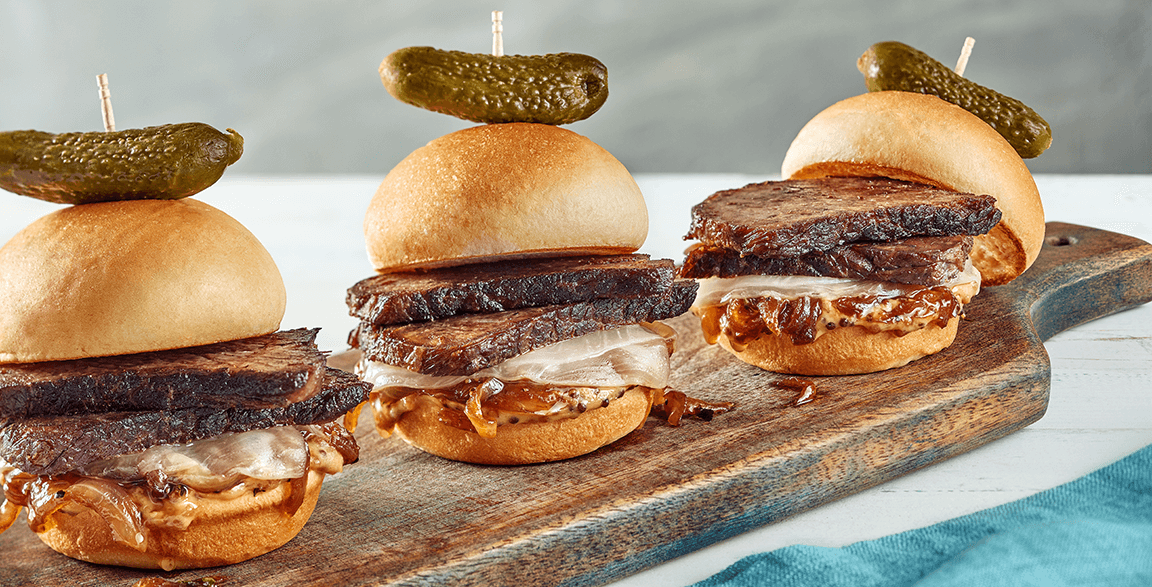 Photo: Carlos Garcia // Food Styling: Peg Blackley & Bree Williams
"Short rib is a banquet all-star that is always on standby in my kitchen," says Joignant of the featured protein in these sliders. He slow cooks seasoned prime beef chuck flap in a robust stew of garlic, onion, celery, carrots, tomato paste, red wine, beef stock, thyme and all the juices. Generous 3-ounce slices, seared for service, give this handheld reason to strut.
Crave is further propelled by a versatile onion jam that adds a rich complexity. "Onions bring a savory sweetness to the dish that is hard to achieve with other ingredients—it's especially good during Georgia's Vidalia season," says Joignant. "Onion jam is a fantastic pairing with any protein, and it works with pub-style menus, contemporary American dishes and even classic French cuisine. If you add anise or five spice, you can even make it work with Asian-influenced flavors." His recipe features julienned yellow onions, dark brown sugar, fresh thyme and dark balsamic vinegar.
The sliders are built on King's Hawaiian® Original Hawaiian Sweet Slider Buns, starting with a smear of Dijon mustard, followed by the onion jam, a slice of provolone cheese and the seared beef. A skewered cornichon is the grace note on the slider top. The assembly is baked for two minutes to heat through.
"As you bite into this slider, the first thing you should notice is the sweetness of the buns, followed by the texture and beefiness of the short rib. Then you'll hit that savory sweet onion jam, with the fatty provolone coating your palate," says Joignant. "Finally, the cornichons give a burst of bright acidity, cutting back all the rich flavors on your tongue."
Idaho® Potato Waffle, Tuna Tartare, Crème Fraiche and Caviar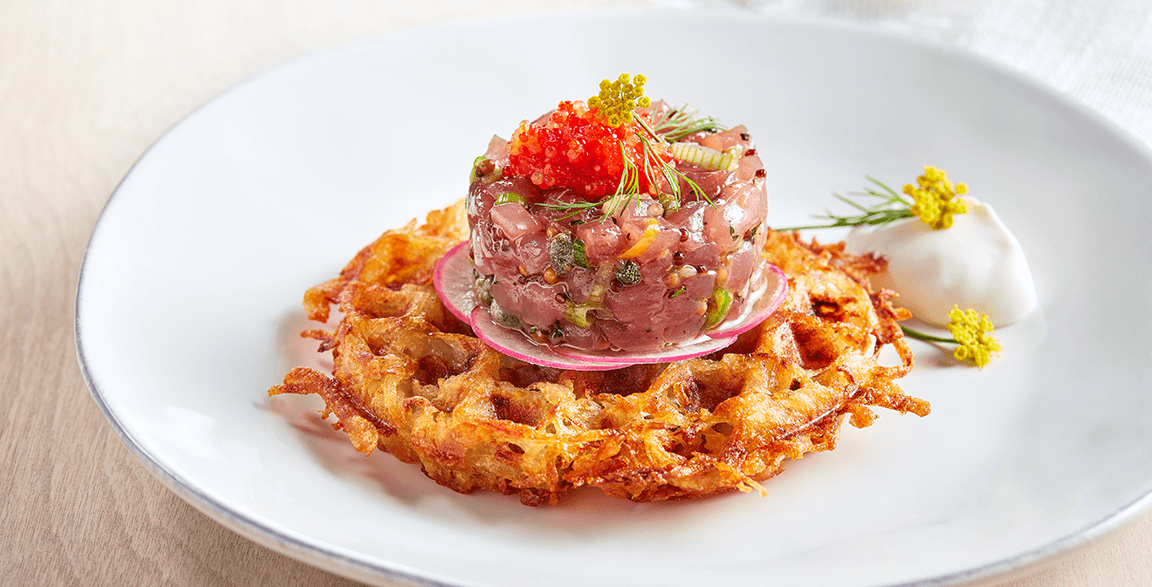 Photo: Carlos Garcia // Food Styling: Peg Blackley & Bree Williams
Presented with Idaho® Potatoes as the assigned hero ingredient for Kitchen Collaborative, Joignant drew inspiration by looking both forward and back. "The dish is built from the idea of a classic potato with crème fraiche and caviar, but with a dash of tuna niçoise thrown in," says Joignant of its legacy. Of its aspirations, he notes that "putting food in waffle irons is trending right now, while fried food has been on a downswing for a few years." The waffle presentation immediately sparks curiosity among diners, he adds.
For the tuna tartare, Joignant dices fresh yellowfin or sushi-grade tuna filet into quarter-inch cubes, adding them to a mixture of soy sauce, chives, sesame oil and seeds, ginger, honey, Sriracha and lime juice. The potato waffle features julienned Idaho® Yukon Gold potatoes and French grey shallots, with minimal seasoning—just kosher salt and ground black pepper—plus an egg and flour. Each golden, crisp waffle is topped with a portion of tuna tartare, a tablespoon of crème fraiche and quenelle of caviar.
"The tuna adds a meaty texture and freshness to the dish. The potato waffle is savory, fatty, crispy and hot," says Joignant of the flavor profile found in each bite. "Already we have great textural and temperature contrast—then we get a blast of acid and salt from the crème fraiche and caviar." A "last-minute aesthetic touch" of thinly sliced radishes serving as a bed for the tuna, contributes "a nice spice and crunch," he notes.
Project Management: Summit F&B
Photography: Carlos Garcia // Food Styling: Peg Blackley & Bree Williams