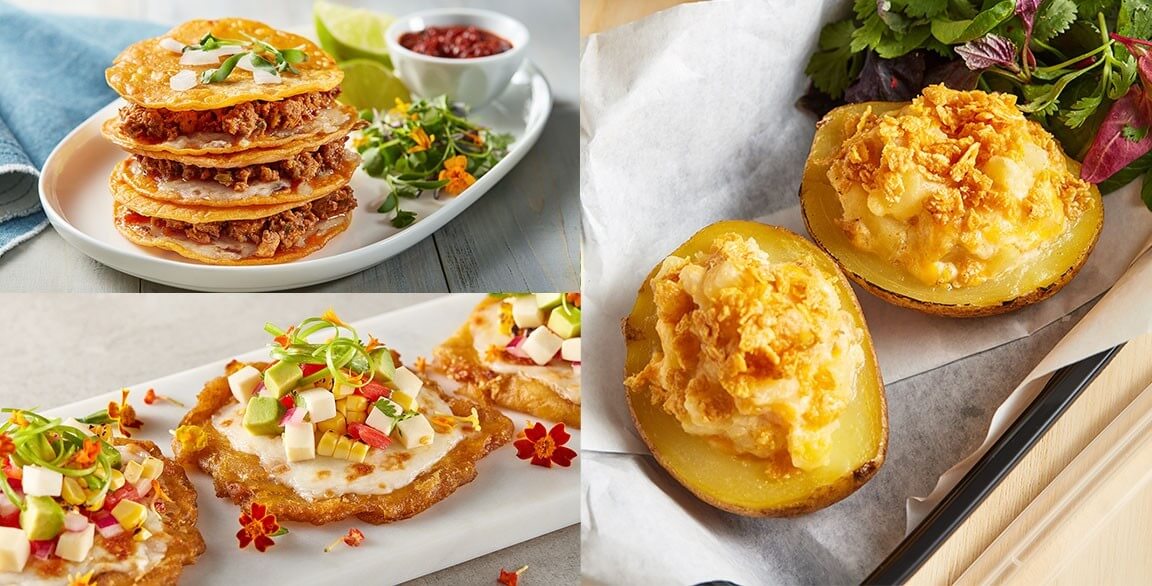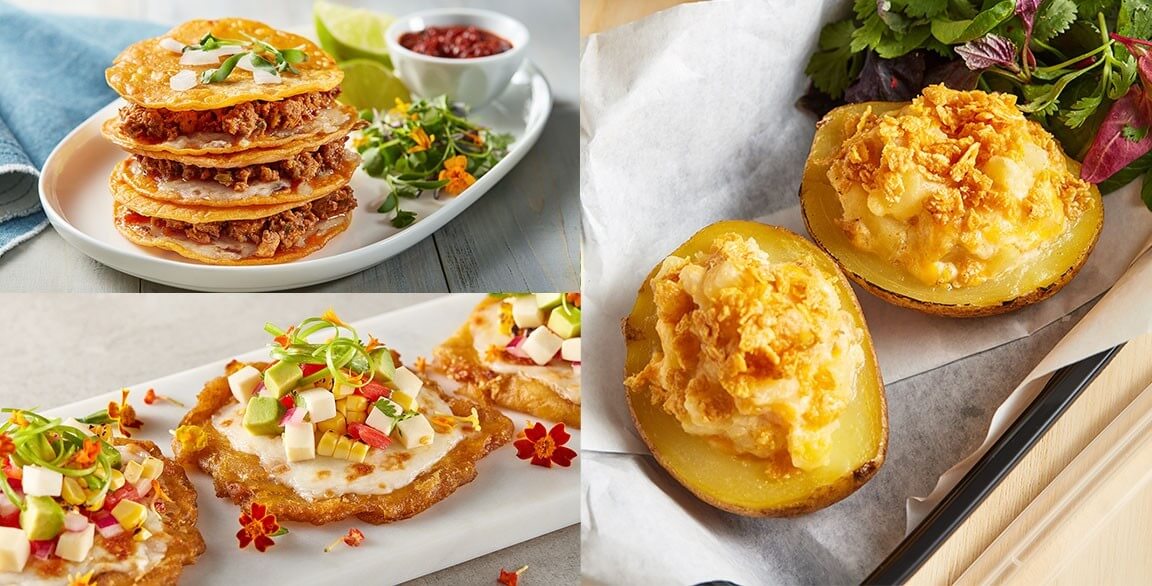 By Flavor & The Menu
April 6, 2021
Kitchen Collaborative is a recipe-development initiative formed by Summit F&B and Flavor & The Menu. To fuel flavor innovation, a group of talented chefs partnered with sponsor brands and commodity boards to create recipes that showcase the passion and potential of our industry.
CHEF SPOTLIGHT: MARY GRACE VIADO
Mary Grace Viado is particularly deft at filtering today's flavor trends so they resonate with her dining consumers at Village Tavern, a neighborhood restaurant concept based in Winston-Salem, N.C. Two of her recipes showcase the balance between broad appeal, bold flavor and global "newness."
Viado's Tyson Foodservice Chorizo Birria Stacked Tacos takes the classic Mexican stew in a new flavor direction and her California Queso Patacones turn this Latin snack into a versatile handheld.
Her third recipe, the Thrice-Baked Cheesy Idaho® Potatoes, reinforces the value of reinvention.
Tyson Foodservice: C

horizo Birria Stacked Tacos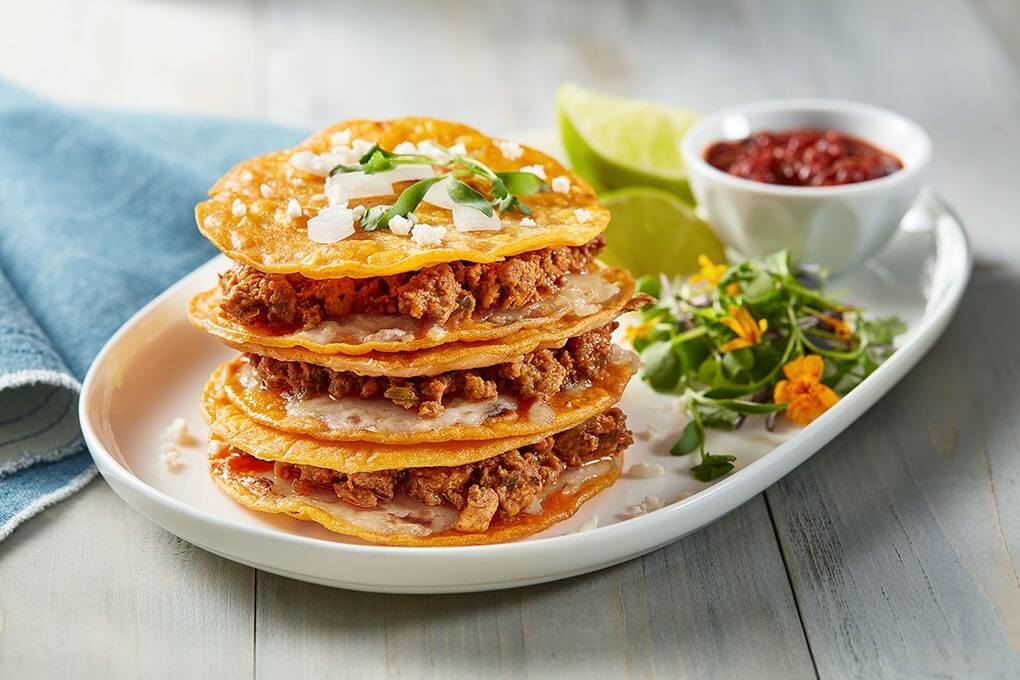 Photo Credit: Photo: Carlos Garcia // Food Styling: Peg Blackley & Bree Williams
The Mexican slow-cooked beef stew, birria, is seeing more play on mainstream menus here, thanks to its sweet, sour and mildly spicy flavors. Viado makes the most of that craveable profile, moving it into a stacked taco format and replacing the beef with Aidells® chorizo. "I chose the chorizo to bring more punch of flavor," she says. "It brings smokiness and a beautifully rich component to a birria recipe."
To build the Tyson Foodservice: Chorizo Birria Stacked Tacos, she makes the sauce, combining re-hydrated pasilla peppers with chipotle peppers, white vinegar, tomatoes, garlic, oregano, paprika, cumin and dark brown sugar. She adds that to the chorizo, which has been sautéed with onions, then puts in chicken stock, cloves, a bay leaf and cinnamon stick, simmering and skimming the fat until slow-cooked and perfect. "Some of the fat granules from the chorizo sausage will float. You can skim it, drain the moisture, and fry it quickly to use as a crispy garnish," says Viado.
To make the tacos, she drizzles more of the skimmed fat onto a hot flat top, grills corn tortillas, then melts a Oaxaca and Menonita cheese blend onto them. She spoons the chorizo meat on three of the tortillas and sandwiches them with the other cheese-topped tortillas, cooking them until crisp. "This chorizo birria would also be delicious in a bowl format with rice or, crazy as it may seem, in a sushi form, and instead of soy sauce, the stew sauce could act as the soy sauce for dipping," says Viado.
California Queso Patacones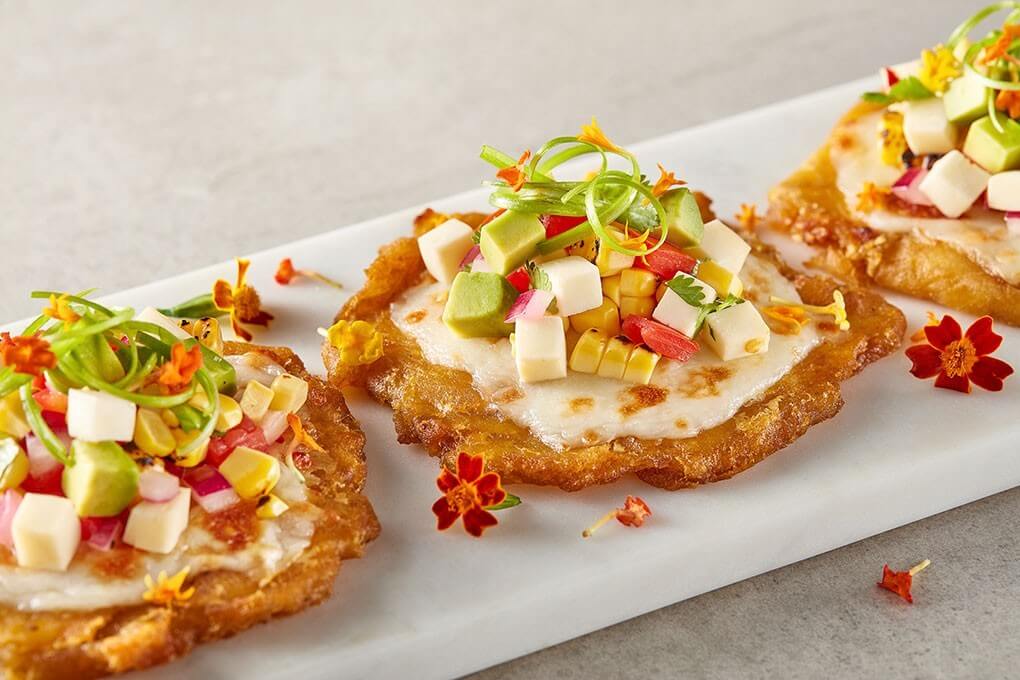 Photo: Carlos Garcia // Food Styling: Peg Blackley & Bree Williams
Viado takes patacones (also called tostones) that are prevalent as a side dish in countries like Panama and Cuba, and moves them into a flavor-forward shareable. Her California Queso Patacones star rounds of green plantains that have been boiled and deep fried, yielding a sweet, savory and crispy flavor.
At service, she tops each plantain round with Oaxaca cheese, then broils them until golden brown and bubbly. Viado then adds a creative zesty and tangy queso relish, a combination of California Oaxaca cheese, roasted corn, avocado, Roma tomato, red onion, fresh lime juice, red pepper flakes, rice wine vinegar, salt and sugar. "The Oaxaca cheese reminds me of a firm fresh mozzarella—I wanted to show that this cheese can be versatile," she says. The queso relish, she says, certainly offers broad menu opportunity, and suggests using it as a topping for tacos, grilled fish or as a finish to a pizza build.
Thrice-Baked Cheesy Idaho® Potatoes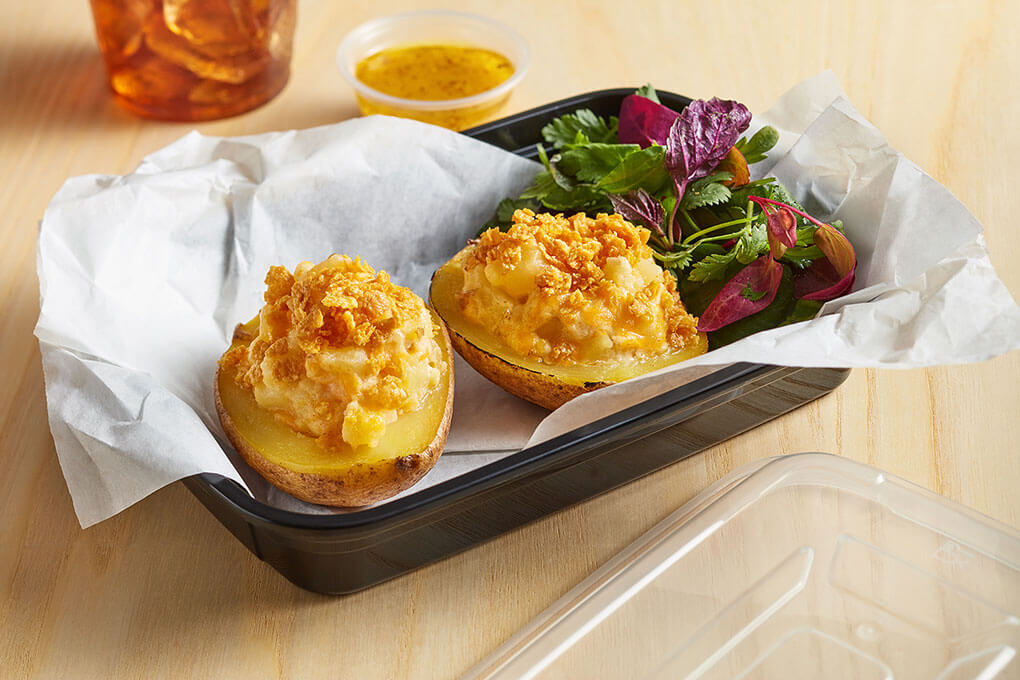 Photo: Carlos Garcia // Food Styling: Peg Blackley & Bree Williams
Comfort is the order of the day here, melding an American favorite with culinary creativity. In fact, Viado's recipe for Thrice-Baked Cheesy Idaho® Potatoes takes inspiration from two sources—a popular dish at her restaurant, called Brunch Cheesy Potatoes, as well as Thomas Keller's refined twice-baked potato, served at TAK Room in New York.
In this recipe, Viado dials up the crave factor in this beloved classic. She first steams a batch of them, then roasts the larger ones and then scoops out their centers, once cooled. Meanwhile, she dices the smaller potatoes and combines them with sour cream, heavy cream, cheddar, onions, softened butter, cayenne and salt, then pats the mixture evenly into a prepared pan. Here comes the craveable crunch—Viado mixes crushed Corn Flakes with butter and tops the pan with half of it, then bakes it. For service, she fills the potato halves with the cheesy potato mixture and tops it with more Corn Flakes mixture, baking until crispy and golden brown. "The overall flavor is a play between cheesy and salty with hints of sweet heat from the cayenne pepper," she says. "It is a play on the crispy, tender and soft textures of the yellow potatoes."
Project Management: Summit F&B
Photography: Carlos Garcia // Food Styling: Peg Blackley & Bree Williams