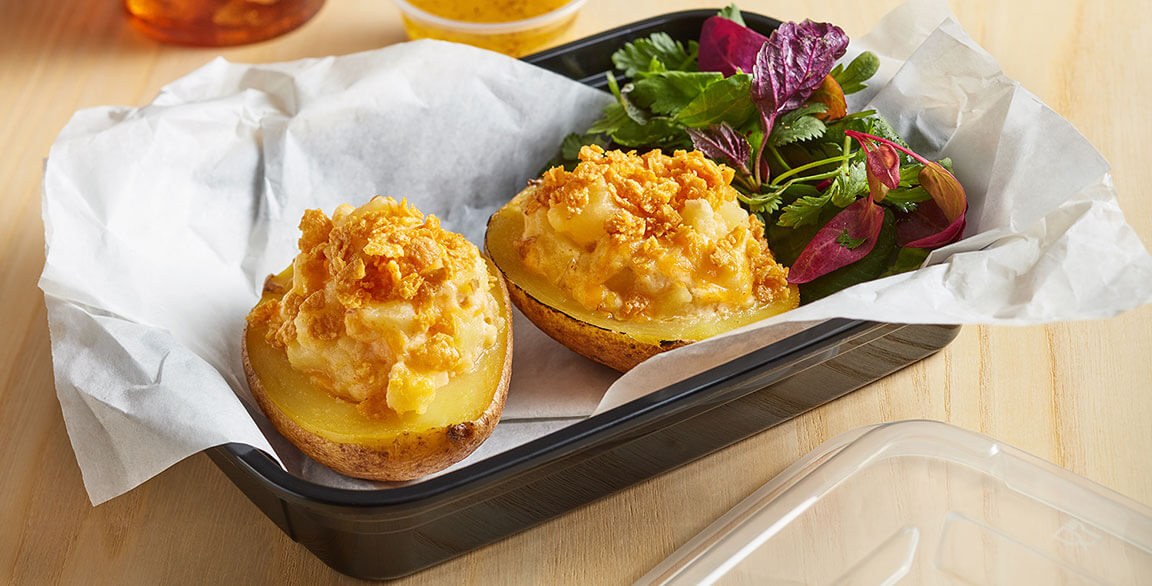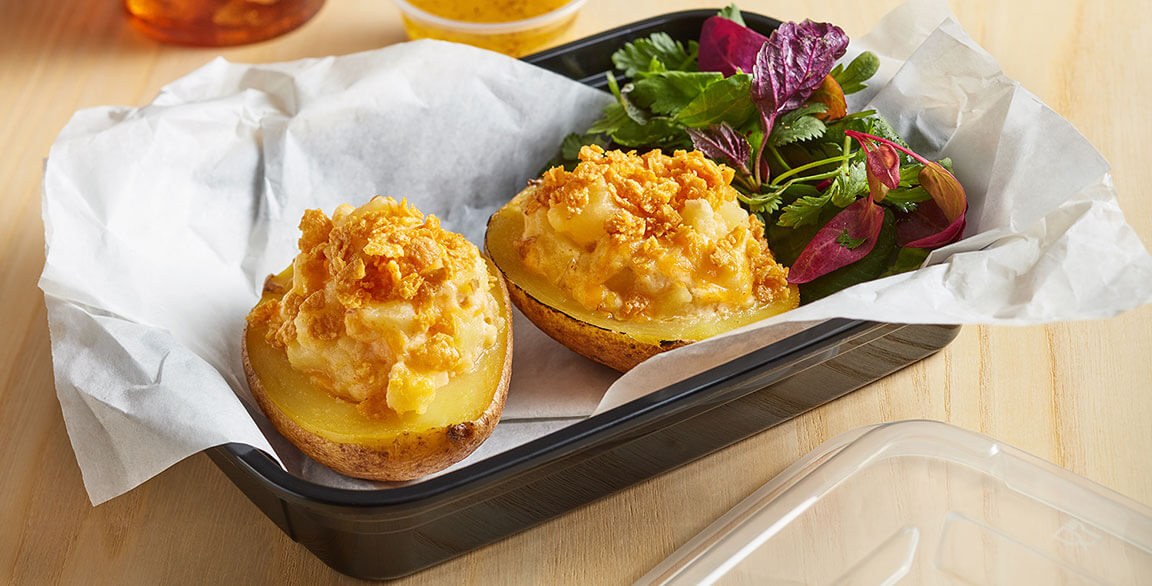 Thrice-Baked Cheesy Idaho® Potatoes
Recipe courtesy of Chef Mary Grace Viado
Sponsor: Idaho Potato Commission
Servings: 20 to 24
Ingredients
10 pounds yellow Idaho® potatoes
As needed kosher salt
As needed canola oil
¼ cup unsalted butter, melted
2 tablespoons all-purpose flour
2 cups sour cream
1 ¼ cups heavy cream
3 cups shredded cheddar cheese
½ cup 1/8-in dice onion
1 cup unsalted butter, softened
¾ teaspoon cayenne pepper
2 cups crushed corn flakes
Directions
Prepare and heat a steamer.
Separate the potatoes with a 7 oz wt average from the smaller potatoes. Set aside. You should get 10 to12 each 7 oz wt potatoes in a 10-lb bag.
Take 2 ½ to 3 lb of the smaller potatoes and steam them for 25 to 30 minutes. The potatoes should still be firm.
Cool, store, label, rotate, and refrigerate overnight.
Heat the oven to 350 degrees F.
In a large mixing bowl, toss the larger potatoes (7 oz wt average) in canola oil and kosher salt. Bake for 1 hour. Cool down for 20 minutes and cut each potato in half lengthwise. Scoop out the center of each half potato, leaving ¼-in flesh around the edges.
Brush the bottom and sides of a 9-x-13-in pan with the melted butter and dust evenly with the flour.
Dice the cooled steamed potatoes into ¼-in cubes (skin on).
In a large mixing bowl, combine the diced potatoes with the sour cream, heavy cream, cheese, onions, and 1/2 cup of the softened butter. Season with the cayenne pepper and 2 tsp kosher salt. Fold all ingredients together with gloved hands and mix evenly. Pat the mixture evenly into the prepared pan.
Melt the remaining ½ cup butter and combine it with the crushed corn flakes. Top the pan with half of the buttered corn flakes, distributing it evenly. Reserve the other half.
Cover with plastic wrap and foil. Bake for 60 minutes. Cool down and refrigerate or you can proceed to the service procedure next.
Spray food release spray on a sheet pan. Arrange the baked potato halves on the pan, spaced evenly. Scoop 2 to 3 oz vol of the baked cheesy potatoes on each potato half, piling it high. Top each with additional buttered corn flakes. You can cover and refrigerate until service at this point.
Bake for 15 to 20 minutes, or until the potatoes reach an internal temperature of 165 degrees F. Serve immediately.
Project Management: Summit F&B
Photography: Carlos Garcia // Food Styling: Peg Blackley & Bree Williams