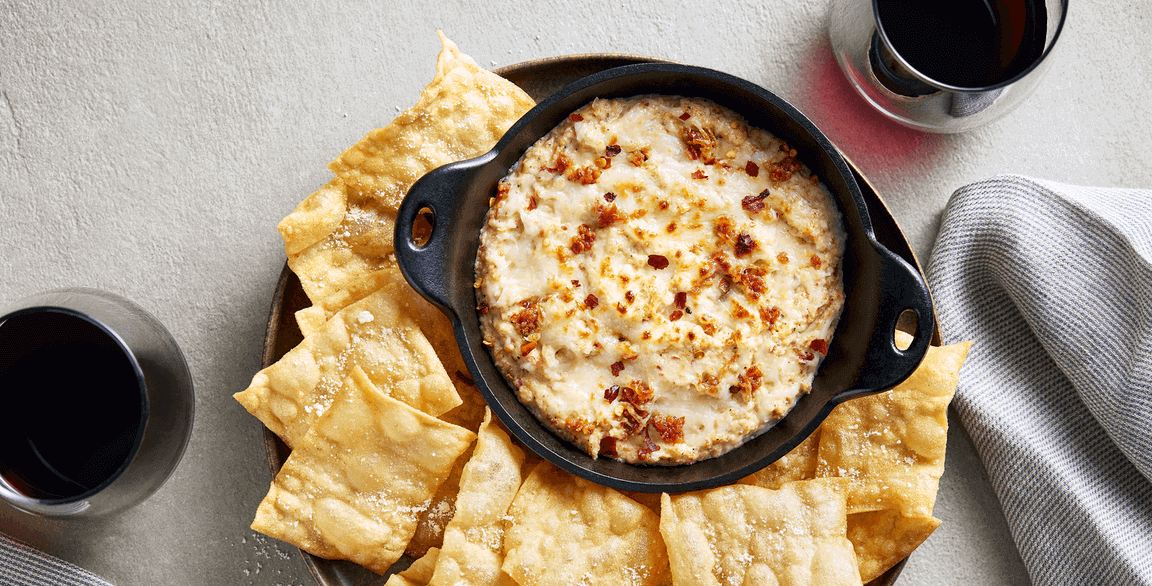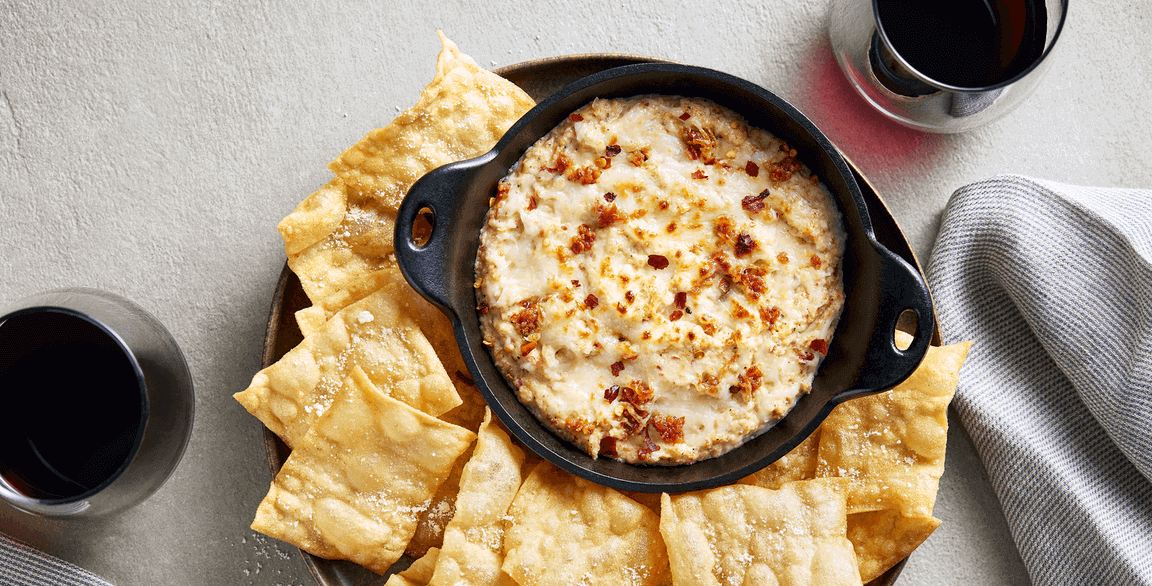 Crispy Lasagna Chips with 'Nduja Fonduta
Recipe courtesy of Chef Rick Petralia
Sponsor: Barilla
Servings: Approximately 24 portions
Ingredients
Lasagna Chips
24 sheets Barilla Lasagne
'Nduja Fonduta
3.6 kg (8 lb) whole milk ricotta
455 g (1 lb) Parmigiano Reggiano, grated
25 g (2 Tbsp) fresh lemon juice
16 garlic cloves, chopped
240 ml (1 c) fresh thyme
10 ml (2 tsp) Calabrian pepper flakes
22.5 ml (1 ½ Tbsp) kosher salt
20 ml (4 tsp) black pepper
800 g (1 ¼ lb) 'Nduja
For assembly
3 #20 dishers 'Nduja fonduta mix
1 #20 disher low moisture mozzarella, shredded
1 order lasagna chips (16 ea)
1 pinch Calabrian pepper flakes
1 shake Parmigiano Reggiano, grated
Directions
For the lasagna chips: Heat a pot of salted water or a pasta cooker with salted water to a rolling boil. Cook the Barilla Lasagne sheets in the boiling water until al dente (6-9 minutes). Occasionally stir the sheets to ensure they do not stick together (especially in the first two minutes).
When cooking is complete, chill in ice water. When fully chilled, carefully remove sheets. Using a sharp knife or pizza cutter, cut each sheet into 16 pieces (by making 3 vertical cuts, 3 horizontal cuts). If not frying immediately, hold refrigerated for up to 2 days.
If frying, cook in a 360 degree F fryer until golden brown (approximately 2 minutes). Stir/flip after the first minute. Chips may be fried to order or held at room temperature for 4 hours.
For the 'nduja uja fonduta: Add the listed ingredients to a mixing bowl. Use a rubber spatula to mix until evenly incorporated. Hold refrigerated for up to 2 days.
To assemble: Place the 'nduja fonduta mix into a bakeable dish. Top with mozzarella cheese. Bake in an oven until warmed. Alternatively, the dish may be microwaved for 20 seconds then the cheese can be browned in a salamander/broiler/conveyor oven. Place the dish on a plate. Place the 16 fried lasagna chips next to the dip. Dust the chips with Parmigiano Reggiano Garnish the dip with a pinch of crushed Calabrian pepper flakes.
Chef Notes
This item utilizes Barilla Lasagne sheets in a non-traditional way. The golden-brown lasagna chips are a crispy alternative to potato chips or tortilla chips, and perfect for an Italian or pizza restaurant. The fonduta is a great sharable that is approachable, yet somewhat elevated. This menu item jumps on several trends, particularly global flavors like 'nduja, shareables, using alternates to bread (chips in this case), and safe experimentation.
Project Management: Summit F&B
Photography: Carlos Garcia // Food Styling: Peg Blackley & Bree Williams