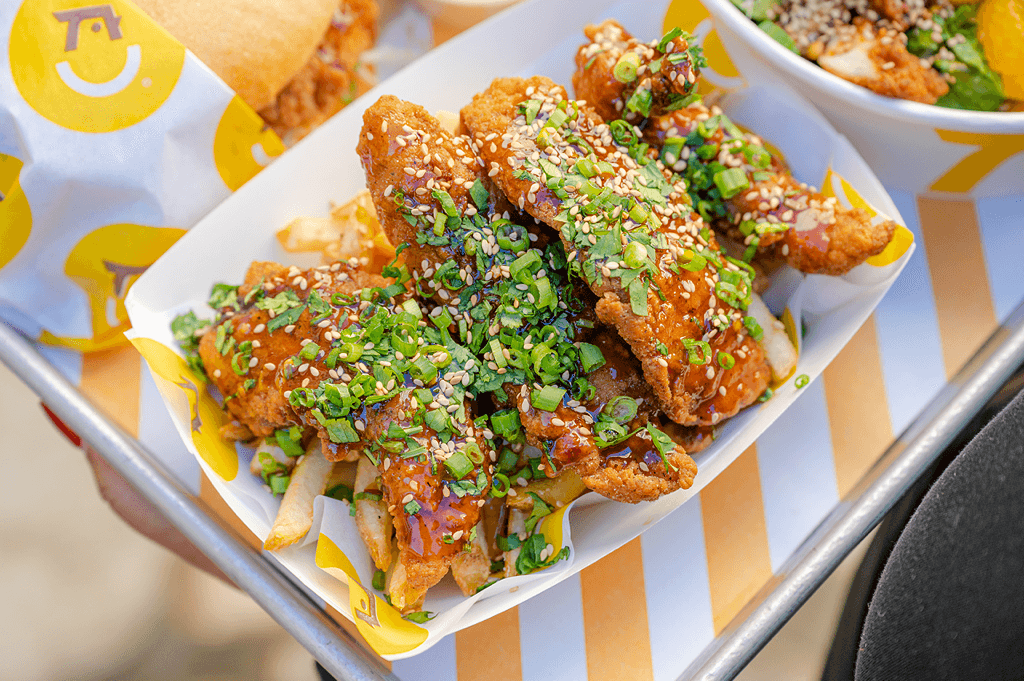 If a restaurant's primary demographic is Gen Z, then it's likely to feature a few new spins on a trio of their comfort food go-tos: pizza, burgers and chicken tenders.
Still most comfortable in a fast-casual setting where they can hang out and dine at their own pace, Gen Zers are attuned to global flavors, ethically sourced proteins, plant-based choices, customization options and unique social-worthy stunners. Depending on their mood—or on the day of the week—this flexitarian generation might opt for vegan or gluten-free at one meal and a double stack of beef patties with bacon tucked into a pretzel roll the next. Savvy restaurant operators adapt well to such fluctuating consumer preferences. Flexibility is an imperative that sets the table for the creativity necessary to attract and satiate Gen Z, especially with their favorite dishes on the line.
TENDER LOVING
If there's ever a doubt that chicken tenders are having a moment, take stock of how crowded the field has grown, with restaurant brands specializing in these deep-fried, craveable, comfort-centric items. And make no mistake—chicken tenders are on fire thanks to Gen Z.
Growing brands in the chicken tender space include Plano, Texas-based Raising Cane's, serving hand-breaded tenders and its popular Cane's sauce, and Bloomin' Brand's delivery-only Tender Shack, with bold-flavored options like its Nashville Hot AF. Playing into Gen Z's openness to spicy foods, Dave's Hot Chicken, based in Pasadena, Calif., entices customers with an offer to top its popular chicken tenders with hot, extra hot or "Reaper" sauce. It's clearly resonating with guests: Dave's opened its first location five years ago and now has more than 100 units. It's in aggressive growth mode, expecting to add at least another 70 locations this year.
On a Friday night, E&D Pizza Company in Avon, Conn., sells 80 to 100 pounds of chicken tenders, estimates owner Michael Androw, who says today's Gen Z customers have a better understanding of what's fresh. Androw acknowledges that it can be fairly labor intensive to produce fresh tenders over a frozen version, but he remains committed to the effort. "We buy whole chicken tenders, cut them to size, panko-bread them by hand and fry them to order, using a two-stage process," he says. Of E&D's five available dipping sauces, Androw says that Honey Hot is the favorite by far.
Indeed, dipping sauces are to chicken tenders what jelly is to peanut butter: One always tastes better when paired with the other. And while Gen Z may still hold a special place in their collective hearts for ranch, the days of ketchup and honey mustard with tenders seem to be on the wane. Brands in growth mode take their points of differentiation seriously, ensuring their chicken tenders stand out. Dipping sauces offer a clear pathway to success. Chicken Guy!, an Orlando, Fla.-based Earl Enterprises fast-casual concept, offers 22 sauces, including Cumin Lime Mojo and Avocado Crema. Slim Chickens, a Fayetteville, Ark.-based fast-casual that menus Southern-style chicken tenders, gives its guests a choice of 17 sauces, including Korean Barbecue and Mango Habanero.
San Diego-based The Crack Shack carves out a competitive edge with its chef-driven menu. Instead of tenders made out of chicken breast, it features Chicken Oysters, pickle-brined and cornmeal-dusted, then served with a rémoulade sauce. And Starbird, a super-premium, quick-serve chicken concept in Northern California, demonstrates the balance between familiar and adventure in its flavor-forward-yet-approachable chicken tender LTOs—aimed squarely at Gen Z. Its latest special is the Orange Chicken Tenders, crispy orange-glazed tenders topped with cilantro, green onion and toasted sesame seeds, and served with both a Creamy Sesame Vinaigrette and Orange Glaze Sauce. Other winning combinations include the recent Sweet Thai Glazed, with an Asian herb mix, crispy shallots, sesame seeds and Spicy Herb Aïoli; and the Nashville Hot, with oil-and-spice dill pickles and Greek Yogurt Ranch.
PIZZATARIANS
When Gen Zers are looking for the perfect comfort food to share with friends, there's little that competes successfully with pizza. This crowd gravitates toward fast-casual pizza concepts that have authentic mission statements and, most importantly, customizable menu options. Pizza personalization is not a new trend, but many of today's popular chains wrap personalization into lifestyle diets and laid-back vibes. Washington, D.C.-based &Pizza menus 20 curated pies and 40 dough, sauce, cheese, topping and finishing ingredients. Pasadena, Calif.-based Blaze Pizza promotes its customization in an inviting message: "Your vibes. Our pizza." Yelp, in partnership with Broke Scholar, recently ranked Blaze the No. 1 fast-food chain in college towns across America. What sets the pizzeria apart for these Gen Z students: customization options, including plant-based and gluten-free offerings; responsibly sourced ingredients; and eco-friendly packaging.
Pizza that leans into global flavors and unexpected taste experiences presents real opportunity to command Gen Z's attention and loyalty. Ali Haider is chef pizzaiolo and co-owner of 786 Degrees Wood Fired Pizza Co., with two locations in Los Angeles, where he specializes in pizzas that highlight flavors from around the world. Inspired by street-food culture, the concept offers more than 50 globally inspired pies, ranging from Bombay Tikka Masala (saffron tikka masala sauce, San Marzano tomatoes, tandoor-baked chicken kabob, mango chutney, burrata, paneer, roasted sweet peppers, cilantro, olive oil, grilled onions, Himalayan salt and makrut lime) to Istanbul Pizza (grilled onions, two cheeses, fresh cucumbers and an authentic Turkish yogurt sauce called haydari).
"Families come in and each member orders a different pizza—maybe from India, Mexico or Japan—and they try each other's slices," Haider says. He's noticed that Gen Z diners are more adventurous and experimental with flavors, while also being trend-oriented and eager to follow social media celebrities. Haider points to a TikTok influencer who gave his stamp of approval to several varieties. "Now, when his followers walk in, they blindly order what he had, simply because he said he liked it," he says.
Gen Z not only wants in on what's been anointed as cool and hip, they also gravitate to the prestige attached to exclusivity. "I have a secret menu," says Haider. "For some reason, they think that anything on the secret menu is going to be better." Starbucks has certainly proven that secret menus hold sway with younger consumers—whether it's the promise of something better or simply the idea of exclusivity that draws them in.
BURGER GENERATION
As with pizza, fast-casual burger hangouts are popular for the speed, comfort and convenience that so many Gen Z diners crave. But this generation is also demonstrating its preferences around flavor, familiarity and sourcing. Fort Lauderdale, Fla.-based BurgerFi has found a competitive point of difference that is resonating with younger diners: its clear commitment to eco-friendliness and sustainability, along with a menu of flavor-forward burger builds. Among these offerings are the Breakfast All Day Burger (natural Angus beef, bacon, American cheese, maple syrup, fried egg, hash brown, grilled onions and ketchup); the "SWAG" (spicy Wagyu) Burger ("double premium" Wagyu blend, charred jalapeños, candied ghost pepper bacon, sweet tomato relish, pepper Jack cheese and hot steak sauce) and the Conflicted Burger (natural Angus beef and VegeFi burger patties, American cheese, white cheddar, lettuce, tomato and BurgerFi sauce), a clever option that gives flexitarians the best of both worlds all in one build.
Zydrunas "Z" Rackauskas, owner of Shula Burger in Tampa, Fla., says he's noticed that Gen Z customers like to get a deal, although some 10 percent of customers take advantage of often-more expensive customization, choosing to build their own burgers. "The French Onion burger [Swiss cheese, caramelized onions, crushed garlic croutons, garlic-herb mayo] is, hands down, the fan favorite," Rackauskas says. The SoHo Spicy Burger, with lettuce, red onion, cheddar, four-pepper relish, jalapeños and chipotle mayo, and the Black & Blue Burger, with balsamic-tossed baby greens, blue cheese crumbles, tomato-bacon jam and crispy onion, are also really popular with the younger diners.
When Gen Zers are in the mood for a plant-based burger, their expectations are high. They want a meat-free option that still provides the satiating flavors of a traditional burger. "Generally, when you talk about something being plant-based, you think you have to trade off on flavor," says Christi Mason, chief marketing officer for Atlanta-based Slutty Vegan, a plant-centric burger joint. "We go out of our way to make sure the product is something you feel good about, but it's also really crave-worthy." This approach is working, according to Mason, who says that only 30 percent of Slutty Vegan's customers have a stated dietary restriction, while the others simply like the food. "The breadth of our menu gives you the sense that you're doing something socially responsible that resonates with your dietary choices, and you don't have to compromise because it's delicious."
Time will tell if America's taste buds will evolve to fully embrace more globally inspired, spice-driven flavors as Gen Z ages. In the meantime, operators can take note of their preferences and adapt traditional menu favorites as a way to capture their interest and their wallets.