Greek yogurt has become a go-to for modern dips and dressings. It also elevates the sauce game, lending its wholesome profile and tangy, creamy flavor to this critical recipe element.
Sauce = Craveability
Sauces are the key to craveability, unlocking that magic combination of texture and flavor. The challenge for foodservice operators is keeping up with changing consumer preferences. Greek yogurt serves as a great carrier in cold sauces, offering up fresh dairy notes and a beautiful ability to showcase some of today's biggest flavor trends. This Grilled Pineapple and Jalapeño Raita taps into a growing opportunity with Indian cuisine, and turns it into a global mash-up.
"By taking this raita outside of its region and applying a South American flavor influence, we are able to put an on-trend twist on a classic Indian condiment," says Jake Briere, Corporate Chef, Chobani® Foodservice. "The pineapple and jalapeño add a nice sweet-heat combination that works well with the acidic profile of the sauce." Raita is a fantastic traditional sauce, boasting the unique ability that comes from yogurt: "It comes with a cooling sensation and can neutralize a very hot or intensely spicy dish. Those naturally fermented notes really take sauces to a higher level," says Briere.
Tips from Chef Jake Briere
Cold Sauces Strategy:
When substituting Chobani® Greek Yogurt for mayonnaise or sour cream in a cold sauce application, the yogurt improves the nutritional outcome by a larger margin. It also lends a slightly acidic creamy flavor that helps to amplify the recipe.
Warmed Sauces Strategy:
For any warm sauce applications it is important to know that the yogurt should always be the last ingredient added to the pan, while making sure the pan is off the heat and the yogurt is slowly incorporated in and emulsified. If the yogurt is heated past a certain point, the sauce will break and split—very similar to how butter is emulsified into a sauce at the end of the recipe to add both texture and flavor.
Substitution Ratios:
For beginners with Greek yogurt sauces, I recommend playing around with a few ratios that fit your comfort level. Start off with using 25 percent yogurt in place of mayonnaise or sour cream, and adjust to your taste.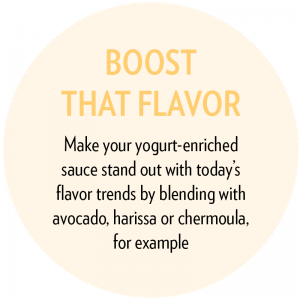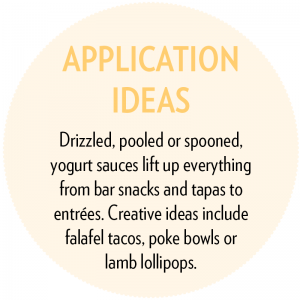 7 Fast Facts about Chobani® Greek Yogurt
Gluten-free
Includes live & active cultures
Made with milk from cows not treated with hormones like rBST*
No artificial preservatives, sweeteners or ingredients
Only natural ingredients that are not genetically modified (non-GMO)
Three types of probiotics
Vegetarian and lactose friendly
*According to the FDA, no significant difference has been found between milk derived from rBST-treated and non-rBST-treated cows.