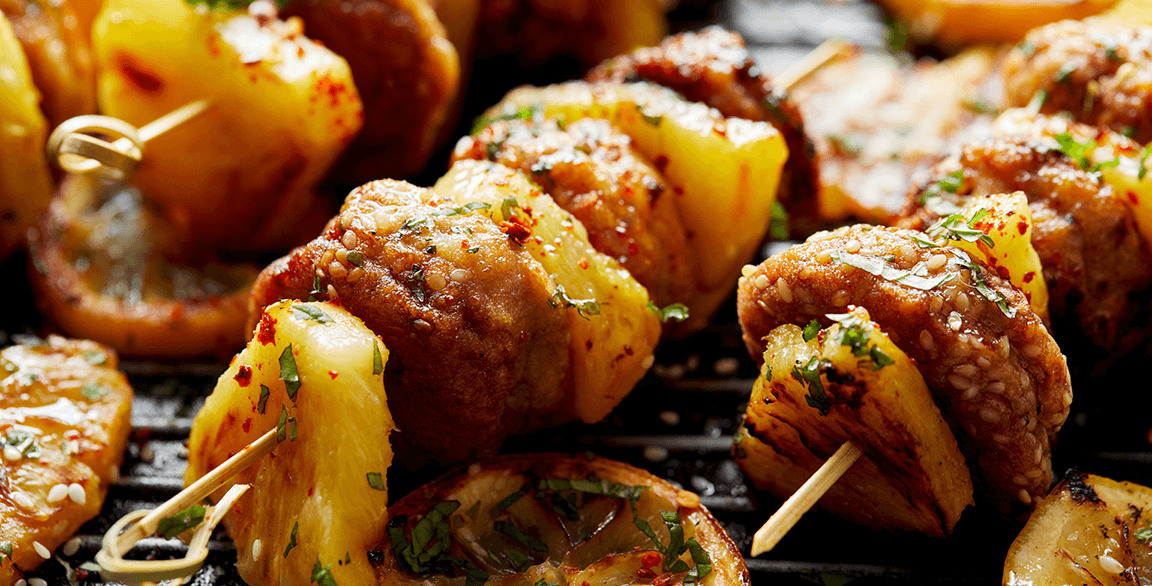 Tropical ingredients can create a pathway to vibrant flavor combinations, appealing to both indulgent and healthful menu preferences of consumers. Here, we dive into two versatile ways to flavor beef, pork and chicken with distinctive tropical flair. Both offer menu developers easy ways to impart trending tropical sweetness, acidity, lightness and aromatics with a signature touch.
Buttered Tropical Indulgence
The comforting and creamy sweetness of butter is an ideal vehicle for carrying bright, floral, tropical flavors that are paired with the savory nuances of meats. Direct applications may include tropical flavored compound butter, slowly melting into a pork chop or foamed, used to baste a pan-seared steak, or whisked into a sauce at the last moment to emulsify with exotic richness, or softened and slid underneath the skin of chicken ensuring juicy tenderness.
Calypso Steak: Rum-marinated grilled flank steak + charred pineapple-tamarind compound butter
Mango Buttered Skillet Chop: Skillet-cooked bone-in pork chop + mango-candied orange peel-garlic butter
Tropical Schnitzel: Pan-fried pork schnitzel + toasted almond-lime-passionfruit butter
Butter-Stuffed Chicken: Roast airline chicken breast + caramelized banana-Sriracha butter (under the chicken skin)
Glazed Tropical Healthfulness
Contemporary fruit-based glazes add an enticing layer of craveable concentrated flavor and healthful decadence. Tropical glazes act as a bold flavor carrier for coating meats with deeper complexity, tactile lacquered texture and striking visual cues that heighten appeal. Direct applications may include tropical glazes basting grilled and roasted meats as a finishing flavor play or tossing with succulent chunks of hand-torn meat to transform tastes.
Poppin' Brisket: Smoked brisket slices + charred citrus green peppercorn glaze
Hot Savory n' Sour Carnitas: Carnitas + charred crushed pineapple-sambal glaze
Guava Belly Bites: Braised and seared pork belly bites + guava mustard glaze
Bone Broth Chicken Thighs: Bone broth-braised roast chicken thighs + lychee-ginger glaze