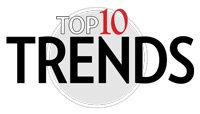 It would be a stretch to say that any dish could represent all 10 trends covered in this special issue, but we found this one worthy of a close look at its components.
Call it a case study in on-trend presentation and flavor building. This Ras el Hanout Hummus Bowl with Sockeye Salmon is served at Za'atar Hummus Bar at Jackson National, a life insurance firm in Lansing, Mich., whose food program is executed by Creative Dining Services, a hospitality and dining services provider based in Zeeland, Mich.
"Everything in this bowl is built around the plant-based purée," says Ian Ramirez, director of culinary innovation and operations. "It's important to have a balance of flavors, textures and colors that complement each other."
Careful attention to detail is evident here, from the turmeric-pickled onion and the roasted squash to the sugar-cured Alaska sockeye salmon and charred carrot/ras el hanout hummus.
It's a thoroughly modern way of presenting an eating experience, juxtaposing soft, crisp, creamy and crunchy while delivering global intrigue, wholesomeness and complexity of flavor.