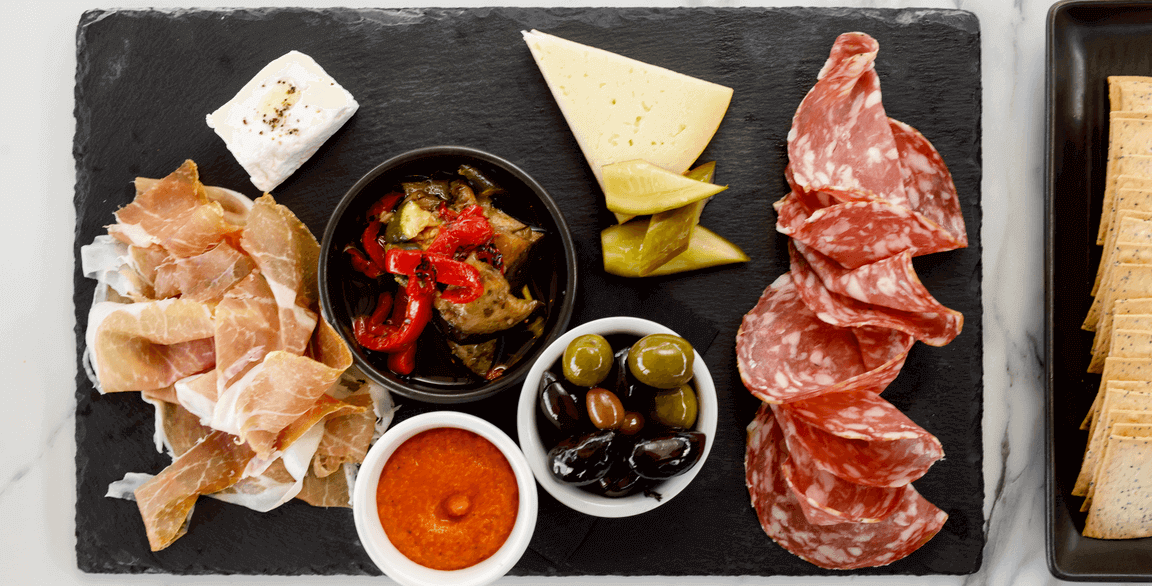 By Rob Corliss
March 31, 2022
Meats, along with hard and soft cheeses, nuts and breads, make up the body of a solid charcuterie board. But it's the intriguing condiments and accompaniments that can push the presentation over the top, giving it a signature spin or local feel. These pairings are the link that connect a greater culinary experience via a range of complementing and contrasting flavors and textures, providing restaurants with an opportunity to enthrall diners with housemade flair.
The following ideas highlight charcuterie menu executions with chutneys, spreads and fruits/vegetables, blending traditional with modern builds.
CHUTNEYS
The slightly acidic-sweet aspects of chutney are a wonderful complement to the balanced savory-saltiness, spiced and smoked flavors of uncured or cured meats. Finer-textured charcuterie paired with rustic-textured chutney creates enticing contrast.
Charcuterie Biscuit Bites: Chamoy-poblano chutney + coppa salami + Havarti cheese + pepita-flecked buttermilk biscuits
Marvelous Meze: Nectarine-orange-kalamata olive chutney + Loukaniko Greek salami + whipped manouri cheese + chickpea wafers
SPREADS
Full-flavored spreads work well paired with spicy, herbed, leaner (like whole muscle) and rustic styles of charcuterie. Spreads also provide an avenue to connect patrons to the story behind the ingredients and themed style presentations.
Modern Mexi Mix: Mole hummus + mini soft flour tortillas + queso fresco + pickled shrimp with Tajín + longaniza sausage
Greek Sampler: Skordalia (Greek potato and garlic dip) + artichoke ricotta + cucumber slices + pita chips + lamb loin bresaola + oregano rubbed lonzino slices (air-cured pork loin)
FRUITS/VEGETABLES
Pickled applications cut through and complement the richness of higher fat-content meats, spicy pork or beef spreads, along with dips and terrines. They can also balance out the more delicate flavors of charcuterie. Dried, preserved, roasted, macerated or fresh fruits and vegetables also have their place, adding varied interest, texture and flavor.
South of the Border: Hibiscus-pickled red onion + margarita-roasted strawberries + asadero cheese slices + Telera roll crisps + green chorizo slices + machaca rehydrated in mango hot sauce
Caribbean Snacker: Salt and vinegar pumpkin and green papaya haystack + griddled coconut rice hot cakes + brown sugar-jerk salmon jerky + Serrano ham dip