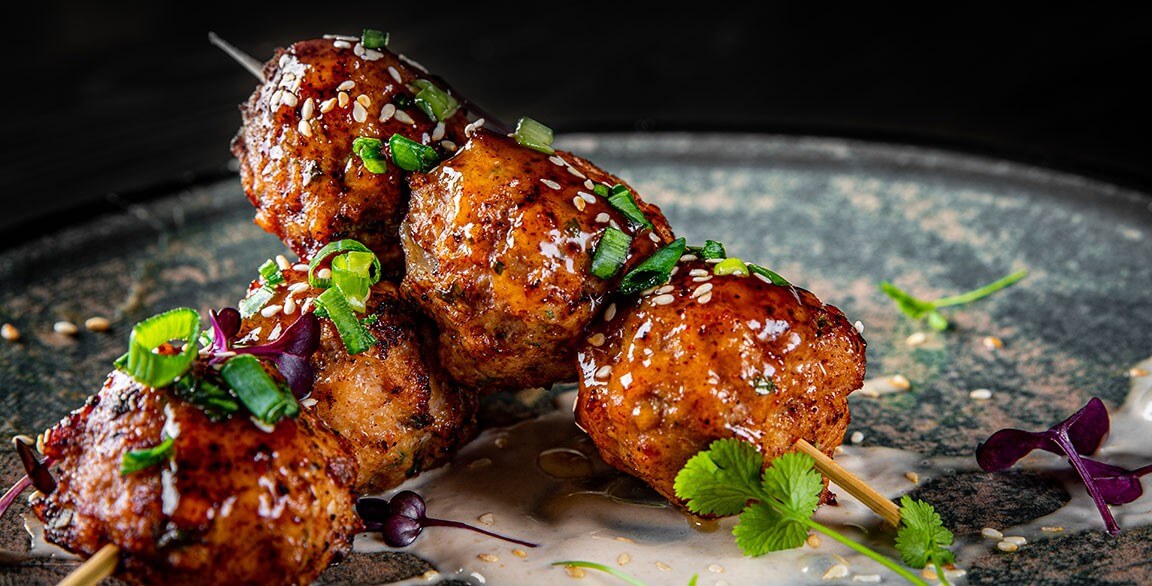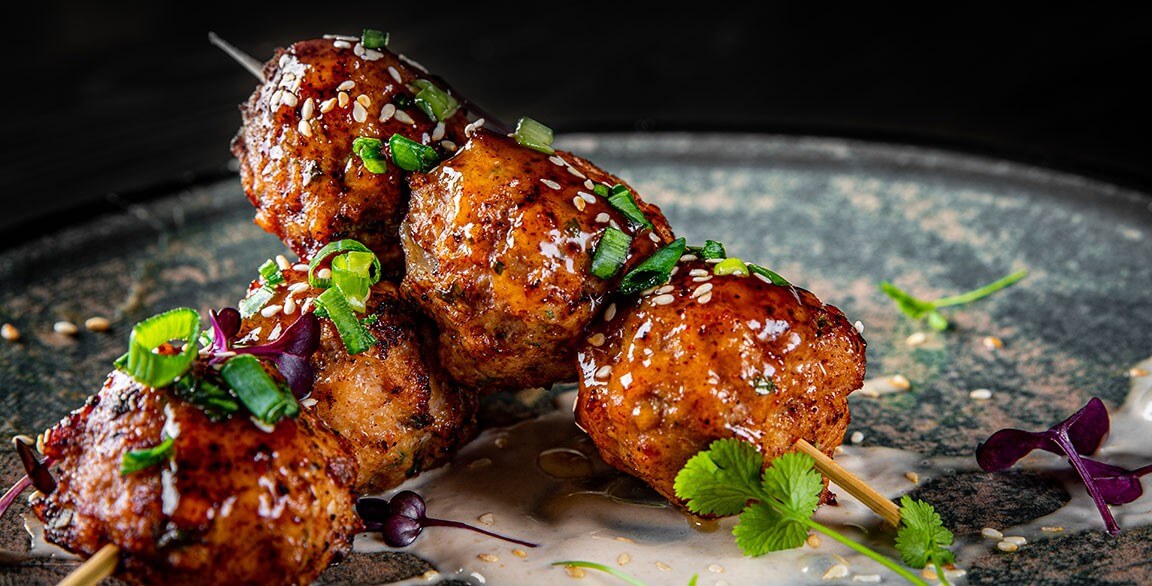 By Rob Corliss
June 23, 2021
This "surf and turf" is a play on the term, showcasing sea vegetables (seaweed) as a flavoring agent for meat while doubling down on the umami of each. Sea vegetables have been in the culinary spotlight, thanks to their rich flavor narrative and natural health halo. Operators can capitalize on these aspects by playing up the intrigue factor and "superfood" power of seaweed, along with doubling down on the craveable attributes of meat. Both work in tandem to create approachable, premium surf-and-turf menu offerings.
"Try This"
PORK
The luscious mouthfeel and melt in your mouth texture of pork makes it an effortless culinary companion to seaweed.
Tokyo Meatball Skillet: Pork meatballs simmered in creamy yuzu-nori sauce; served with sticky rice
Fisherman's Bowl: Mussels tossed in chorizo-kelp broth, tomatoes, garlic, white beans, citrus; grilled peasant bread
Bulgogi Pork Taco: Grilled Korean barbecue pork with Sea-chi (seaweed kimchi) and fresh cilantro sprigs; in a warm tortilla
BEEF
The marbled richness and robust beefiness is complemented well with additional umami and briny notes from seaweed.
New Steakhouse Plate: Grilled New York strip steak, kelp-creamed spinach, roasted fingerling potatoes
Japanese Prime Rib: Togarashi rubbed whole roasted prime rib, milk bread rolls; red miso-kombu beef au jus
CHICKEN/TURKEY
This versatile, lighter alternative flavor makes it wide open for an array of seaweed applications.
Garden Chicken Sandwich: Grilled chicken breast wrapped in green sea lettuce; served on a toasted brioche bun spread with sun-dried tomato aïoli
"Bacon" Ranch Turkey Burger: Griddled turkey burger (rubbed with dulse-buttermilk ranch seasoning), Havarti cheese, lettuce leaf, red onion, tomato; on toasted egg bun spread
LAMB
The distinctive, lean and succulent flavor of lamb lends itself to more subtle notes from seaweed that cut through the richness.
Sea Minted Lamb Chops: Roasted lamb loin chops with wakame jalapeno-mint jelly glaze
Wild Potato Hash: Smashed crispy-griddled russet potatoes with lamb sausage, wiry strands of arame, peppers/onions
GET THE RECIPE FOR MAPLE-GLAZED SMOKED CANADIAN BACON MUSUBI BENTO