By Flavor & The Menu
November 24, 2019
The entrée category remains a strong money maker on menus. But with today's shifting flavor and dining preferences, chefs are reconsidering how they're building that entrée, rethinking the composition and developing more flavor play and more textural elements.
Attention to detail is paramount—the protein may play a starring role, but each of the supporting components must help tell a modern flavor story. That story includes mindful sourcing, quality of ingredients, intriguing flavor combinations and creative textural contrasts.
Although the re-tooling of entrées often sees a decrease in the center-of-the-plate portion size, the value proposition of a modern entrée needs to remain strong. Duck offers a good pathway to success here, providing a versatile protein that carries premium positioning along with an ability to move into more casual applications—all while maintaining a rock-solid value proposition.
Maple Leaf Farms, a fourth generation family-owned company in Indiana, is answering the demand for duck on casual menus. They lead the market with an ever-growing variety of innovative, value-added duck products—from boneless duck breast and fully cooked duck wings to ground duck meat.
Their White Pekin ducks are raised on local, family-owned farms. Prized for tender, mild meat, this breed is ideally suited for a wide range of flavor profiles and global cuisines.
Modern Entrées Starring Duck
Chefs are leveraging duck's unique ability to command premium positioning while also fitting into more casual, modern dishes. Here are three examples that highlight duck's versatility in today's menu development.
Mocha-Rubbed Duck Breast with Cherry and Red Wine Sauce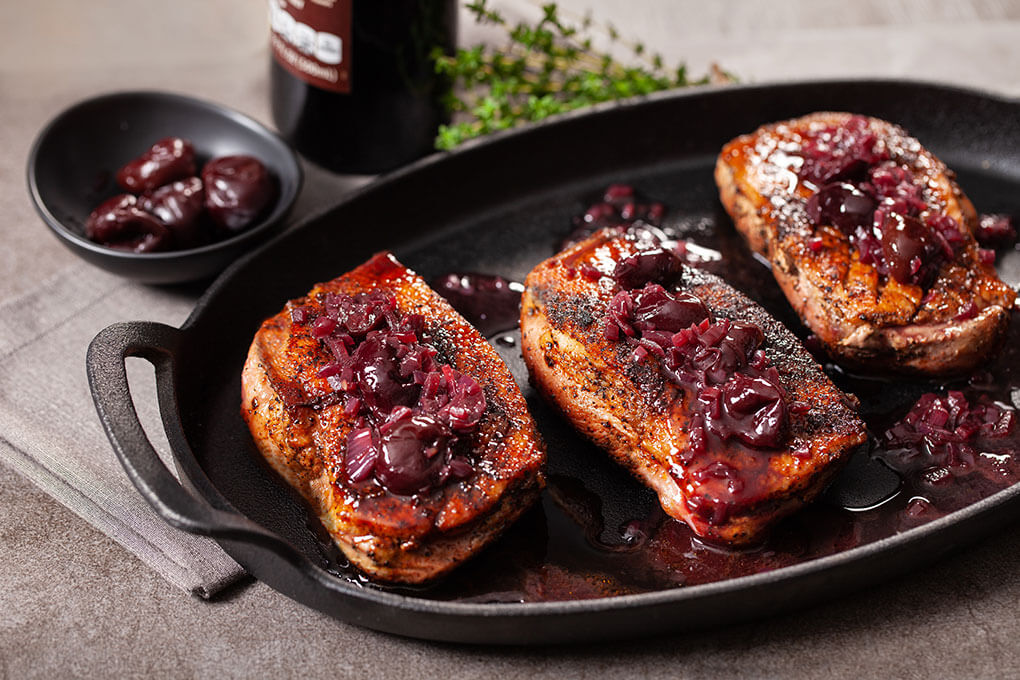 Maple Leaf Farms
This recipe's approach to complex, bold flavors is the hallmark of modern entrées. Here, the duck breast is rubbed with a flavorful blend of cocoa powder, ground coffee, sweet paprika, brown sugar, salt and pepper. Once the duck is crisped, glazed and roasted, it's topped with a cherry and red wine sauce enriched with rendered duck fat. Each component builds depth with intriguing flavor combinations.
Duck Schnitzel with Honey Mustard Pretzel Spaetzle, Creamed Brussel Sprouts, Beurre Noisette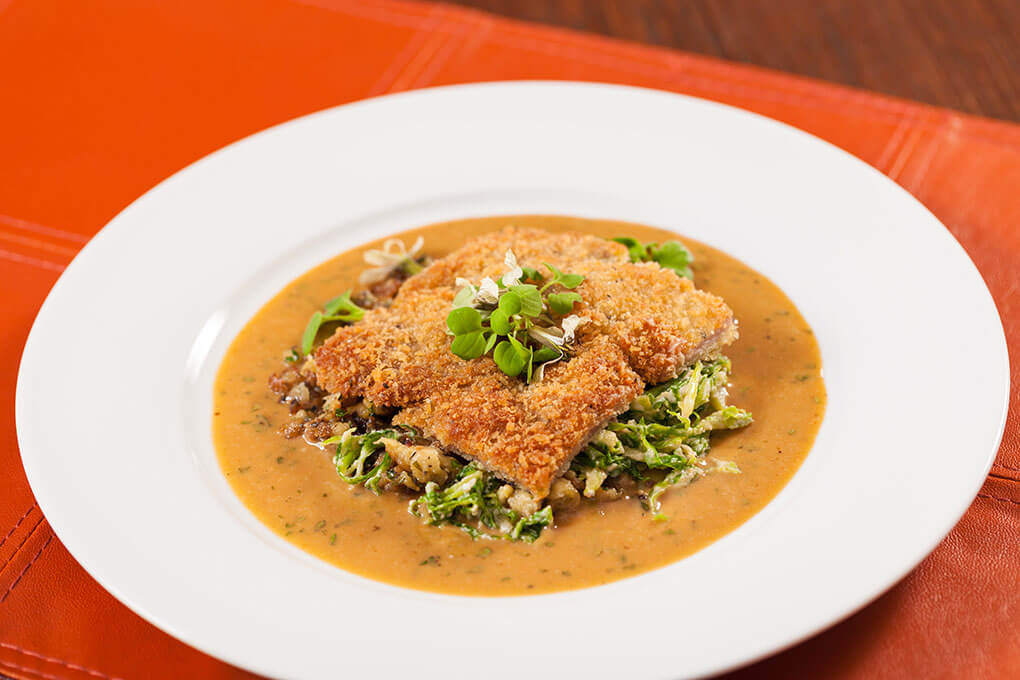 Maple Leaf Farms
Creative interpretations of classic entrées offer another clear pathway into this trend-forward strategy. The schnitzel stars boneless duck legs, pounded thin, breaded, then fried until crispy and delicious, lending a unique spin to a traditional German entrée. To round out the flavor story with an inventive touch, honey mustard pretzel spaetzle buddies up to the duck.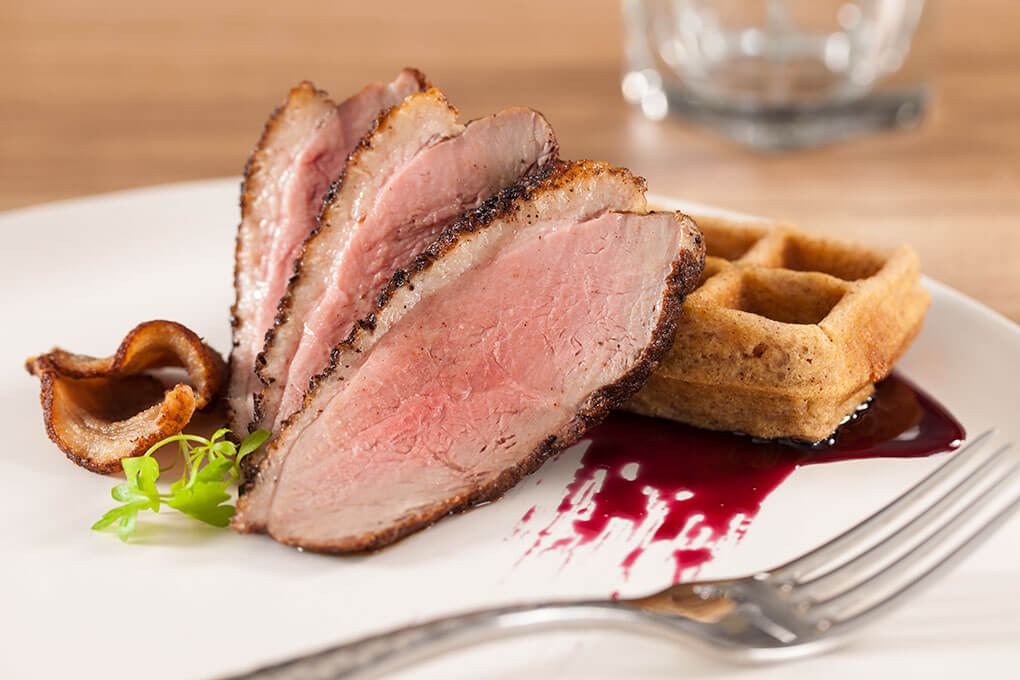 Maple Leaf Farms
Breakfast, all-day breakfast and brunch continue to showcase fun, craveable offerings. Modern entrées can borrow from those dayparts, adding a premium protein like duck to elevate the experience. Here, the waffle batter gets warm, savory tones that match perfectly with duck, like cinnamon, cloves and star anise. An elegant and vibrant hibiscus syrup replaces the classic maple syrup, lending a sweet-tart counterpoint to the smoked duck breast.
Get Saucy with Duck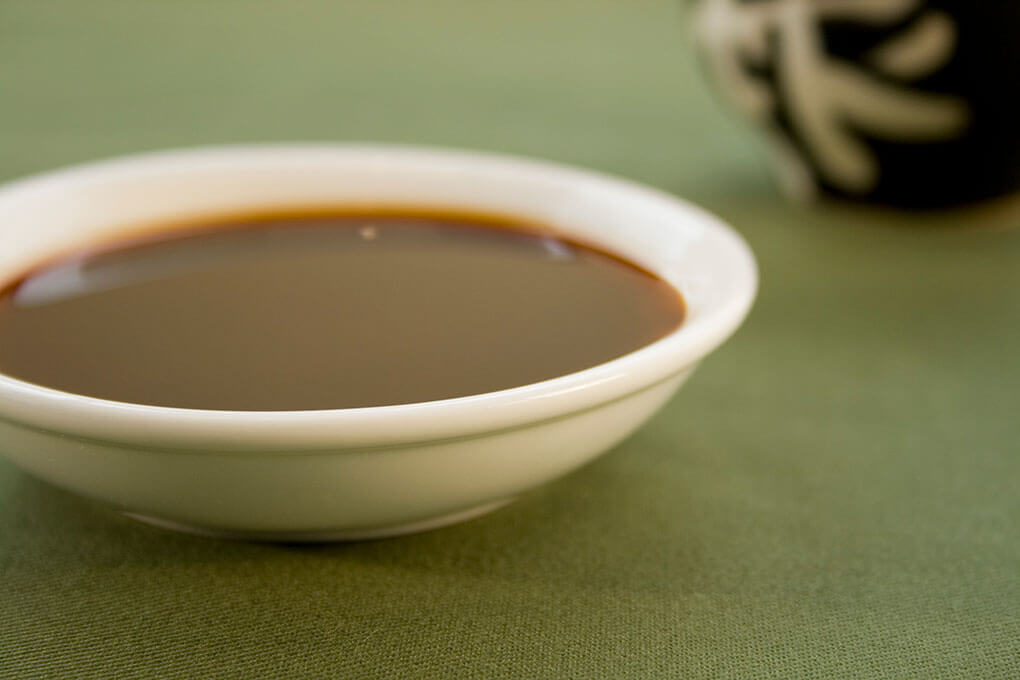 Maple Leaf Farms
Well executed sauces help build signature dining experiences. Adding trend-forward flavor touches to them helps take entrées to the next level. These four sauces go beautifully with grilled or roasted duck, helping anchor the dish with a more casual, contemporary vibe.
Korean Hot Sauce
Ginger-Peach Sauce
Cranberry Spice Sauce
Brandied Raspberry Sauce
Duck Delivers
Maple Leaf Farms' ducks are raised by independent family farmers and fed an all-natural diet of wheat, corn and soy that is processed in their own feed mill. They offer all natural, antibiotic free duck products that will differentiate your menu. For more recipes and product information, go to Maple Leaf Farms.