By Flavor & The Menu
September 30, 2019
Take a look at trend-forward menus for a snapshot of how chefs are using duck to deliver big, bold, beautiful global flavors. At Stephanie Izard's Duck, Duck, Goat in Chicago, the Duck Fried Rice relies on a soft-boiled duck egg for a singular, rich flavor experience.
Momosan Ramen in Seattle demonstrates how duck can make a signature play in the red-hot ramen category with its Peking Duck Ramen. It stars duck broth, ajitama, roasted Peking duck breast, onion, bean sprouts, cilantro, Thai basil and spiced duck fat.
And Rose & Thorn in Houston surprises and delights by using duck refried beans in its Pork Confit Carnitas Torta, with cabbage, tomato and chipotle aïoli on a bolillo roll. With global flavors continuing their advance onto mainstream menus, duck gives chefs a fantastic canvas for casual, adventurous fare.
Maple Leaf Farms, a fourth generation family-owned company in Indiana, is answering the demand for duck on casual menus. They lead the market with an ever-growing variety of innovative, value-added duck products—from boneless duck breast and fully cooked duck wings to ground duck meat.
Their White Pekin ducks are raised on local, family-owned farms. Prized for tender, mild meat, this breed is ideally suited for a wide range of flavor profiles and global cuisines.
Spinning the World with Duck
Chefs are leveraging duck's mild flavor and versatility in globally inspired menus that fit well into today's modern foodservice landscape. Here are three of our favorites.
Duck on Lemongrass Skewers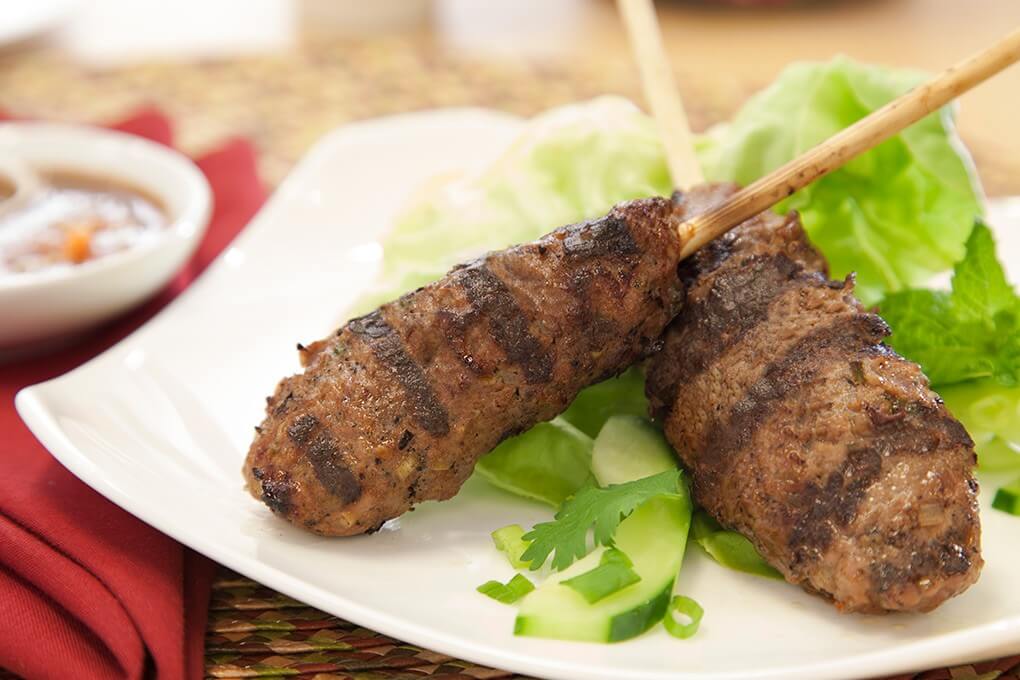 Maple Leaf Farms
Corporate Chef Keoni Chang, Foodland Supermarkets in Honolulu, combines ground duck meat with lemongrass, Sriracha, garlic, mint, scallion, shallot, soy sauce, sugar and hoisin, then forms it into sausages and skewers them on lemongrass stalks. A hoisin-peanut dipping sauce finishes the dish. "Duck is perceived as a luxurious item and provides a nice meaty poultry option. The flavor and texture of duck allows for creative flavor combinations."
Mole Duck Tacos with puffed rice, avocado-cilantro purée, pineapple-radish salsa and Cotija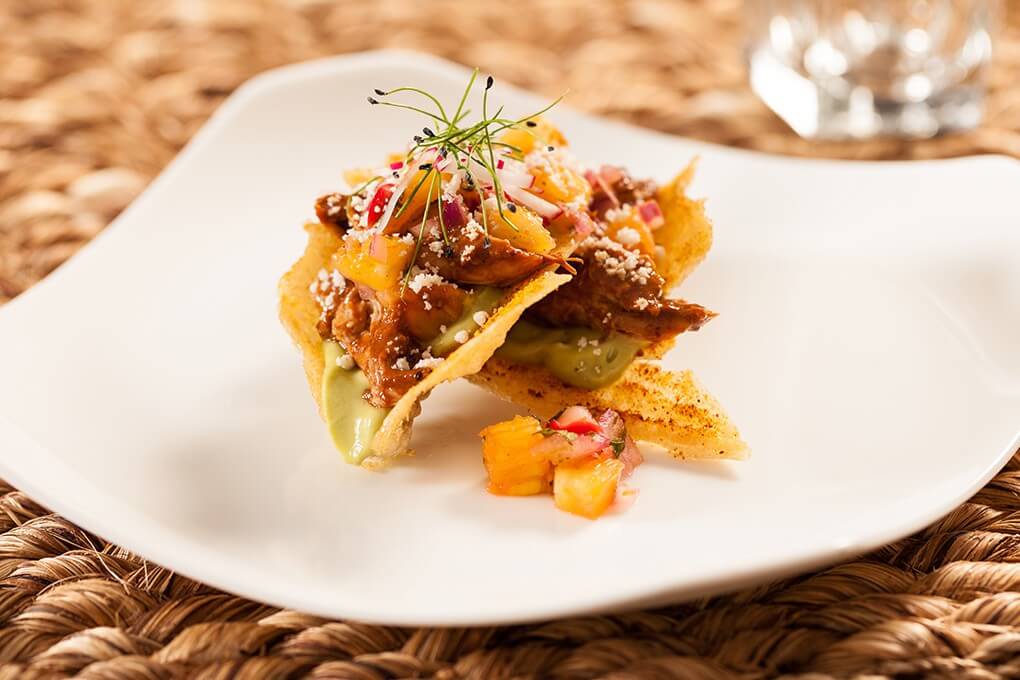 Maple Leaf Farms
Eljesa Haxhiu, culinary instructor at Gwinnett Technical College, Lawrenceville, Ga., rubs a paste of coriander, garlic and salt into duck legs, then sous vides them, pulls off the meat and deep fries until crispy. She then tosses the duck meat in a rich mole sauce. "I like using duck because it's a versatile product that goes with a variety of ingredients and flavor profiles. Keep it as simple as tacos! Focus on the flavors that highlight and accompany the duck," she says.
Duck & Sweet Plantain Lasagna Pastelon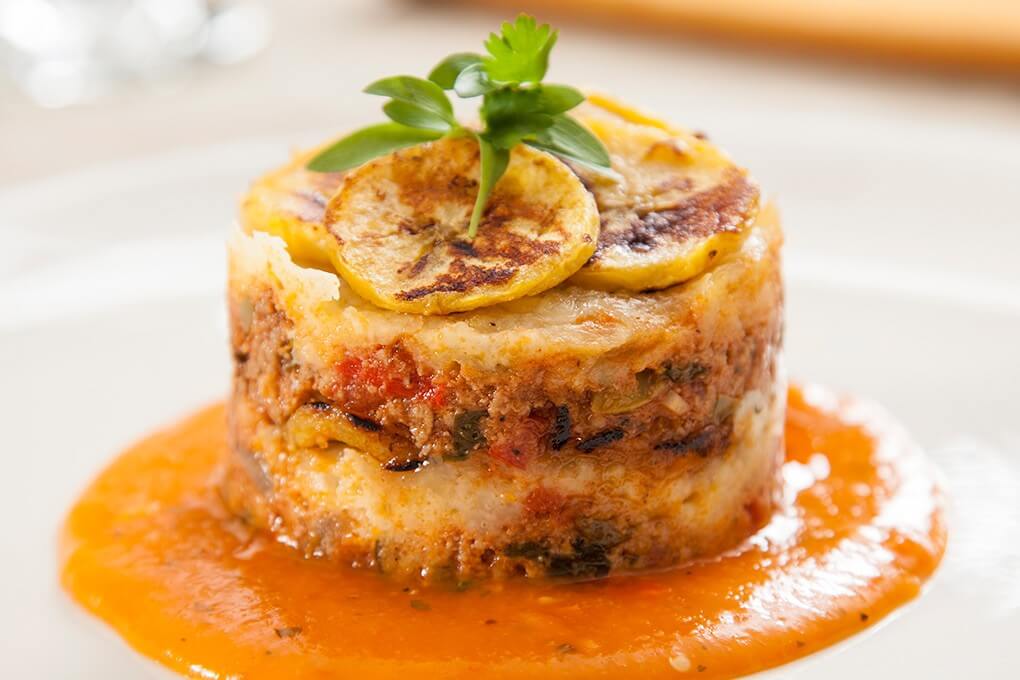 Maple Leaf Farms
Daniel Ramos, chef/owner of Red Splendor, a sausage and bone broth company in West Palm Beach, Fla., layers caramelized plantains with manchego cheese and a flavor-rich duck filling with ground duck, sofrito, green olive, onion, bell pepper, cumin, tomato paste and smoked paprika.
More Global Duck Recipe Ideas
Here are two creative, approachable ways that Maple Leaf Farms is helping chefs make the most of duck in global flavor profiles.
Maple Leaf Farms' ducks are raised by independent family farmers and fed an all-natural diet of wheat, corn and soy that is processed in their own feed mill. They offer all natural, antibiotic free duck products that will differentiate your menu. For more recipes and product information, go to Maple Leaf Farms.