Instagram's impact on the food industry cannot be overstated. It doesn't take much searching to find articles covering its effects on chain restaurants, operation design and menu innovation. Instagram-worthy food and beverage ignites a brand's successful social presence.
But what's behind the motivation for sharing dining experiences? Why does Instagram hold so much sway? The answer is: Craveability.
The popularity of food on Instagram is deeper than an enjoyment of pretty pictures. The visual impact of food, either on a plate or through an image, can stimulate cravings for that item. Consider that people post nearly 130 million photos on Instagram under #foodporn, which is significantly more than photos posted under any other benign catch-all uses of #porn, such as #travelporn and #vacationporn.
This phenomenon speaks to a fascination with the world of food and how it can trigger visceral responses.
Instagram has had another fundamental impact on the idea of craveability in modern society: It is now filtered through the eyes of millions of individuals rather than a handful of advertising firms and corporations. Prior to the democratization that the internet brought to mass communication, consumers were, for the most part, told what to crave by slick ad campaigns, strategically designed packaging, and well laid-out retail displays. Now, it's less polished, in real time and authentic—a perfect recipe for buzz-worthy, organic promotion.
Before social media, craveability's narrative focused on three key elements: fat, salt and sweet. Rarely was it discussed more broadly­—or how that craveability might impact everything from morning meals to late-night snacking. Through Instagram and other social media, consumers can now decide and widely broadcast what they find craveable.
Craveability has moved back into the hands of consumers who have far broader tastes and interests than may be evident in mass marketing. As a result, what consumers perceive as craveable has shifted significantly. That change will be fundamental in how the industry leverages craveability.
The key today is in understanding how best to relay craveability—through modern menu language, flavor and texture cues.
The Poetry of Words
Umami may be one of the best examples of the shift in craveability, and this idea of the impact of umami can be looked at in two ways.
The fact that umami has even moved into, and arguably taken over, many food discussions is compelling. Beyond more technical discussions in culinary schools and academic venues related to food, the common consumer had probably never heard the term "umami" until recently. Taking Instagram as a measure of awareness, there are now nearly 200,000 posts marked with #umami.
Umami is the basis of craveability. It is, essentially, the deliciousness that governs our palate and makes an item hard to resist. That's not to say all umami-heavy ingredients such as Parmesan, mushrooms, soy and fish sauce will create the same craveability in all patrons, but the presence of umami certainly doesn't hurt. Umami holds the promise of a memorable, singular experience.
So, is the rise in presence of the term "umami" an indication of the importance of craveability, or is the growing impact of craveability an indication of the importance of umami? Likely, it's both. Industry focus on creating craveability has heightened the significance of the role of umami in ideation, but the newfound respect for and discussion of umami speaks to how important craveability is in an increasingly competitive foodservice landscape.
From a menu communications point of view, the parallel rise of craveability and umami has impacted how operators try to drive trial absent of a visually based menu. Five or more years ago, that may have been through general terms that hint at both umami and craveability, like "delicious," "tasty" and "yummy."
Given our new culture that's hyper-focused on food, those terms are far too vague to carry the same weight. Operators must provide a consumer more information to drive craveability. This is now done through more precise inclusion of ingredients in menu descriptors, flavor enhancement through preparation, and the impact of formats on taste. Craveability, in its most basic form, is driven by the desire to experience and enjoy flavor.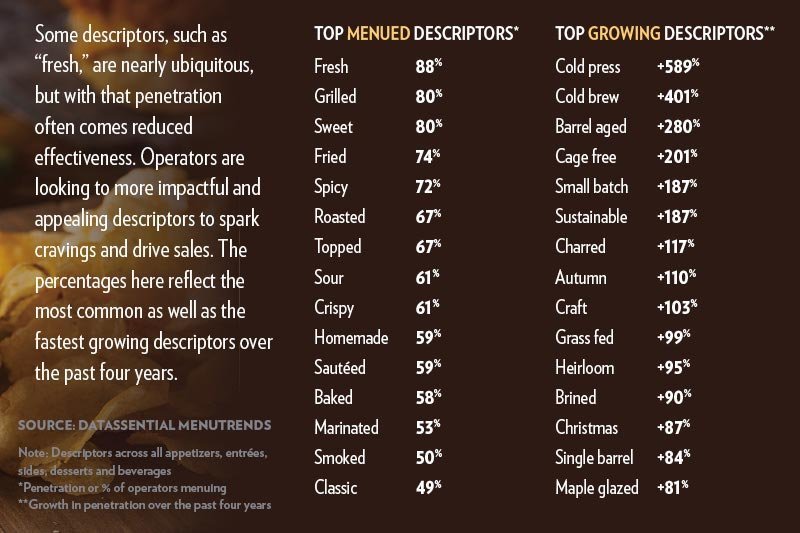 Beyond Flavor to Emotion
Modern consumers, particularly younger ones, have fully embraced a food-focused culture. The next wave includes experiences, which are beginning to go hand-in-hand with the food itself. So how does that play into this idea of craveability?
Beyond food, experiences create cravings. Athletes and thrill-seekers know that endorphins can be addicting in much the same way that fats and sugars can. Experiences involving food may, potentially, be even more so. But aside from the addictive powers of endorphins, they can create cravings by appealing to emotions, nostalgia, thrills, social interactions and even the rush of bragging to friends and family about experiences no one else has enjoyed.
Enter the "eatertainment" category, solidly working to capitalize on cravings through the combination of craveable foods and craveable experiences. If the two didn't work so well together, this category wouldn't be expanding at the rate at which it is. Just look at the expanding field of successful eatertainment places, like Punch Bowl Social, Top Golf, SPiN and iPic Theaters, to name a few.
Smaller experiences can also create cravings. Cold brewed, barrel aged, and French pressed all speak to food-focused experiences—but experiences that are craveable. Be it the scarcity, the "made for me" appeal, or the quality of the finished results, consumers now crave the idea of having something that isn't necessarily available to everyone else.
Cravings triggered by emotional appeal are increasingly used by restaurants. Slow braises in winter, comfort foods during hard economic times or descriptors that speak directly to emotional states—these may all create a craveability that goes well beyond the flavor of the food.
Decadence and Prudence… In Words
While craveability has often been associated with more indulgent offerings, modern consumers are increasingly craving more restrained or—dare we suggest it—healthier options. Where chips, fries, candy, and ice cream may have ruled the world of cravings previously, poke bowls and produce-forward dishes are just as likely to be craveable to today's consumer.
We've moved into a new world of eating behavior. If that wasn't true, then produce would not be playing the role it now is. Have we become a country that eschews meat for vegetables and now is more likely to crave salads over duck-fat fries? No, that's certainly not the case. But consumers have shown that high-protein or nutrient-dense options can be as craveable as caramelized onions and Death by Chocolate. Thanks to the veg-centric trend that promotes strategic flavor-building, carrots become an irresistible bar bite, maybe ember-roasted and glazed with harissa, then finished with dollops of burrata.
Consumers also now crave a lack of guilt when eating. For years, guilt has been woven into food experiences as the government and the healthcare industries worked to shift consumer behavior in an effort to positively impact the obesity epidemic. Consumers are tired of feeling guilt when eating. It has not necessarily shifted behavior back to an "I don't care, I'll eat what I want" mentality, but it has driven consumers to crave options that make them feel better about their choices.
This has helped usher in organic and the peripheral sustainability-oriented options that allow consumers to feel good about what they are eating. Wild-caught, grass-fed and foraged suggest health and sustainability, imply premium value and elevate positive feelings about the food we eat. Feeling good about what you order—that's craveable.
Craveability in Technicolor
Operators need to consider the impact of images. Digital menu boards, heightened online footprints, and the use of social media are all enhancing an operator's ability to communicate craveability visually to consumers. The use of photos and other visual craving indicators is the future of foodservice—particularly with a generation that relies less on text and more on pictures to communicate with each other.
Consider the visual impact of those produce-forward items. Color contributes to the craveability of food. Vibrant reds, greens, golds, oranges and purples can all create craveability through visual appeal as well as taste expectations and positive emotional connections. Think of the colors typically used for macarons or jewel-colored chocolate. If sugar alone was the key to craveability, operators wouldn't have to bother with colors to increase the items' appeal.
There's no doubt that competition is fierce in foodservice. Developing craveable menu items—and, ultimately, experiences—will help operators create a point of differentiation and a competitive advantage. Using craveability to drive trial can be the secret weapon for operators in all segments to develop deeper relationships with their patrons and inspire repeat visits.