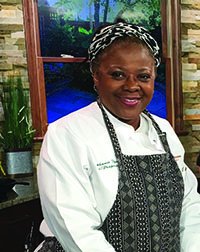 Stephanie L. Tyson knows soul food, spinning Southern favorites at Sweet Potatoes in Winston-Salem, N.C. Chef and co-owner, she's a North Carolina native who has written two cookbooks, Soul Food Odyssey and Well, Shut My Mouth, each celebrating Southern cooking.
Dishes at Sweet Potatoes include her Collard Green Dip with bacon and melted bleu cheese, served with toast points, and her Dirty Rice Salad, starring mixed greens, brown rice, mushrooms, peppers, quinoa, onions, pecans and dried cranberries, all tossed in a Texas Pete® vinaigrette.
Tyson's trifecta of milk chocolate, bourbon and CHA! by Texas Pete® Sriracha Sauce is unexpected, but certainly inviting.
"This is an adult hot chocolate with the sweet heat of Sriracha. Even though it's summer, I'd sit on an iceberg for a chance to sip this," she says.
Calling it "Hot Chocaracha," she says the drink is better with CHA! because it's not just heat—it's heat with flavor. "The CHA! by Texas Pete® finishes with spice and it's got a richer sweetness," says Tyson. "It boasts a little more complexity than the traditional Sriracha and it's not in-your-face heat. It's peppered with flavor."
The hot sauce is a good complement to the bourbon, matching its bold, rich flavor. "I used milk chocolate because it adds a bit of fat contrast," she says. "I liked the combination so much that I made a s'mores pie with that trio—while drinking my Hot Chocaracha."