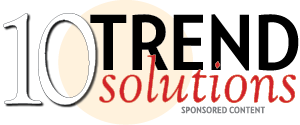 Recipe link for the Kalbi Kimchi Quesadilla-Taco in the featured image
There's so much innovation in the beloved taco, where chefs today maximize its popularity while bending it toward their particular brand's personality. Velvet Taco, a fast casual based in Dallas, is a great example, with mash-up offerings like Spicy Tikka Chicken demonstrating an "anything goes" approach to what goes inside the tortilla.
And today, more chefs are also playing with the texture and flavor of the tortilla element itself. Velvet Taco's Slow Roasted Angus Brisket Taco (barbacoa style, red chili mayo, avocado relish, queso blanco and micro cilantro) is a great example: the flour tortilla is encrusted in rich Comté cheese, lending both big flavor and crisp texture while standing out with a unique treatment.
At fast casual MV Grab & Go in Los Angeles, the "Frico Taco" sees a toasted disc of shredded cheddar topped with a cracked egg, which is then topped with a corn tortilla. It's then flipped, encouraging the cheese and egg to cook into the taco shell, giving it a crispy layer with the added bonus of a yolky texture. While taco fillings vary depending on customer choice, the star of the day is this unique taco carrier.
Although adding a cheese crust to a tortilla is an uncommon sighting here, in Mexico City, it's a typical treatment. Katy Smith, chef at Puesto, a Mexico City taqueria with three locations in Southern California, uses the technique for a number of tacos. Her Mushroom Taco sees garlic-braised seasonal mushrooms wrapped in crispy melted cheese, topped with stone fruit-jalapeño salsa, pickled onions and microgreens.
For this cheesy treatment, she cooks queso Oaxaca on a plancha until thin and crisp, adds the taco toppings to that cheese round, then lays the crispy cheese with its toppings onto the tortilla. "They do it in Mexico and it's so delicious, adding savoriness and great texture," she says.