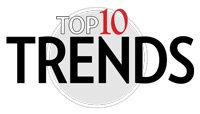 The interesting part about tracking a trend like Indian mash-ups is that the very nature of a mash-up gives it license to either make big, audacious moves or smaller, more subtle ones. In both the dessert and beverage categories, those subtle moves show up as a gentle touch, an easing in of flavor. The result is significant, offering delicious flavor discovery.
New York's Malai Ice Cream is helping demystify Indian flavors. It offers delicious varieties like Rose with Cinnamon Roasted Almonds and Masala Chai, with notes of ginger, cinnamon and black pepper.
Pooja Bavishi, founder of Malai, describes the Palm Sugar with Tamarind Caramel as "complex, but not complicated." That, in essence, lays down the pathway to successful menu translation of the Indian mash-up.
On The Menu: Sweet Mash-ups
Caramelized Banana Paratha with coconut crumble, mango mint cubes, cardamom ice cream
—Vermilion, Chicago
Apple Cobbler with chai caramel and cinnamon ice cream
—Scarlet Oak Tavern, Hingham, Mass.
Orange Cardamom Crème Brûlée with shortbread cookies
—Perch, Los Angeles
---
Read more about Indian Infusions
---