Greek yogurt offers a pleasing balance between acidity and richness to desserts, with just the right notes of fermented dairy.
Perfect Panna Cotta
Today's consumers respond to desserts that are both familiar and creative. This Almond Panna Cotta delivers the unmistakable texture of this Italian dessert, while updating it beautifully. "This recipe has vanilla and almond flavors to bring a sense of sweetness to it, but it's really all about the texture in this twist on a classic custard," says Jake Briere, Corporate Chef, Chobani® Foodservice.
"The best kind of panna cotta walks the line between being firmly set with enough gelatin, and loose enough to slide a spoon through easily. The Greek yogurt in this recipe helps achieve that ideal texture and provides a balance of flavor by adding a touch of acid, along with a creaminess from the fermented milk. Also, using Greek yogurt also allows us to remove some of the fat that comes with the heavy cream."
Panna cotta's somewhat neutral profile offers a great platform for flavor innovation. "One reason I enjoy panna cotta is that it is so welcoming to other flavor profiles—both sweet and savory," says Briere.
"Some flavor variations that would work well include mocha, coconut, and dark chocolate. One of my all-time favorite riffs is a savory roasted red beet panna cotta with fresh mint, orange zest, and a dash of good olive oil."
Get the full Almond Panna Cotta recipe
Greek Yogurt Icing
Leverage the health halo of Greek yogurt while giving your cupcakes, cakes or cookies a signature icing. Here's how:
Strain Chobani® Plain Greek Yogurt overnight to get a cream cheese consistency (what people typically refer to as labneh)
Beat this extra thick yogurt with powdered sugar and vanilla
TIP: If you can't stray away from your classic cream cheese frosting, start by replacing half the cream cheese with Greek yogurt, and see where that lands you.
Frozen Greek Yogurt On Trend
The opportunity for menu distinction here is great—offering a creamy, tangy soft serve with a number of fun, customizable syrups and toppings.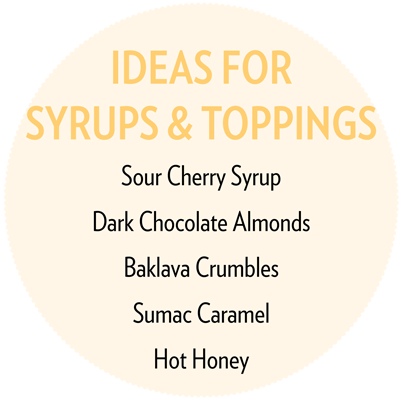 Gluten-free
Includes live & active cultures
Made with milk from cows not treated with hormones like rBST*
No artificial preservatives, sweeteners or ingredients
Only natural ingredients that are not genetically modified (non-GMO)
Three types of probiotics
Vegetarian and lactose friendly
*According to the FDA, no significant difference has been found between milk derived from rBST-treated and non-rBST-treated cows.