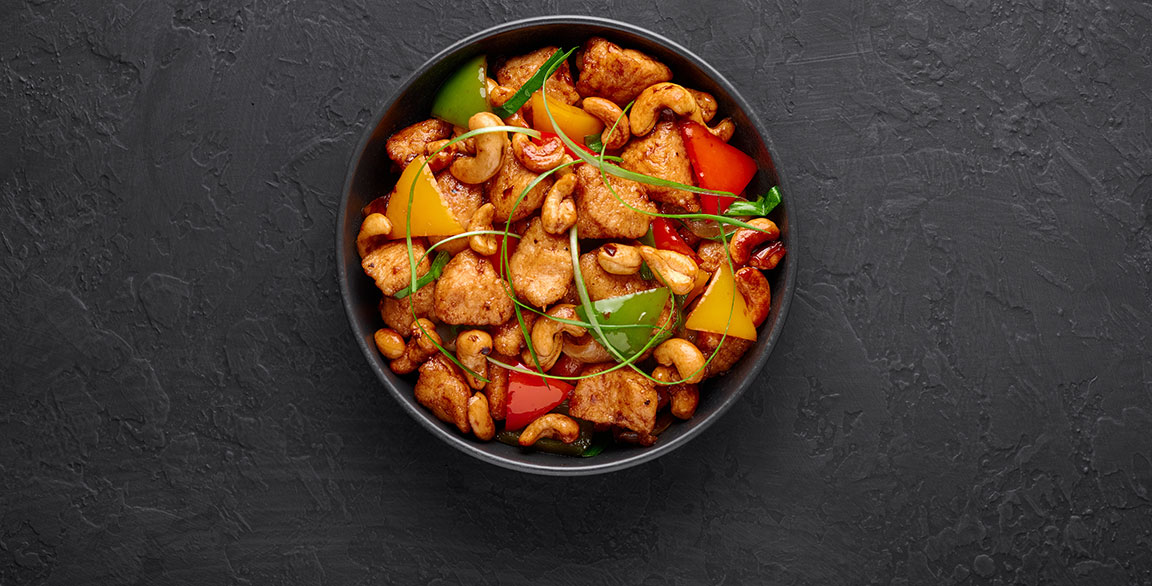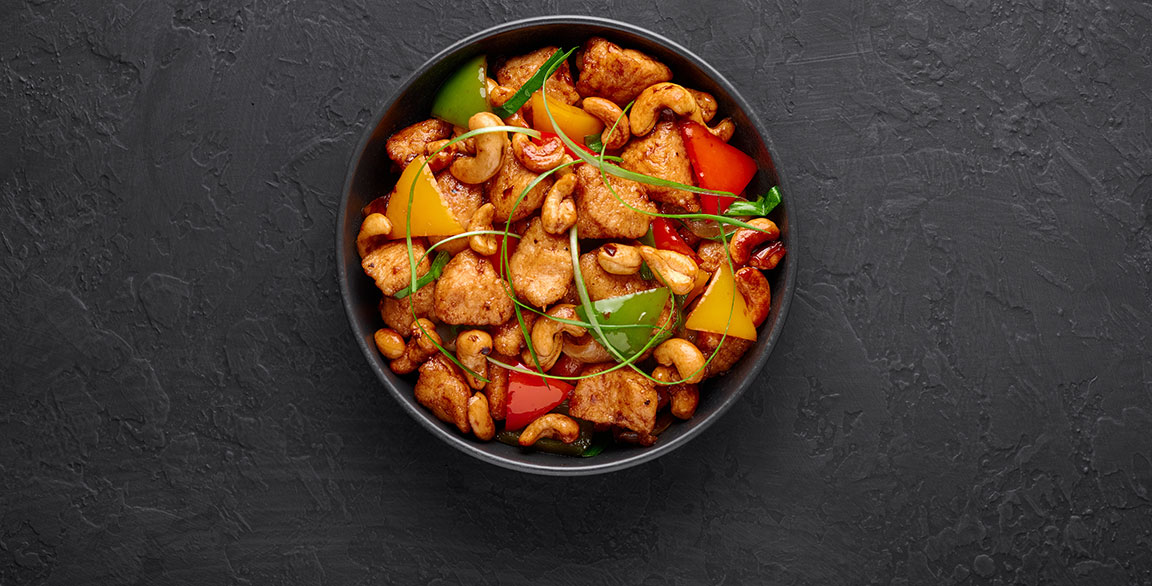 By Rob Corliss
February 17, 2021
Cashew Chicken is one of the Midwest's greatest contributions to Chinese-American food. In Springfield, Missouri, the dish is woven into the fabric of society. David Leong is credited as the originator back in 1963 at Leong's Tea House (now Leong's Asian Diner). Wing Leong, David's son and current executive chef/owner, summarizes the defining identity of this menu item as a representation of "comfort, prosperity and legacy."
The signature savory dish consists of chunks of crisp-fried chicken breast tossed in a rich, addictive gravy-like sauce of oyster sauce, soy sauce, chicken broth, cornstarch, sugar, ginger, sesame oil and pepper, then finished with halved cashews and sliced fresh scallions.
The potential for innovation is great, with just a subtle shift of the needle. In this case, switching out traditional stir-fried chicken for crisp-fried chicken proved to be a key element in differentiating textures; thus creating a dynamic and beloved dish. Layers of flavor and texture are achieved with only four components.
Here, we reimagine cashew chicken on current popular menu items, demonstrating the appeal and reach of Chinese-American food.
"TRY THIS"
Cashew Chicken Sandwich: Crisp-fried chicken breast topped with oyster sauce gravy and pickled scallion spears, served on a toasted sesame seed bun spread with cashew butter aïoli
Cashew Chicken Taco: Flour tortilla filled with a creamy napa cabbage-cashew slaw, topped with a crisp-fried chicken strip glazed in oyster sauce gravy, and finished with a sprinkle of sliced scallions and red pepper flakes
Cashew Chicken Bao: Steamed soft bun filled with classic cashew chicken (sauced/small-chopped), served with a hot pepper dipping sauce
Cashew Chicken Pot Pie: Savory classic cashew chicken (along with chunks of roasted potato) encased in baked flaky pot pie dough
Cashew Chicken Rice Bowl: Steamed jasmine rice topped with juicy bites of fried chicken breast, halved cashews, frizzled scallions, yellow bell pepper wedges, sweet pickled red onions, then drizzled with oyster sauce gravy
Cashew Chicken Chow Mein: Savory classic cashew chicken served atop stir-fried wheat noodles with onions/celery/cabbage
Cashew Chicken Flatbread: Pillowy flatbread slathered with oyster sauce gravy topped with chopped bites of fried chicken breast, melting Jack cheese, chopped cashews and sliced scallions
Cashew Chicken Omelette: Cheddar/Jack tri-fold omelette split open in the center then topped with classic cashew chicken and a sprinkle of sliced scallion