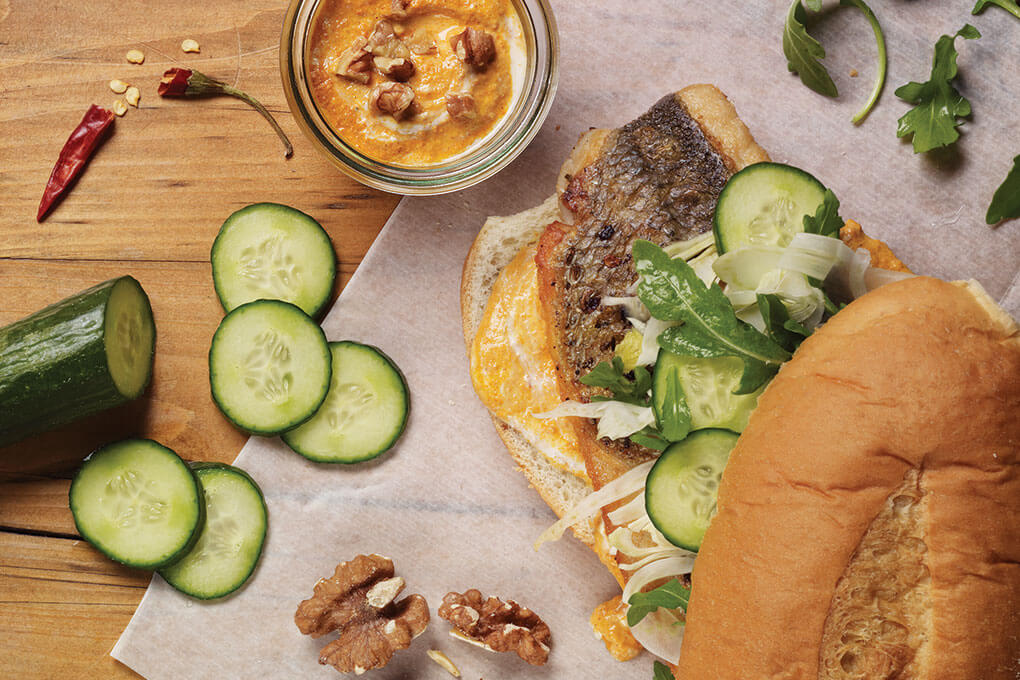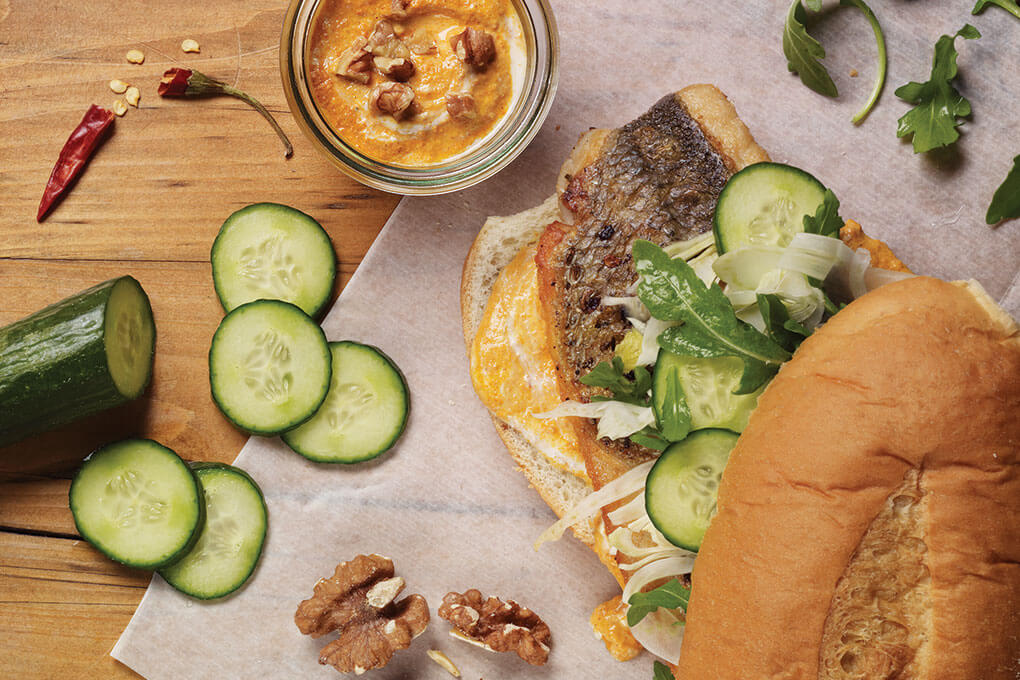 INGREDIENTS
Walnut Harissa (makes 1 2/3 cups)
6 hot to mild dried chilies like ancho chile de arbol, guajillo, or a blend
5 tablespoons neutral-flavored extra virgin olive oil or grapeseed oil
1 large garlic clove
2 teaspoons sweet paprika
1 1/2 teaspoons ground coriander
1/2 teaspoon cayenne pepper
1/2 teaspoon ground cumin
1 large carrot peeled and finely grated
1/2 cup finely chopped California walnuts
1 tablespoom fresh lemon juice
1/2 teaspoon sea salt plus to taste
2 roasted red peppers seeded
3/4 cup nonfat or low-fat Greek yogurt
For the Sandwiches
1 fresh whole-wheat baguette or 4 whole-wheat soft rolls, split
Melted unsalted butter for brushing
1/2 medium bulb fennel quartered and cored
Handful of sharp or spicy lettuce such as arugula or rocket
3 tablespoons extra-virgin olive oil
sea salt
Freshly ground black pepper
6 4-ounce black or striped bass fillets scaled and pin bones removed
1 teaspoon fennel seeds crushed
Hearty pinch of red pepper
1 medium cucumber, peeled and thinly sliced
INSTRUCTIONS
To make the Walnut Harissa: Place the chilies in a medium heat-proof bowl and pour over 1/2 cup/120 ml of boiling water. Set the chilies aside to steep until soft, about 30 minutes. Strain and reserve the water, and clean the chilies by cutting off the top and scraping out the seeds (or keep the seeds if you like it hot). Heat the olive oil in a small skillet over medium heat and add the garlic, paprika, coriander, cayenne, and cumin. Cook to toast the spices until fragrant, about 1 minute. Add the carrot and chopped walnuts and cook to soften, 1 minute more. Remove from the heat and set aside.
Add the chilies, 1 tablespoon of their steeping liquid, and the roasted red peppers to a blender or mini food processor and puree to make a paste. While running, slowly pour in the garlic, spices, and oil to thicken the paste. Taste and season with salt and lemon, adding a touch at first and the whole amount, as needed. Set aside 1 cup of the walnut harissa in an airtight container in the fridge. Stir the remaining harissa into the Greek yogurt and set aside for dressing the sandwiches.
To Make the Sandwiches: Preheat the broiler to high. Brush the cut sides of your bread with melted butter and set aside to broil just before you build your sandwich.
Slice the fennel as thinly as possible with a sharp knife or mandolin. Toss the lettuce and sliced fennel with 1 tablespoon of the olive oil in a bowl and sprinkle with salt and freshly ground pepper. Set aside.
Lay the fish fillets on a cutting board lined with parchment, skin up. Pinch the skin lightly and score it diagonally about 1/4 inch deep with a thin, sharp knife. Repeat about 6 times across the skin of the fish, which helps the flesh to cook evenly and keeps it from curling up in the pan. Sprinkle the fish on both sides with salt, pepper, fennel seeds, and red pepper flakes.
Heat 2 tablespoons of the oil in your largest nonstick skillet over medium-high heat. Add the fish, skin-side down, and cook until the skin is golden and crisp, about 4 minutes. Meanwhile, pop your bread under the broiler for a few minutes until crisp and golden. Using a flexible metal or fish spatula, gently turn the fish over and cook the flesh side until just cooked through, about 1 minute more. Remove from the pan and set on a plate.
To assemble the sandwiches, spread cut side of the bread with Walnut Harissa and layer on the fish, fennel salad, and cucumber slices. Serve warm or at room temperature.