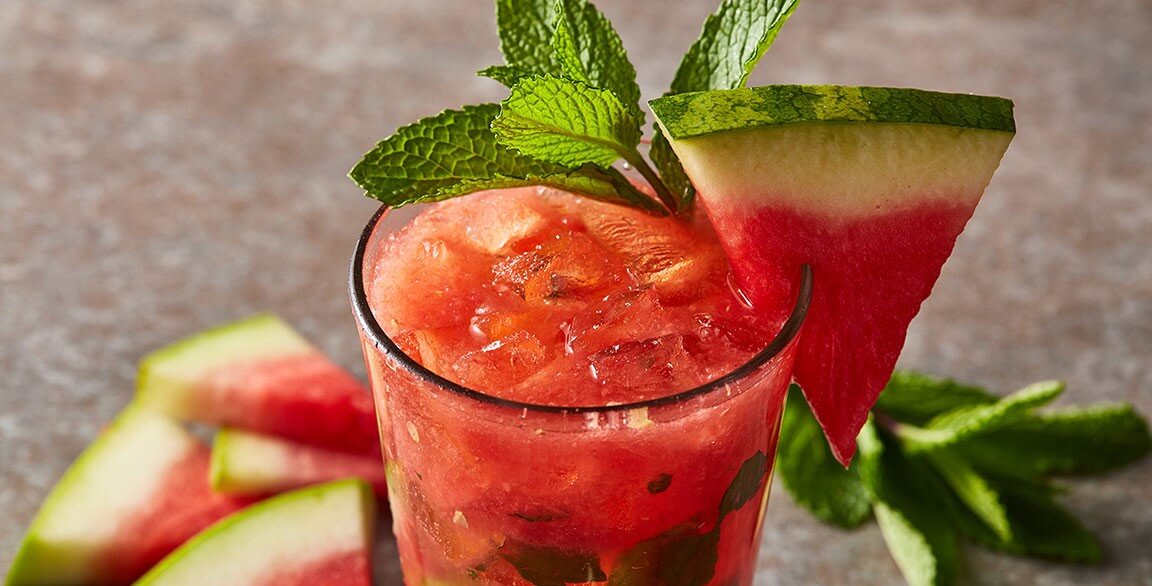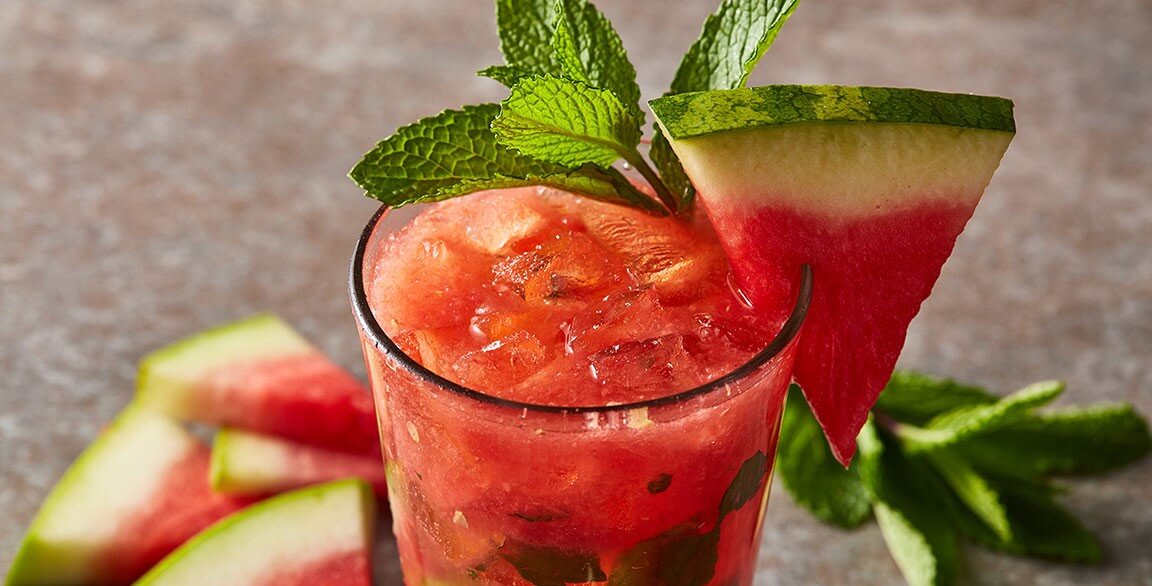 Smoky Mezcal Watermelon Mojito
Recipe courtesy of Chef Justin Fields
Sponsor: National Watermelon Promotion Board
Servings: 1
Ingredients
Watermelon Simple Syrup:
1 cup Watermelon purée
1 cup Sugar
1 cup Water
Watermelon Garnish:
1 ea. Mini seedless Watermelon
As needed Chile spice (Tajín or any other chile spice mixture)
Cocktail:
1 ea. Lime wedge, halved
10 ea. Mint leaves
¼ cup Watermelon Simple Syrup
¼ cup Watermelon scraps (from cutting garnish)
As needed Ice
1 ½ fl oz White rum
1 fl oz Mezcal, preferably Del Maguey Vida
As needed Soda water
1 ea. Mint sprig
1 ea. Mini Watermelon wedge
Directions
For the Watermelon Simple Syrup: Place all ingredients in a sauce pot. Bring to a boil, then simmer for 6 minutes.
Strain into container and cool in refrigerator.
For the Watermelon Garnish: Cut a ½-in-thick slice from the center of the watermelon.
Cut a wedge out of the round, approximately ¼ of the round. Push one cut side of watermelon wedge into the chile spice to coat.
Keep refrigerated.
For the Cocktail: In a tall glass, add the lime wedges, mint leaves, Watermelon Simple Syrup and watermelon scraps.
Muddle the glass contents until thoroughly mashed, approximately 1 minute.
Add ice to the top of the glass. Pour the rum and mezcal over the ice. Top off with soda water and stir.
Garnish with the mint sprig, watermelon wedge garnish, and a straw.
Chef Notes
This can be made in a large batch form for multiple servings.
Project Management: Summit F&B
Photography: Carlos Garcia // Food Styling: Peg Blackley & Bree Williams