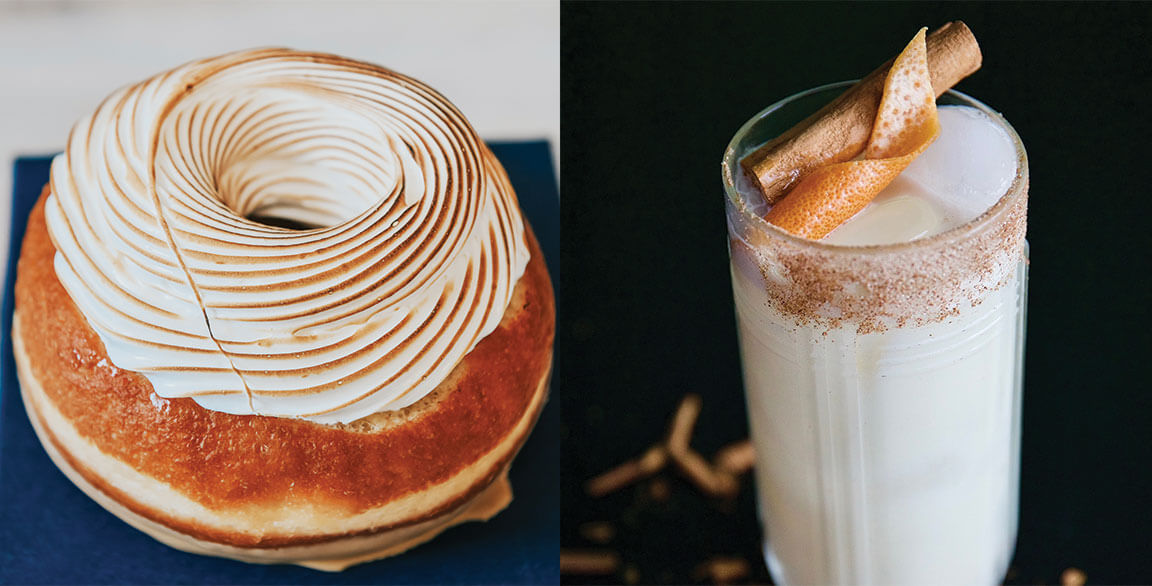 By Maeve Webster
December 27, 2021
For years now, consumers have demonstrated a greater willingness to experiment with beverages than nearly any other area of the menu. This category offers a safe and approachable introduction into a world of flavors that otherwise may be daunting to risk-averse diners. Lower costs, manageable portion sizes and a growing array of unique flavors and ingredients make beverages an ideal place for bold menu moves.
One of the quickest roads to successful flavor introductions is through global cuisines that your diners already feel connected to. Mexico serves up familiar territory with fertile ground. Enter horchata, the creamy beverage from south of the border that is gaining influence and making an impact on everything from nonalcoholic drinks and cocktails to pastries, snacks and desserts.
While retail applications can't be credited as a direct source of horchata's immense popularity, the beverage certainly has benefited from segment trends, most notably the proliferation of plant-based "milks." Growth in this category has opened new pathways for introducing horchata beyond the communities in which it enjoys cultural familiarity. Horchata is perfectly positioned to push expected boundaries and break out.
Appeal "Horchata is a common language between my Cambodian background and the Mexican culture we are so close to in Houston. It is immediately approachable."

Application "Horchata pairs well with the caramel tones and sugars in coffee. But we're working with toasted rice in general because it plays off of the sour, savory flavor profiles that are prevalent in Cambodian cuisine. Toasting rice, then grinding it into flour allows us to really play with what it is, what it can do and how we can use horchata in a number of different applications."

VANARIN KUCH, Pastry Chef/Owner, Koffeteria, Houston
Manipulating The Building Blocks
The original horchata traces back to Valencia, Spain, and used tiger nuts as a base to create one of the first recognized plant-based "milks." The variation gaining traction with U.S. consumers hails from Mexico, where tiger nuts were replaced with a "milk" created by soaking rice instead. Add sugar, cinnamon and, sometimes, vanilla, and you have a flavor profile with craveable bona fides.
But the simplicity of horchata obscures the degree to which a menu developer can control the flavor, making it something unique, ownable and appropriate across a variety of applications. What happens if the rice is toasted or smoked? How does the flavor profile change if the type or amount of sweetener is adjusted, or the cinnamon level is altered? Should vanilla—or other flavors—play a role? There's a lot of latitude for distinctive tinkering of the original without breaching the authenticity of horchata.
As with many other beverages, horchata is enjoying steady growth in both retail and foodservice, creating a parallel trend path, instead of one segment pulling it through the other. Ready-to-drink horchata options are being introduced in retail at a similar rate to the growth of horchata appearing on menus nationwide. Based on information from Datassential, horchata still has modest menu penetration, currently menued by less than 4 percent of restaurants, but its growth rate is impressive, up 22 percent in the last four years and with a projected growth of 10 percent over the next four years.
Horchata offers forward-leaning operators an opportunity to leverage a fast-moving trend before it becomes ubiquitous. At the same time, the customization potential of horchata allows early adopters to "own" a flavor with strong likeability and growth potential to match.
More Beverage Play
The most common application of horchata is in a nonalcoholic beverage. Many of today's horchata menu mentions are traditional variations on the original recipe or Mexican iteration. But some are using horchata as a jumping-off point for drinks that leverage other popular ingredients. Horchata as a base for unique hot and cold coffee offerings is a growing trend at coffee shops. Customers in the know can even order the Horchata Frappuccino as a secret menu item at Starbucks.
Horchata also can be featured in a broader category of beverages that is capitalizing on growing demand for plant "milks," using those as the base, with additional seasonings and sweeteners. At China Chilcano in Washington, D.C., a Peruvian twist on horchata features quinoa, almond "milk" and cinnamon. In fact, expanding the definition of horchata is a tactic that some operators are employing as a means to build on its inherent acceptability while leveraging the favorite ingredients of different cuisines, thus creating new culturally resonant horchata options.
With many non-alc beverages at play, the alcoholic iteration is rarely far behind. RumChata has been on the market for years, but mixologists are moving beyond ready-to-drink brands and crafting their own horchata-inspired cocktails. At Mesa in Dallas, the Mesa Horchata stars vanilla- and cinnamon-infused rum and housemade horchata water.
Appeal "Horchata is a very specific taste that we think anyone can pick up on immediately. But there's a very specific way to make horchata, and if you're not honoring that, then why do it at all?"

Application "Our horchata doughnut is inspired by and pays homage to our White Chocolate-Tres Leches doughnut, which was a major hit. So, it's important to us to keep this staple, but to change the flavors to complement different varieties. Horchata as a drink itself is amazing, and we definitely have other ideas to incorporate this flavor into different doughnuts or even lattes."

KAE ROFFMAN, Marketing Manager, The Salty Donut, locations in Florida and Texas
Beyond The Beverage
Although horchata is relatively new to the American market, there is already a great deal of flavor innovation in play. Menu developers can look at horchata as a flavor system that can be used as a base or inspiration for menu items well beyond the beverage category.
Dairy-based desserts may be the first opportunity in the pipeline. Horchata-flavor ice creams and shakes are now available in both restaurants and at retail. Mexican coastal restaurant Caracol in Houston takes it a step further with its Flan de Horchata, featuring Mexican cinnamon and rice flan, salted-caramel "rice crispy," toasted rice-Chantilly cream and caramel. At the American-Vietnamese concept Black Sheep in Las Vegas, horchata adds an eclectic touch to the crème brûlée, topped with ice cream and candied rice puffs.
There's no reason to limit horchata to the dairy-based dessert section, either. The Salty Donut, with shops in Florida and Texas, menus a Horchata doughnut at its Dallas location. This brioche-based doughnut is soaked for 24 hours in a housemade horchata, then finished with a Valrhona Caramelia chocolate-crusted bottom and a torched cinnamon meringue top.
Vanarin Kuch, chef/owner of Koffeteria in Houston, offers the Smoked Horchata Roll. It's made with house-toasted rice that's ground into flour and combined with Ceylon cinnamon and smoked salt to round out a complex pastry that marries Kuch's Cambodian background with Houston's Mexican cultural ties.
Whether horchata appeals to an operator as a beverage-specific opportunity or a flavor system ripe for experimentation, it is undeniably a profile that is ready for serious growth and exciting innovation.
Appeal "As consumers become more aware of and familiar with foods all across Mexico, this is a classic drink with regional variations. Additionally, the agua fresca movement taps into the demand for simple and delicious. Finally, dairy alternatives are popular and horchata's use of rice 'milk' could open it up to new consumers."

Application "Classic flavors of horchata can make a fantastic dessert like rice pudding, tres leches or a creamy ice cream paired with a freshly baked cinnamon-dusted churro. The same ingredients can make an aromatic and creamy foam on top of any type of dish or cocktail. But to really explore new boundaries, you could experiment with different rice varieties for texture and flavor, play with mixing different types of waters and milk alternatives, incorporate a range of spices, or mix these flavors into new cocktails."

TONY PEREYRA, Bar and Beverage Specialist, The Spirits in Motion, based in Los Angeles
Menu Sightings
Apple Pie Horchata: Howling Moon Apple Pie Moonshine, Kahlúa, cinnamon and cream
—Pack's Tavern, Asheville, N.C.
Fresa Horchata with a Nutella rim, mazapán and fresh strawberries
—Maya's Snack Bar, Brooklyn, N.Y.
Lotta Horchata Doughnut with a horchata-custard filling and a cinnamon-sugar shell
—Voodoo Doughnuts, based in Portland, Ore.
Horchata Ice Cream: Vanilla bean ice cream, housemade horchata syrup, Rice Krispies and almonds
—Dirt Dog, based in Los Angeles
Horchata Macaron
—Sweet Bee Bakehouse, Pearland, Texas
Snickerdudette: Horchata snickerdoodle with cinnamon, covered in a brown rice-milk glaze
—RubySnap, based in Salt Lake City