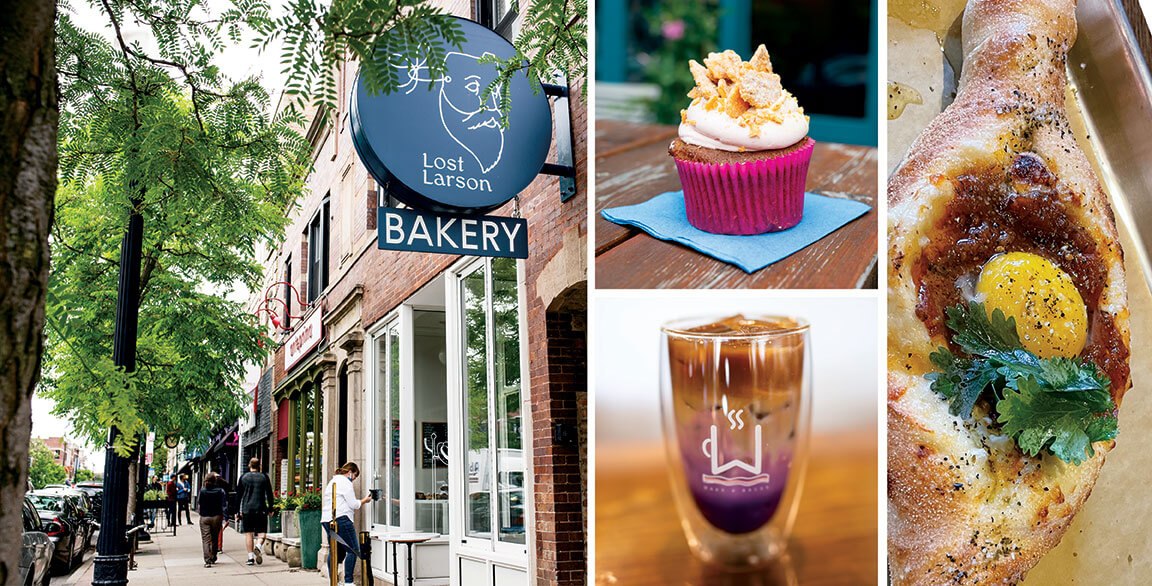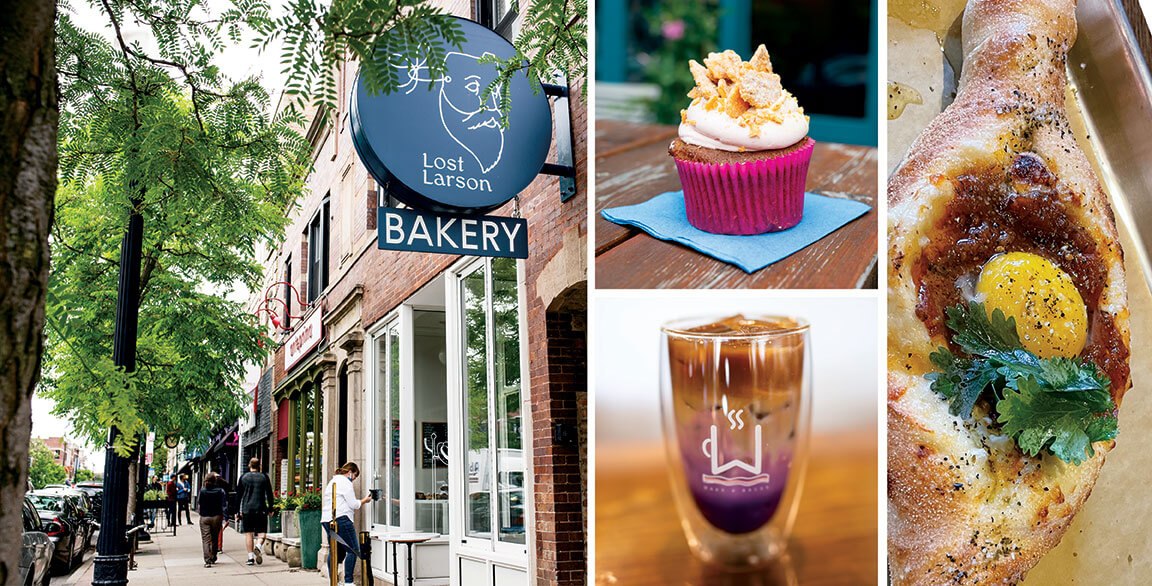 By Nick Gonring
September 20, 2021
When we were finally given the green light to return to doing street-level research in Chicago, dining rooms were shifting from a 50 percent occupancy to 75 percent, signaling a hopeful turning point for foodservice operators.
People yearning for delicious, chef-prepared meals and restaurant hospitality ventured out of their homes. Chicago was back, rebounding with a resonant energy that manifested itself in new foods, flavors and culinary creativity. The resiliency of the city's chefs, restaurateurs and staff has been downright inspiring, rekindling excitement and passion for pushing forward, despite challenges, and delivering innovative dining experiences.
And so we visited 32 newly opened Chicago restaurants and tasted 279 dishes over the course of five days, uncovering menu opportunities through welcome gastronomic research.
Savory Pastries: Endless Opportunities
More than a decade ago, the Compost Cookie first hit the counter at Christina Tosi's original Milk Bar location in Manhattan's East Village. A true culinary mold breaker, the now-classic cookie's clever name and its savory stir-ins of pretzels, coffee and potato chips caught everyone's attention and didn't let go. Its success was built on the novelty of a deliciously whimsical departure from what was classically expected and accepted in mainstream baking.
Chicago-area chefs may be taking a page from the Tosi playbook as they produce savory pastries with unique combinations of flavor and texture that turn heads and please palates. These baked goods look familiar, with sweet and salty narratives that tug at the heartstrings of consumers seeking comfort food, but they have been reimagined to feature savory ingredients like cheeses, cured meats, spices and global pantry staples. Complex and craveable, these iterations have been enthusiastically embraced by diners throughout different dayparts, stretching from brunch to late-night dessert.
At Kasama in Chicago's Ukrainian Village neighborhood, Genie Kwon, chef/owner, offers a Ham and Cheese Danish, a rectangular laminated pastry filled with melted raclette cheese, an exterior brushed with a black pepper-caramel glaze and a mound of cured Serrano ham shavings to finish. Also on the menu is an irresistible Black Truffle Croissant filled with a Délice de Bourgogne cheese and truffle cream, and then topped with shaved summer truffles and honey.
Just a few blocks west, Ursula Siker, chef and owner of the new Jewish deli concept Jeff & Judes, serves up a variety of rotating savory knishes, including a Sweet Potato and Pimento version and a hamantaschen, a triangular shaped cookie made savory with a filling of red onions and dill cream cheese and crusted with everything spice. My favorite was the Potato & Kale Knish: a perfectly portable package filled with mashed redskin potatoes and Old Style beer-braised kale, topped with sesame seeds and casually served with a few mustard packets.
On Restaurant Row in the West Loop, Stephanie Izard has unveiled her newest concept: Sugargoat, offering a number of bright and unique pastries and baked goods. Izard's cupcakes incorporate popular branded snack foods that take one back to childhood, such as her Cheez-It Cupcake, a cheddar cheese-flavored cake topped with strawberry Nesquik buttercream and peanut butter-Cheez-It crumbles. Another flavor standout was her Strawberry-Tahini Cupcake, featuring a tahini-flavored cake base filled with strawberry-sumac jam, topped with rosettes of tahini buttercream and garnished with dried strawberries and toasted sesame seeds.
Former Grace pastry chef Bobby Schaffer opened a second location of his wildly popular Nordic café Lost Larson in Chicago's Wicker Park neighborhood. The menu, inspired by Schaffer's Swedish heritage, is studded with unique savory offerings, such as a Rye Scone with almonds and dried cherries, a Chocolate Chip-Spelt Cookie, a Spinach and Feta Cheese Danish and Croissants filled with aged smoked ham and sharp cheddar cheese.
Bread Boats From The Black Sea
Khachapuri, the national dish of the country of Georgia, has been making its way onto menus across the U.S. in recent years, with chefs here interpreting its classic form in signature ways. It is traditionally made by stretching leavened bread dough into a canoe or football shape. A well in the center of the dough is filled with shredded mozzarella cheese, and as it bakes, a thick chewy crust keeps the melted cheese in place. It's finished with an egg yolk on top to stir in. This Georgian cheese bread offers a first-to-market menu opportunity that feels instantly familiar to American diners raised on such shared classics as pizza, cheesy breadsticks and bread bowls.
In Turkey, Georgia's neighbor to the south, a similar bread boat called pide is made in communities along the coast of the Black Sea. The main difference between khachapuri and pide is that the Turkish version features multiple toppings and fillings, often including various types of beef salamis. One regional iteration hails from the city of Trabzon, which is famous for its circular pide, reminiscent of pizza.
At modern Israeli restaurant Fiya, in Chicago's Andersonville neighborhood, a large wood-burning oven is key to taking the khachapuri to a new level. Liad Rozgovich, chef, created the Shakshuka Khachapuri as a genius take on the familiar brunch staple: a thick, flame-kissed crust holding a pool of melted cheese and stewed shakshuka tomato sauce, with a soft egg yolk providing a rich stir-in finish. Also on the menu is a unique, first-time find: Rozgovich's signature Kofta en Croute, lamb meatballs in a spicy red pepper sauce encased in pita dough that bakes into a puffy, hollow sphere.
Head south to the Lakeview neighborhood to check out Turkish halal street food at Turkitch, which handcrafts several signature versions of pide. Its Beef Kavurma is made with a hand-crimped crust that's brushed with butter before baking and is generously topped with halal soujouk (a dried Turkish beef pepperoni) and hard salami. Turkitch's Trabson Pidesi is a craveable circular cheese boat layered with red pepper sauce, za'atar and shredded mozzarella cheese mixed with egg yolks.
Modern Mediterranean Mezze
Chicago research led us to nine new concepts featuring cuisines in the Mediterranean basin, providing fresh insights into the flavorful dishes of Spain, Italy, Croatia, Greece and Israel. Among the most eye-opening were the many new contemporary Greek concepts that have recently taken Chicago by storm.
Most diners would expect to see mezze paired with customary dips and spreads like hummus, baba ghanouj, labneh and spicy whipped feta, but chefs are moving beyond these mainstream offerings, opting to position exciting new combinations that are unexpected and loaded with flavor.
In Logan Square, Andros Taverna sets the bar high with modern riffs on classic Greek cuisine. Doug Psaltis, chef, is inspired by Greece's cosmopolitan taverns, and each of his mezze dishes features a clever twist. His Crispy Kataifi Cheese Pie sports a crackling puck of shredded phyllo, layered with barrel-brined feta, crunchy pistachio granules and a drizzle of honey. This unique mezze is simultaneously light, crisp, sweet and savory. Braised Artichokes are bathed in a citrusy avgolemono (egg-lemon broth) and Psaltis' Latheros is a flavorful version of the classic Greek vegetable dish, starring spring peas braised in an herbed tomato sauce blended with olive oil.
A favorite was the Lemon Potatoes, prepared traditionally by oven-roasting with garlic, oregano and olive oil, but using B-size potatoes sliced Hasselback style. The result is a unique presentation and a compelling crispy-tender textural contrast.
At Stephen Gillanders' highly anticipated sophomore concept Apolonia, in Chicago's South Loop, at least half of the menu is dedicated to Med-inspired shareables. The classic Italian shaved salad Pinzimonio becomes an umami bomb, thanks to the additions of a bagna càuda dressing and shavings of lardo. Sourdough Puff Bread is baked, then pan fried, topped with a blizzard of truffle and Parmesan shavings and crisply fried parsley.
Perhaps most innovative is the shared plate of Toothpick Lamb, a brilliant rendition inspired by the classic Sichuan dish, but featuring traditional lamb souvlaki flavors. Lamb steak tips are individually picked, tossed with Greek seasoning, chargrilled and served in a pool of tzatziki sauce.
Taramasalata is a mezze on the move, regularly popping up at Mediterranean-inspired restaurants across the country. A mixture of just four whipped together ingredients—cod roe, breadcrumbs, lemon juice and olive oil—this craveable dip boasts a complexity of flavor similar to other umami-rich condiments, such as the anchovy-based bagna càuda or the creamy tuna conserva spread tonnato. What makes taramasalata an up-and-comer are the signature spins chefs create by using different fish roes, oils, starches, aromatics and acidic juices.
Chris Pandel, executive chef of Mediterranean concept Cira, serves a standout. His Smoked Mackerel Taramasalata incorporates smoked fish instead of cod roe, whipped potatoes in place of bread, and both chopped chives and scallions, which provide a double-dose of aromatic depth.
At Avli on the Park, in Chicago's Loop, Nikolaos Kapernaros, executive chef, serves taramasalata as part of Pikilia, a four-dip tasting plate that also features a housemade tzatziki, chickpea hummus and the classic spicy Greek feta cheese spread tirokafteri. Doug Psaltis' signature version at Andros Taverna is enhanced with puréed garlic, mustard and welcome garnishes of trout roe and lemon zest.
Filipino Hits Its Stride
Gerry Ludwig, former corporate consulting chef with Gordon Food Service, and I had concluded our 2020 street-level research in New York, Los Angeles and Chicago just prior to the pandemic outbreak. One of our biggest takeaways then was the marked rise in new Filipino restaurant openings across the three cities, a trend that continues to move into the mainstream in Chicago. Chefs are mashing up Filipino flavors with American comfort foods, pulling Filipino ingredients into a range of dishes throughout the dayparts.
At Wake 'n Bacon in Lakeview, husband-and-wife culinary team Gabriel and Sara Ayala offer a globally inspired brunch menu that weaves in clever Filipino twists. Their Adobo Philly Dip is stuffed with pulled chicken basted in a house adobo marinade and topped with melted provolone cheese, griddled onions and roasted peppers, accompanied by a hearty side cup of adobo jus for dunking.
Ube, a purple yam common in Filipino cuisine, gets top billing in the Ube Flapjack Stack. The purple yam batter yields enormous, violet-hued pancakes, which are served with two sunny-side-up eggs, melted cheddar, spiced maple syrup and a housemade "tocino-style" smoked bacon. Although tocino classically comes from Spain, many Filipinos have adopted it as their own, using annatto paste during the curing process to turn the bacon a wonderfully bold red.
Guests can also treat themselves to the Purple Haze, an iced latte that's built with an ube base on the bottom of the glass followed by a layer of oat "milk" and topped with cold-brew coffee. This layering treatment gives the drink its eponymous hazy purple glow.
Kasama wowed with more than its unique brunch takes. The Kasama Combo Sandwich, a playful take on Chicago's legendary Italian beef sandwich, is loaded with pork adobo, Filipino sausage longaniza and spicy giardiniera, all bathed in a ladle of warm adobo jus. Its Filipino Breakfast Bowl is a hearty combination of longaniza and house-cured barbecue tocino, served alongside white sticky rice, a sunny-side egg and a nest of the pickled papaya and carrot salad known as atchara. Calamansi, a small citrus fruit native to the Philippines, elevates Kasama's Calamansi Lemonade with hints of tangerine, lime and floral notes.
In Chicago's Loop, Joseph Fontelera, chef/owner of Boonie Foods in the Revival Food Hall, serves an array of delicious Filipino snacks, entrées and fried rice bowls, but his mashed-up Boonie Bomb Tacos impressed the most. The Sisig Bomb Tacos feature caramelized pork, a cherry tomato salad, cilantro and a runny egg, while the Talong Bomb Tacos are filled with charred eggplant, mushroom adobo salad, pickled papaya, hard-scrambled egg and barbecue sauce. As a flavor bonus, all are served with Calamansi-Adobo Sauce for dipping.
Street-level research not only tracks flavor play in America's top trend-driving cities, it offers a wonderful opportunity to discover and showcase the creativity, dedication and tenacity of chefs, cooks and restaurateurs who strive to excel in the business of flavor. This most recent, inspiring research trip was a positive indicator that the foodservice industry is firmly on the road to recovery. Great days surely lie ahead.