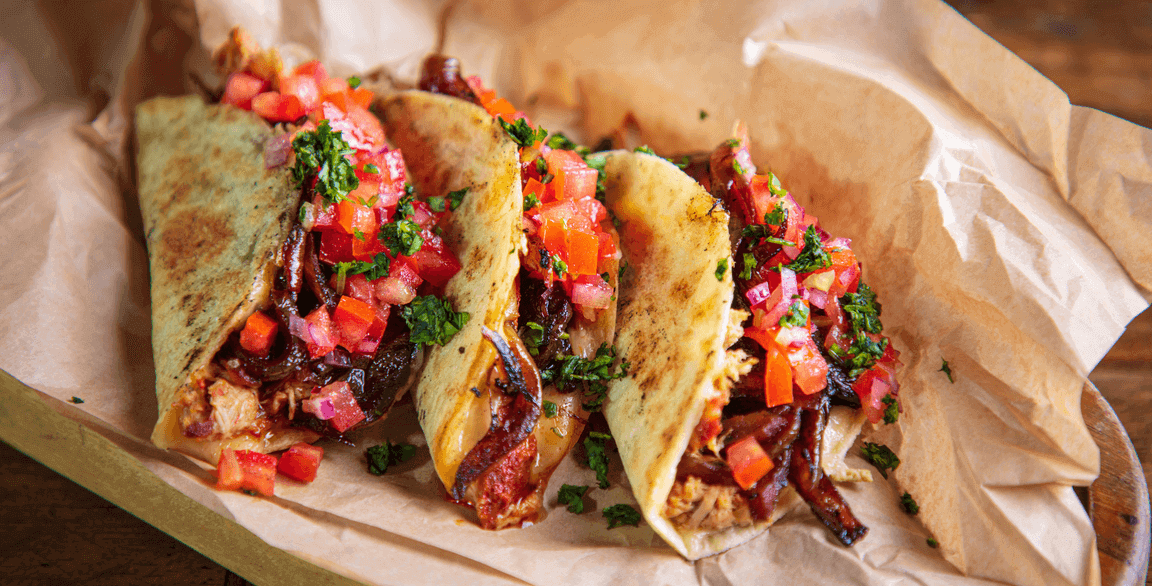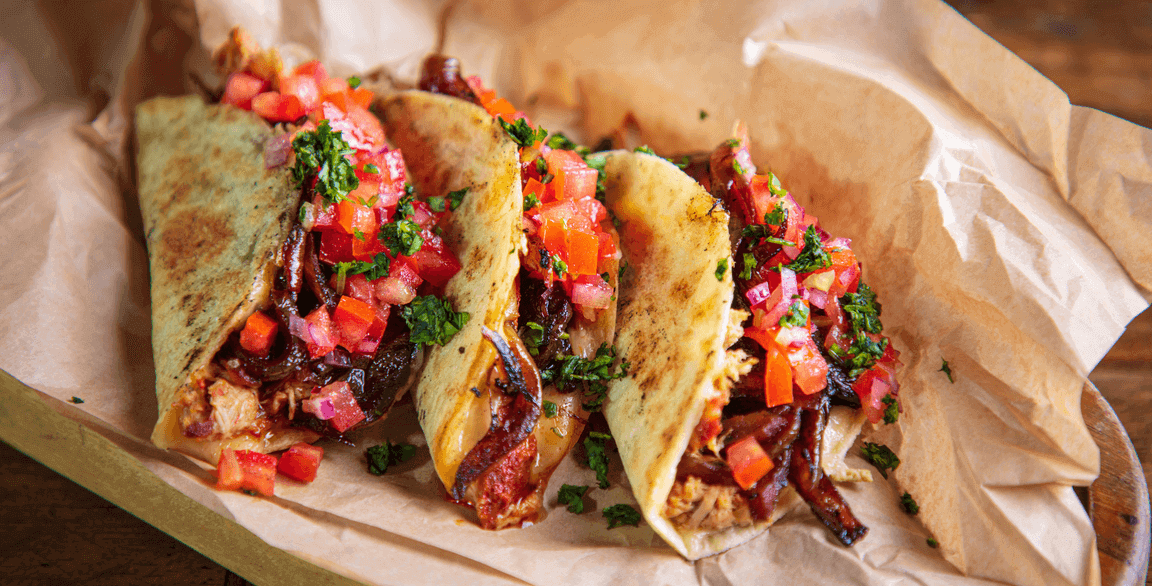 Flavorful salsas can introduce patrons to the flavors of Mexico or simply serve as punchy, vibrant condiments for any number of menu items. Silky, sauce-like or chunky, salsa is an experiential element that can go in endless flavor directions. There are ubiquitous foods ever connected to salsa, but it can easily take on non-Mexican ingredients or even leap outside of Mexican cuisine, imparting flavor and panache to global favorites.
Here are six on-trend salsa profiles: three classics and three to watch—all with contemporary variations that serve up menu excitement.
1

Pico de Gallo – Bright and fresh mix of chopped tomato, jalapeño, onion, lime juice and cilantro
Contemporary variations include adding:
heirloom tomatoes
huitlacoche
watermelon radish
Urfa chile flakes
dry jerk spice
smoked pineapple
fresh peaches
tamarind
TRY THIS
Georgia Summer Taco: white corn tortillas + fried pork tenderloin + creamy pecan slaw + peach pico de gallo
2

Salsa Ranchera – Thick and chunky mix of roasted tomato, poblano, jalapeño, onion, garlic, oil, chicken broth and spices.
Contemporary variations include adding:
smoking the tomatoes
swapping black garlic for garlic
swapping beef broth for chicken broth
adding achiote, Aleppo chile or Worcestershire sauce
TRY THIS
Ranchera Beef Spud: baked potato + beef pot roast chunks + ranchera salsa (beef broth, Worcestershire) + crema + pepper Jack cheese
3

Salsa Verde – Smooth blend of tomatillo, poblano, onion, garlic, lime, cilantro and spices
Contemporary variations include adding:
using a combination of raw, stewed or char-grilled blackened tomatillos
adding banana peppers, nopales, pepitas or chipotle
combining with Thai coconut milk or crema and chicken broth
TRY THIS
Calypso Pork: pork loin + pepita salsa verde (Thai coconut milk) + jasmine rice + black beans
4

Salsa Macha – Semi-coarse and slightly spicy blend of chiles, peanuts, garlic, sesame, oil and (sometimes) vinegar
Contemporary variations include adding:
swapping spicier chiles for mild
swapping cashews or almonds for peanuts
adding cinnamon, cacao nibs or sunflower seeds
TRY THIS
K-Pop Beef: Korean barbecue ground beef + kimchi fried rice + salsa macha
5

Guacachile – Green, bright, tangy and creamy blend of Serrano chiles, onion, garlic, lime and oil.
Contemporary variations include adding:
using avocado oil
adding fresh mint, Tajín seasoning, togarashi, turmeric, mustard seed, mango juice, crema or fresh avocado
TRY THIS
Carnitas Chilaquiles Verde: fried tortillas + guacachile + carnitas + panela cheese shavings
6

Drunken Salsa: A smooth, liquid blend of tomatoes, chiles, garlic, onion, Mexican beer, orange juice, vinegar and cilantro
Contemporary variations include adding:
using tomatillos
swapping tequila for Mexican beer
swapping blood orange rind/juice reduction for orange juice
adding honey or habanero
TRY THIS
Mexican Pub Steak: seared beef ribeye steak + drunken salsa + fried onion rings
FEATURED RECIPE
GET THE RECIPE FOR CHORIZO BREAKFAST BOWL