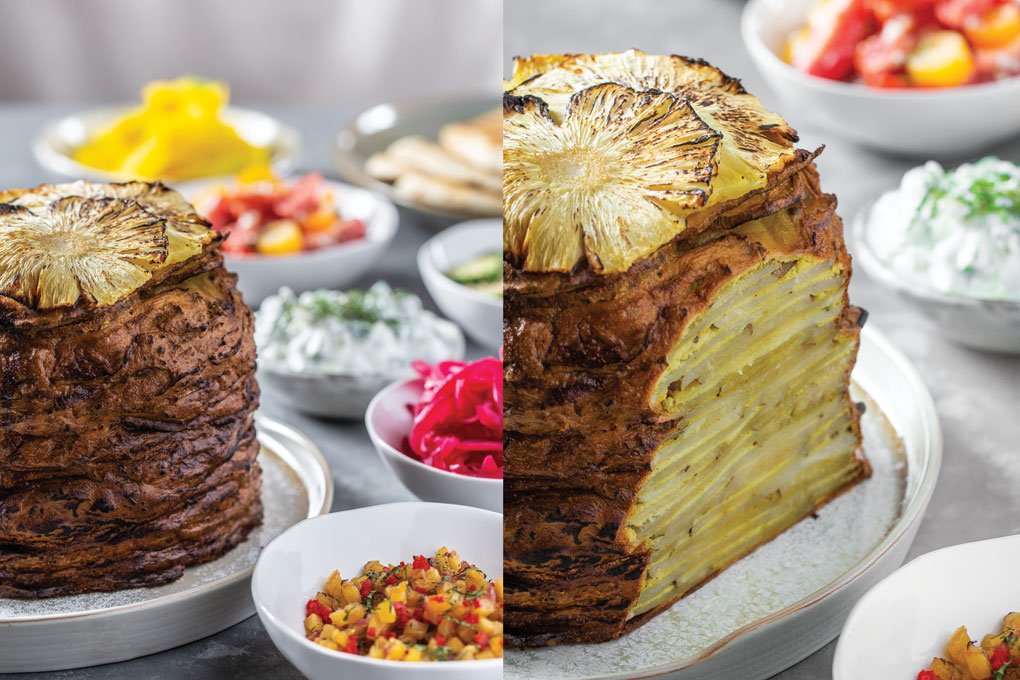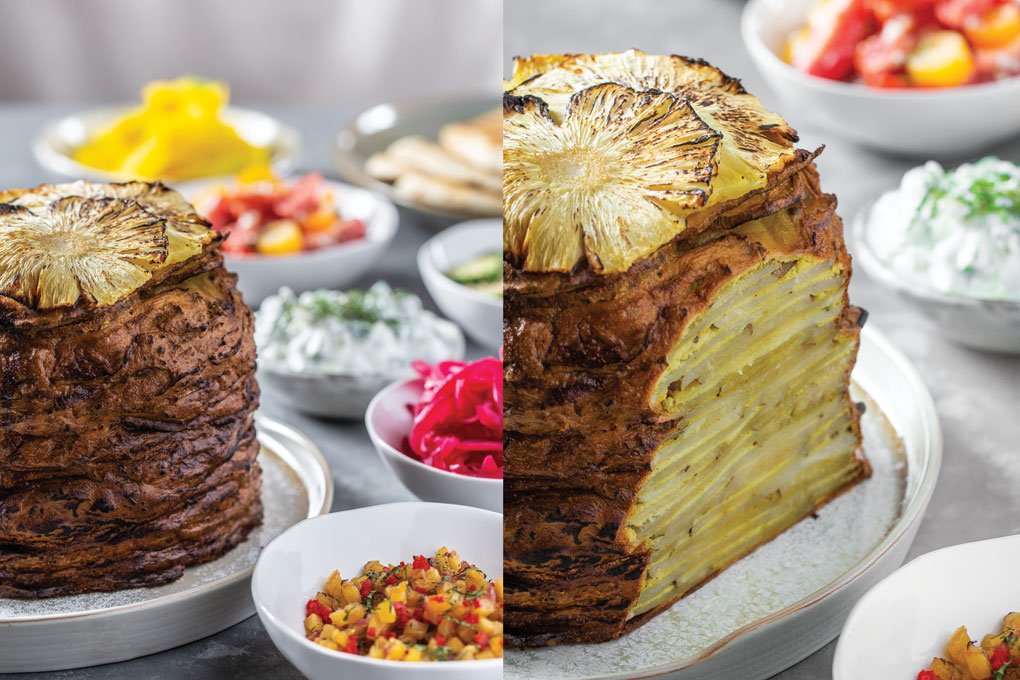 This potato-based take on the shawarma boasts better-for-you benefits as well as show-stopping creativity.
INGREDIENTS
Potato Shawarma
½ cup olive oil
1 cup yellow onion pureed
6 each garlic clove minced
1 tablespoon cumin seed
1 tablespoon Turmeric
1 tablespoon Coriander ground
1 tablespoon Black pepper
1 teaspoon Allspice
½ teaspoon cinnamon ground
¼ teaspoon Ground Clove
½ teaspoon Fenugreek Powder
1 tablespoon fennel seed whole
½ tablespoon Ras el Hanout
4 cups Mashed Potatoes cooled
6 each eggs large
8 pounds russet potatoes sliced thin, lengthwise on mandoline
¼ cup olive oil
4 tablespoons Oregano dried
1 tablespoon Dried Red Chili Flakes
½ tablespoon Sumac
1 each pineapple
Pickled Red Onions
3 cups red onion Sliced Thin (Julienne)
1-1/2 cups red wine vinegar
¼ cup Granulated Sugar
3 tablespoons kosher salt
¼ cup Beet Juice
2 each Star Anise
4 cups Ice
Pickled Fennel
3 cups fennel Sliced Thin (Julienne)
1-1/2 cups White Wine Vinegar
¼ cup Granulated Sugar
3 tablespoons kosher salt
½ teaspoon Turmeric
1 each Bay leaf
4 cups Ice
Cucumber-Tomato Salad with Mint, Basil, and Feta
3 cups Rainbow Cherry Tomatoes cut in half
1 cup feta cheese crumbled
¼ cup Basil Chopped
¼ cup mint Chopped
¼ cup parsley Chopped
½ cup extra-virgin olive oil
To Taste kosher salt
To Taste fresh ground black pepper
Potato Flatbread
3 cup Mashed Potatoes
3 cup all purpose flour
Labneh Tzatziki
4 cup Labneh or Strained Greek Style Yogurt
1 cup English Cucumber grated
1 tablespoon garlic minced
¼ cup mint chopped
To Taste kosher salt
To Taste To Taste Freshly Ground Black Pepper
INSTRUCTIONS
Preheat oven to 350 F.
For the shawarma; begin by heating the olive oil over medium heat. Add the yellow onion and sauté for 3-5 minutes. Add the garlic, cumin, turmeric, coriander, black pepper, allspice, cinnamon, clove, fenugreek, fennel seed, and ras el hanout. Cook the oil mixture for about 3 more minutes until the spices are aromatic. Remove from the heat, transfer to stainless steel bowl and allow to cool.
Combine the cooled spice oil with the mashed potatoes and eggs. Stir to combine and set aside.
Slice the russet potatoes thin on a mandoline, about 1/4 inch thick. Place in a large bowl and season them with Olive Oil, Oregano, Chili Flakes, Sumac, Salt and Pepper. Allow the potatoes to marinate for about an hour.
Prepare a sheet pan with a wire rack. Slice two rounds of pineapple about 1-1/2 inches thick. Lightly spray the wire rack with olive oil or coconut pan spray.
Place one slice of the pineapple down on the wire rack. Dip the marinated slices of potato into the mashed potato and egg mixture (this is the "glue that will hold the shawarma together. Working in a circle overlap the sliced of potato directly on the pineapple and continue to work your way up until you have a potato tower about a foot and a half tall. Be sure to dip each slice of potato into the egg and mashed potato mixture.
When the potato slices are used up gently place the pineapple on top of the potato tower and carefully place the shawarma in the preheated oven.
Allow the shawarma to cook for about an hour and 15 minutes.
While the shawarma is cooking prepare your pickled vegetables. The process is the same for both pickles. Heat the vinegar, add the sugar and salt along with the herb/spices. Bring the mixture to a boil until the sugar and salt dissolve. Add the vegetables to their respective liquids and remove from the heat. Allow them to pickle for 5-7 minutes and immediately add the ice. Allow them to cool completely, drain and serve or hold for 5-7 days.
For the Tomato Salad, combine all the ingredients together in a bowl and allow to marinate for about 30 minutes before serving.
For the mashed Potato Flatbread: Place the flour and potato mash onto your work surface. Using your hand start bringing the ingredients together until you form sticky dough. Roll this into a log and cut into 24 pieces (every 1 cup of flour and 1 cup of mashed potatoes will make 8 flatbread). Form each piece into round shape. Make sure the work top and dough is dusted with flour before you start rolling it out. Roll it out thin. Cook on medium to high heat on a dry frying pan for about 2 minutes (1 minute per side) or until done. Best served right away while still warm.
For the Tzatziki: combine all the ingredients for the sauce together in a bowl and keep cold until ready to use.
To service, remove the shawarma from the oven, allow it to rest and cool for about 8-10 minutes. Slice the shawarma, tableside and serve on the flatbread with the sauce and pickled vegetables. Serve the tomato salad on the side.