Ice cream sandwiches are elegant in their simplicity and sociable in their familiarity. In fact, they are so basic they offer the perfect blank canvas upon which operators can experiment and create.
It should be no surprise that nostalgia is a key macro trend impacting a great deal of innovation in the industry now. From retro cocktails to dime-store candy and cereal used on menus, nostalgia appeals to the consumers who lived through the original and those who are experiencing it for the first time—either authentically or in countless iterations.
At its most basic, an ice cream sandwich is vanilla or chocolate ice cream between either chocolate wafers or chocolate chip cookies. If the cookies are fresh-baked and the ice cream is made with high-quality ingredients, then the simplicity is, in itself, beautiful and delicious. While this may be the ice cream sandwich many patrons know and love, this is certainly not where the opportunities in menu innovation begin and end.
The reality is that some operators may not have either the labor or the prep space to assemble ice cream sandwiches by hand. The variety of value-added ice cream sandwiches has expanded, allowing these operators a greater range of options.
For those operators able to create their own custom ice cream sandwiches, the possible varieties are truly endless. When designing custom creations, there are two basic elements to consider: the ice cream and the carrier.
Starting with the ice cream, the first decision to be made is whether it is hard packed or soft serve. Baskin-Robbins offers a soft-serve cookie sandwich featuring its vanilla soft-serve ice cream between chocolate wafer cookies. Rhode Island-based Newport Creamery uses a scoop of hard-packed ice cream between Oreo cookie wafers. And then there's frozen custard, such as Culver's Oreo Frozen Custard Sandwich, or frozen yogurt, which Swirleez in Canada combines with a topping sandwiched inside a warm sweet bun.
Smooth ice creams, without any inclusions, create a velvety texture that allows the cookie to drive the texture profile of the sandwich. Flavor options for smooth ice cream are vast. There's the classic, such as Leona's Ice Cream Sandwiches in Pittsburgh, Pa., serving Madagascar vanilla bean ice cream between two peanut butter cookies. And there's innovative: Coolhaus' avocado-Sriracha ice cream can be sandwiched between any of their featured cookies. On the texture side, inclusions can be as delicate as the mint stracciatella ice cream offered between brownies by Seattle's Parfait food truck, or the sandwich featuring lavender ice cream swirled with honey at Treatbot Karaoke Ice Cream Truck in San Jose, Calif. The bold and chunky Cream'wich from 'Wichcraft in New York City includes mint chocolate chip ice cream loaded with chips and bits of fresh mint.
Of course, the other critical element is the carrier, which can be simple enough to let the ice cream shine as the hero of the sandwich or be bold in its own right. Today, countless carrier options range from saltine crackers to mini doughnuts. If it's flat and sturdy enough for ice cream, it's worthy of consideration. Carriers can leverage and draw out the nostalgia of the ice cream sandwich, such as the Pop-Tart ice cream sandwich offered previously at Carl's Jr. Another comfort option is the waffle, which is the specialty of San Diego's Lighthouse Ice Cream and Yogurt, where waffle-based ice cream sandwiches range from easy-to-eat-on-the-go to giant sit-down affairs.
Carriers can incorporate other trends in the industry. Doughnuts, for example, are the new "it" pastry; as a result, there are an ever-growing number of doughnut-based ice cream sandwiches. Holey Cream in New York City assembles fresh ice cream sandwiches with its doughnut of the day.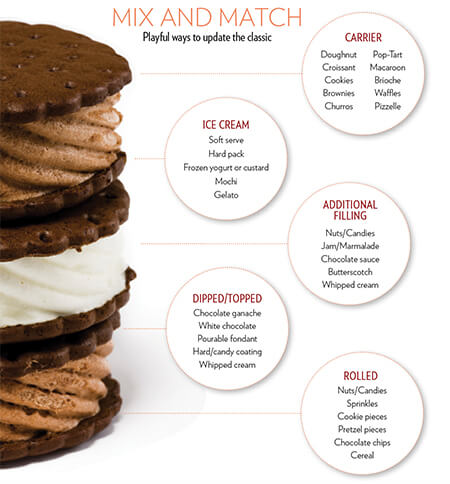 On the opposite end of the spectrum, the carrier can elevate the sandwich and make it something higher end. Francois Payard Patisserie in New York City has created ice cream sandwiches with its signature macaroons.
Carriers can also reflect the global focus of an operator. Amorino gelato shops put an Italian spin on ice cream sandwiches with the focaccina, an ice cream sandwich featuring gelato between two warm brioche buns. Churro Borough, a pop-up operation in Los Angeles soon to open a permanent location, has created a churro ice cream sandwich in a range of handcrafted ice cream flavors. For a truly different take, street vendors in Singapore sell a version of ice cream sandwiches that include a molded block of ice cream wrapped in a multi-colored slice of bread.
Fine-dining operators also put their own unique spin on the novelty. Chaya Brasserie in San Francisco has featured a salted ice cream sandwich with spiced oatmeal cookies, dried currants and Pangasinan sea salt. Matsuhisa in Beverly Hills, Calif., menus a monaka, a Japanese-style sweet sandwich that includes ice cream in flavors such as red bean or green tea encased in thin, crispy wafers. Battersby in Brooklyn, N.Y., has offered an ice cream sandwich with goat cheese ice cream, fig sorbet and spiced almonds.
An operator can add any bit of inspiration or whimsy to create a signature ice cream sandwich. These wonders of ice creams and carriers can be dipped; rolled in nuts, candies or sprinkles; layered with jam, marmalade or sauce; or topped with whipped cream and sauces. They can be enormous—appropriate only for a sit-down occasion (and lots of napkins)—or more elegant affairs such as the flight of ice cream sandwiches at Sarabeth's in New York City.
Whether the focus is on portable simplicity or elegant experimentation, ice cream sandwiches are approachable and full of signature possibilities.