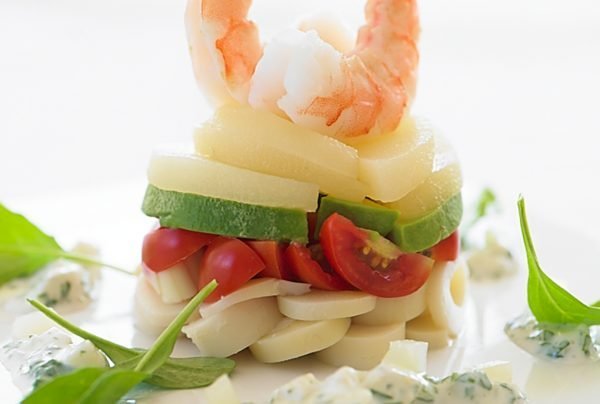 Cilantro Yogurt Dressing (Makes 2 cups)
| | |
| --- | --- |
| Cilantro Yogurt Dressing (Makes 2 cups) | |
Place 1-1/2 cups of Pear juice and 1/2 cup water into a stainless pot along with ginger slices and garlic; bring to a simmer.

Add shrimp and simmer 1 minute until shrimp just starts to turn pink.

Remove pot from heat and cool to room temperature.

Cover and refrigerate below 40°F. until ready to use as directed.
For each serving, stack 1 cup greens on chilled luncheon plate and top with: 1/2 cup hearts of palm; 1/2 avocado sliced; 1/4 cup tomato halves; 1 pear half, sliced ; 4 oz. chilled, drained poached shrimp; 3 tablespoons Cilantro Yogurt Dressing (recipe below); and 1 tablespoon slivered almonds.
Heat 3/4 cup pear syrup in a small stainless pan and reduce to 1/4 cup.

Cool to room temperature.

In a stainless bowl, whisk together all remaining ingredients including 1 cup minced pears along with reduced pear syrup until well mixed. Cover.

Refrigerate below 40°F at least 2 hours before using as directed.