This healthy dish starts with protein-filled eggs and continues with Mediterranean ingredients that are all on the upswing, according to the latest trend reports. Egg-based stratas appear on breakfast, lunch and dinner menus, because they're very adaptable and can accommodate a myriad of ingredients. This Mediterranean-inspired version, with Swiss chard, olives, thyme and fresh mozzarella is ideal for vegetarians looking for a protein-rich meal, or any guest who wants a healthy meal with great flavor. It's a perfect menu item anytime of day.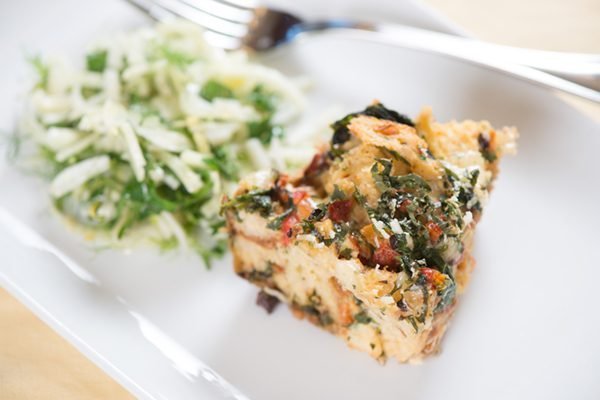 | | |
| --- | --- |
| | |
Brush insides of two 1-quart dishes with a little olive oil, and dredge with the toasted breadcrumbs and set aside.

In large skillet over medium heat, add the olive oil, garlic and shallot; sauté for 4 to 5 minutes or until the shallots start to color. Add the Swiss chard and cook for another 5 minutes (add a splash of water, if needed for deglazing). Add the thyme and marjoram and cook for another 3 minutes. Remove from the heat and place mixture in a large bowl with parsley, red pepper, olives, sun-dried tomatoes, bread chunks, ½ cup of the Parmesan, Feta and mozzarella and stir to mix. Season with kosher salt and pepper.

Fill baking dishes evenly with the bread mixture.

In a small bowl, whisk together the eggs with half-and-half. Season with the Aleppo pepper and pour the eggs over the top and sprinkle with the remaining Parmesan cheese. Cover and chill overnight.

Preheat oven to 350° F. Bring the casserole to room temperature, and place on a baking sheet. Bake in the preheated oven for about 50 minutes, or until the eggs have set. Remove from the oven and let rest for 5 minutes before serving.

Garnish with basil and add more Parmesan, if desired.
Courtesy of The American Egg Board