Pig out on these golden fried Idaho® Potatoes topped with mouthwatering carnitas, chorizo and bacon. Makes for a delicious starter dish or sharable plate. Recipe from Chef Eric Gallerstein of Mastiff Sausage Company in San Diego.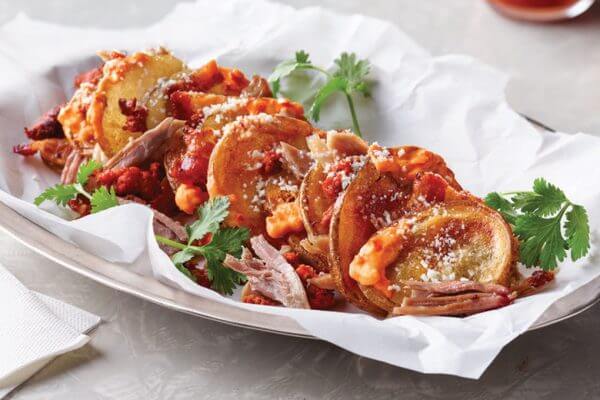 | | |
| --- | --- |
| | |
Combine potatoes, salt and white vinegar in a saucepan; add water to cover by 2 inches. Bring to a boil; simmer until potatoes are fork tender but do not fall apart. Drain. Spread in single layer on a parchment lined sheet pan and freeze overnight.

To prepare the Harissa Aioli, grind spices in a high-speed blender, spice grinder or coffee grinder. Combine spices, egg yolks and next 9 ingredients (chilies through pepper) in blender or food processer. Gradually add oil while blending until mixture thickens to the consistency of mayonnaise. Keep refrigerated.

To prepare the Pig Fries, heat a fryer or 2-3 inches of oil to 350°F in a deep saucepan. Let potatoes thaw for about 15 minutes (8 ounces per serving). Fry to a deep golden brown. Drain.

Shingle a portion of potatoes on a serving plate. Drizzle with about 2 tablespoons Harissa Aioli. Top with about 1 ounce (1/4 cup) of each of the toppings, starting with the Cotija cheese and ending with the pork belly or bacon. Drizzle with about 2 more tablespoons Aioli. Garnish with 1 tablespoon cilantro.